How to make a homemade keto caramel sauce? Sweet and buttery, this keto caramel sauce is perfect for any dessert topping!
This is the easiest and best homemade sugar-free low carb caramel sauce that is keto-friendly.
So quick and easy recipe and just like the real thing with zero carbs!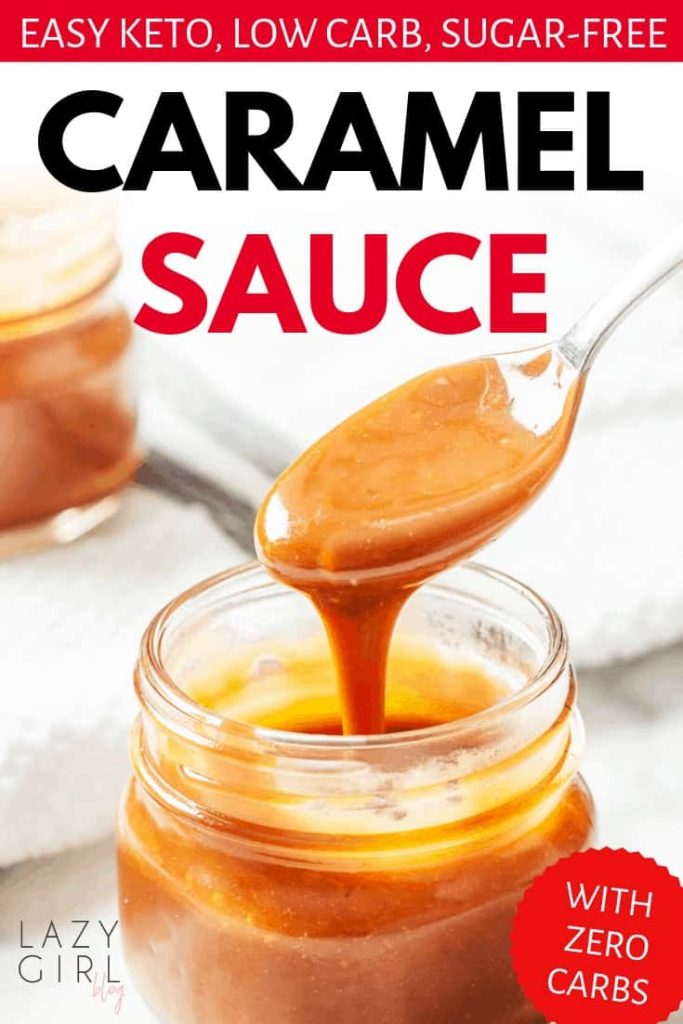 This caramel is so buttery, rich, and smooth. The flavor is only one thousand times better than store-bought.
The deeper brown, the richer the flavor of the caramel. Careful, though, don't let it get too brown, it'll taste a little burned.
---
This post may contain affiliate links. As an Amazon Associate, I earn from qualifying purchases for my referral at no extra cost to you! See Disclosure
---
Keto Caramel Sauce Recipe:
[bs_icon name="glyphicon glyphicon-time"] Cook Time: 10 minutes
[bs_icon name="glyphicon glyphicon-time"] Total Time: 10 minutes
[bs_icon name="glyphicon glyphicon-signal"] Calories: 91 kcal
---
Ingredients
1/3 cup butter (salted)
3 tbsp Sukrin Gold (or any other granulated sweetener for gluten-free)
2/3 cup Heavy cream
1 tsp Vanilla extract
pinch of salt (*if you want salted caramel sauce)
---
Instructions
Melt the butter and Sukrin Gold together in a medium-large saucepan over low heat. Once melted, cook for about 3-4 more minutes, stirring occasionally, until golden brown. (Watch it carefully to avoid burning.)
Add the cream. Bring to a gentle boil. Reduce heat to a gentle simmer. Simmer for 7-10 minutes, continuing to stir occasionally, until the mixture is a caramel color and thick enough to coat the back of a spoon. (If you have a small saucepan, or if you increase the recipe, this can take a lot longer. For example, tripling the recipe can take over 30 minutes at this step.)
Remove from heat. Whisk in the vanilla extract.
Allow the caramel to cool in the saucepan until it is about room temperature. Then pour into a squeeze bottle or a jar.
---
[bs_icon name="glyphicon glyphicon-tags"] Note: You can store this low-carb caramel sauce in the refrigerator for up to 2 weeks. It will solidify in the fridge, so you'll want to reheat it before serving. The best way to do this is on the stove over low heat, stirring frequently. It's important that the temperature rises gradually when you reheat the sugar-free caramel sauce. Otherwise, you run the risk of "shocking" it, leading to the separation of the oils.
---
[bs_icon name="glyphicon glyphicon-tasks"]

Nutrition

Serving size – 1 tbsp: Calories 91; Fat 9g; Protein 0g; Total Carbs 0g; Net Carbs 0g; Fiber 0g; Sugar 0g;

If you like this recipe share it with your friends and (..of course..) pin it for later. 🙂