Keto Pizza for Breakfast? Yes, please! Do you love pizza but hate the all carbs that come with it? You want to enjoy a delicious and satisfying breakfast without compromising your keto diet? If your answer is yes to both questions, then you're in luck.
Here I'm going to show you how to make a quick and easy keto breakfast pizza that is low carb and gluten-free. This is perfect for anyone who loves pizza and wants to try something different and fun for breakfast.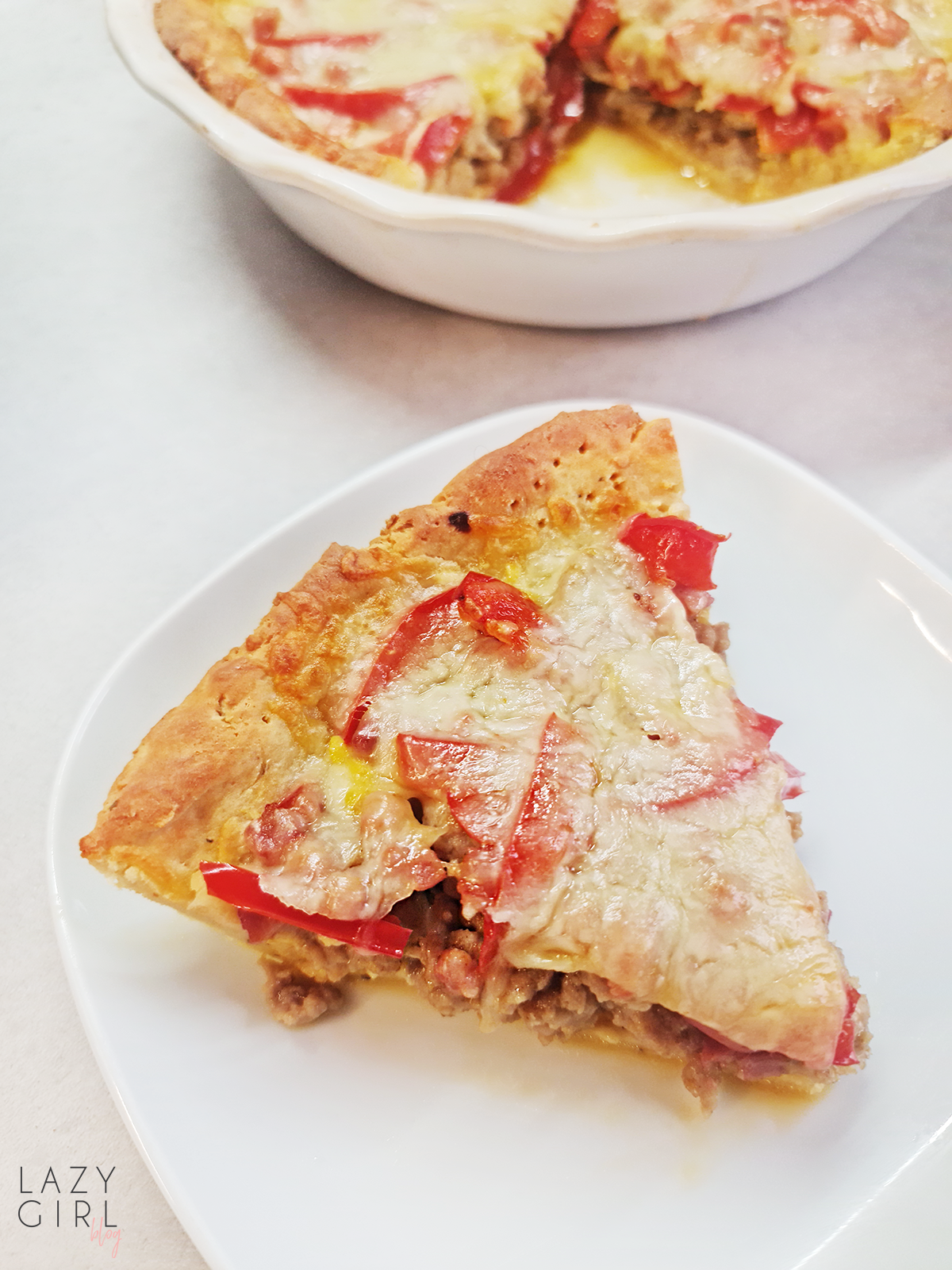 I first learned about keto breakfast pizza from my sister, who is a big keto fan and pizza lover. Since me and my family are also a big pizza fans, I decided to try to make it and I was amazed by how yummy it was. I was blown away by how good it tasted.
It was like having a real pizza, but without the carbs and gluten. My husband and kid also loved it, and now we make if almost every weekend. We like to test different toppings and ingredients, and we always have fun. Sometimes we make it with spinach and feta, and sometimes we make it with mushrooms and olives.
---
This post may contain affiliate links. As an Amazon Associate, I earn from qualifying purchases for my referral at no extra cost to you! See Disclosure
---
---
What is Keto Breakfast Pizza?
Keto breakfast pizza is a low-carb and gluten-free version of regular pizza that uses almond flour, cheese, and eggs as the base. It is topped with eggs, cheese, bacon, sausage, and veggies. You can have fun and test different toppings, but just make sure that they are keto friendly.
This is filling and nutritious breakfast that will keep you in ketosis. Keto breakfast pizza is a great option for low-carb and keto dieters who want to have a tasty and satisfying breakfast without ruining their diet.
---
Ingredients for Keto Breakfast Pizza
To make keto breakfast pizza, you will need the following ingredients. Scroll down to recipe card for complete instructions and exact measurements when you are ready to begin.
For the pizza crust:

Cream cheese: Softened to room temperature
Almond flour: Get the super-fine type
Seasonings (optional)
Egg: Also at room temperature
For the pizza toppings:

Breakfast sausage: cooked
Cooked crumbled bacon
Bell pepper or Mini peppers
Chopped onion
Eggs
Grated cheese: any kind
You can also use different kinds of cheese and meat, or more or less veggies. Feel free to experiment and customize your keto breakfast pizza to your taste.
---
How to Make Keto Breakfast Pizza
Making keto breakfast pizza is very easy and simple. Here are the steps that you need to follow (all details in recipe card bellow):
Preheat your oven and grease a cast iron skillet or similar size baking dish.
In a microwave-safe bowl, melt the cream cheese and mozzarella cheese until they are well combined.
Add the almond flour and seasonings (if using) and mix well.
Add the egg and knead the mixture to form a dough.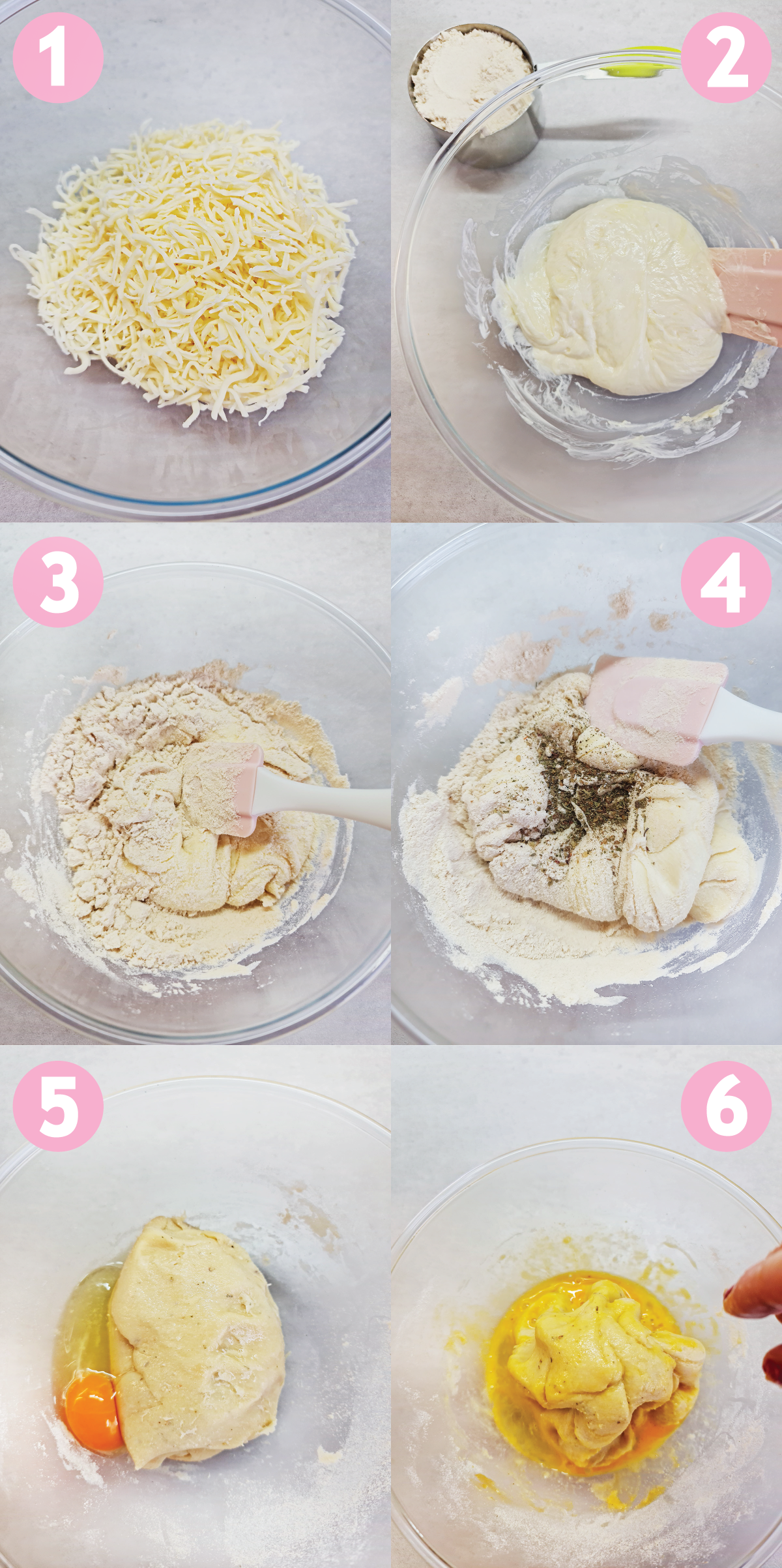 Press the dough evenly into the prepared skillet or baking dish and poke some holes.
Bake the crust until lightly golden.
Spread the beaten eggs over the baked crust.
Sprinkle the sausage, bacon, peppers, onion, and cheese on top of the eggs.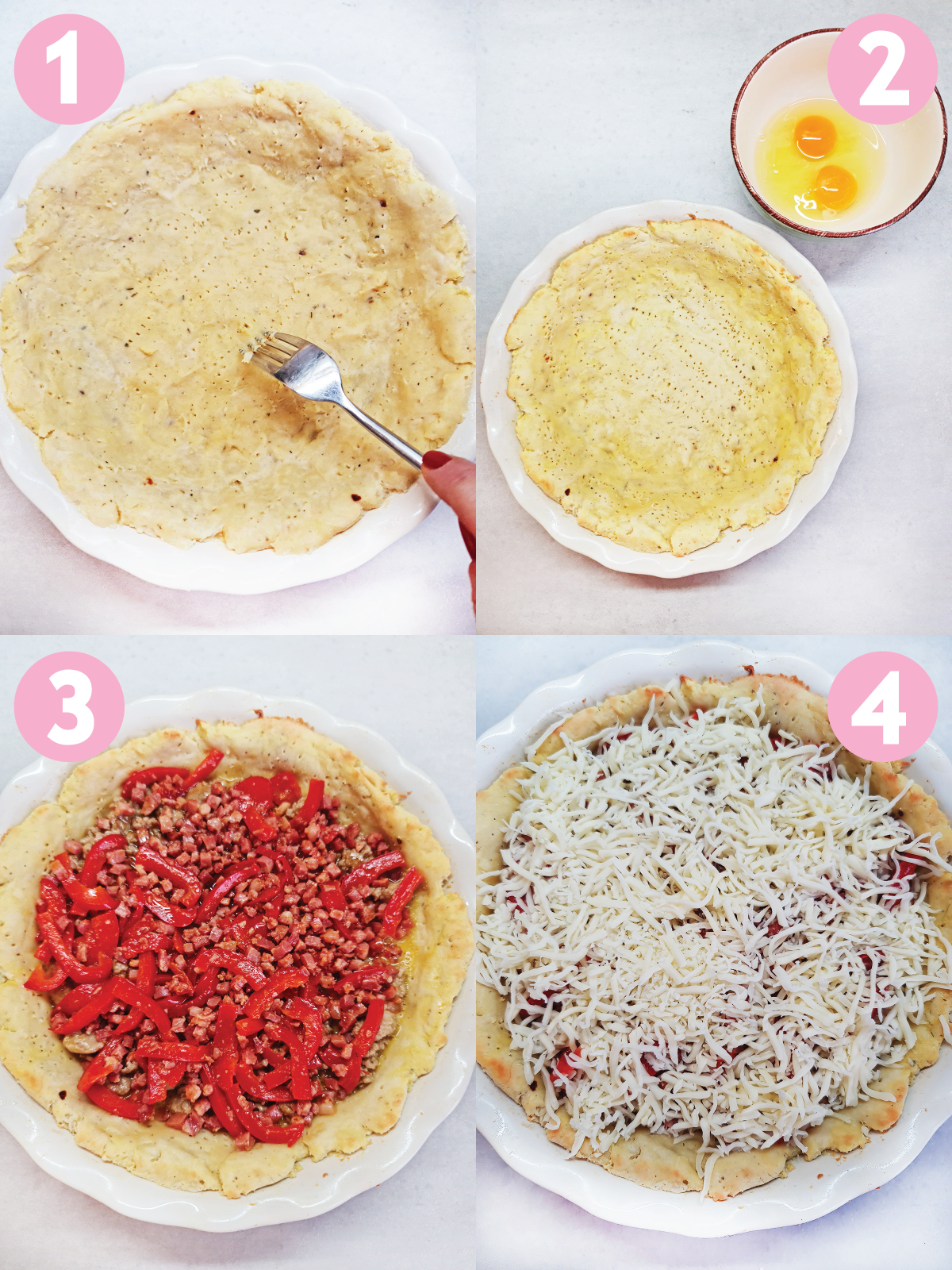 Return the pizza to the oven and bake until the cheese is melted and bubbly.
Remove the pizza from the oven and let it rest before slicing and serving.
---
How to store leftovers (if there is any 😊):
Store: After you let your breakfast pizza cool completely, you can store your leftovers in an airtight container and refrigerate for up to three days.
Reheat: To reheat, put the breakfast pizza in the microwave for about 30 seconds, depending on the size of the slice.
---
Tips and Tricks for Keto Breakfast Pizza
Make sure your refrigerated ingredients are at room temperature before using them.
If you do not have a cast iron pan or skillet, you can use a baking dish or deeper pie pan.
You can make the crust ahead of time and store it in the fridge or freezer until you're ready to use it. Just reheat it in the oven before adding the toppings.
You can also make the whole pizza ahead of time and reheat it in the oven or microwave when you want to eat it.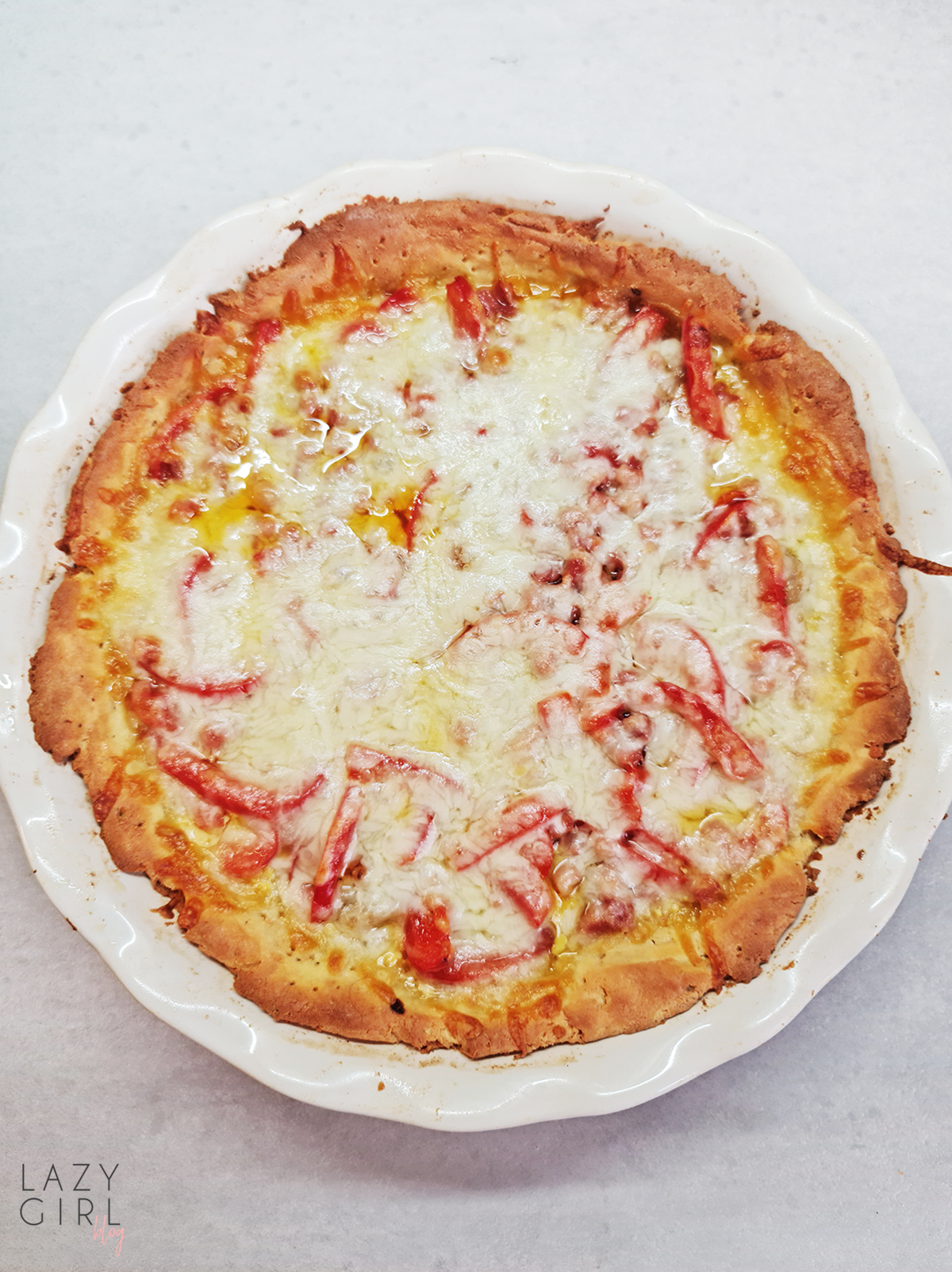 ---
Frequently asked question:
What is the difference between keto breakfast pizza and regular pizza?
Keto breakfast pizza has only about 5 grams of net carbs per slice (depending on the ingredients), compared to about 30 grams of net carbs per slice for regular pizza (depending on the size). This means that it won't spike your blood sugar levels or kick you out of ketosis. It's also gluten-free, which means that it won't cause any digestive issues or inflammation for people who are sensitive or allergic to gluten. It's also filling and satisfying because of its high protein, fat, and fiber content. It will keep you full and happy until lunchtime or beyond.
What is low-carb pizza crust made of?
This pizza crust has just a few ingredients: almond flour, cheese, and eggs. Best Keto pizza crust is usually made of this "FatHead dough", but it can be also made with cauliflower or shredded chicken breasts.
Can I use coconut flour instead of almond flour for the keto pizza crust?
The almond flour gives a nice bite to the keto pizza and you can also use coconut flour. I did find that the coconut flour was a little more firm and crisp than the almond flour. You can substitute coconut flour for almond flour by using 1/4 cup of coconut flour for every cup of almond flour.
How long does it take to make keto breakfast pizza?
This Keto breakfast pizza doesn't take long to make butis packed with awesome flavors and tasty ingredients! It takes only 20 minutes to prepare and it is perfect make-ahead low carb breakfast.
What are some of the best toppings for keto breakfast pizza?
For me the best toppings for keto breakfast pizza are scrambled eggs, cheese, and breakfast meats such as bacon, sausage, or ham. Of course, you can use whatever toppings you want such as grilled/ground/rotisserie chicken, ground beef, peppers, jalapenos, or any kind vegetables you like.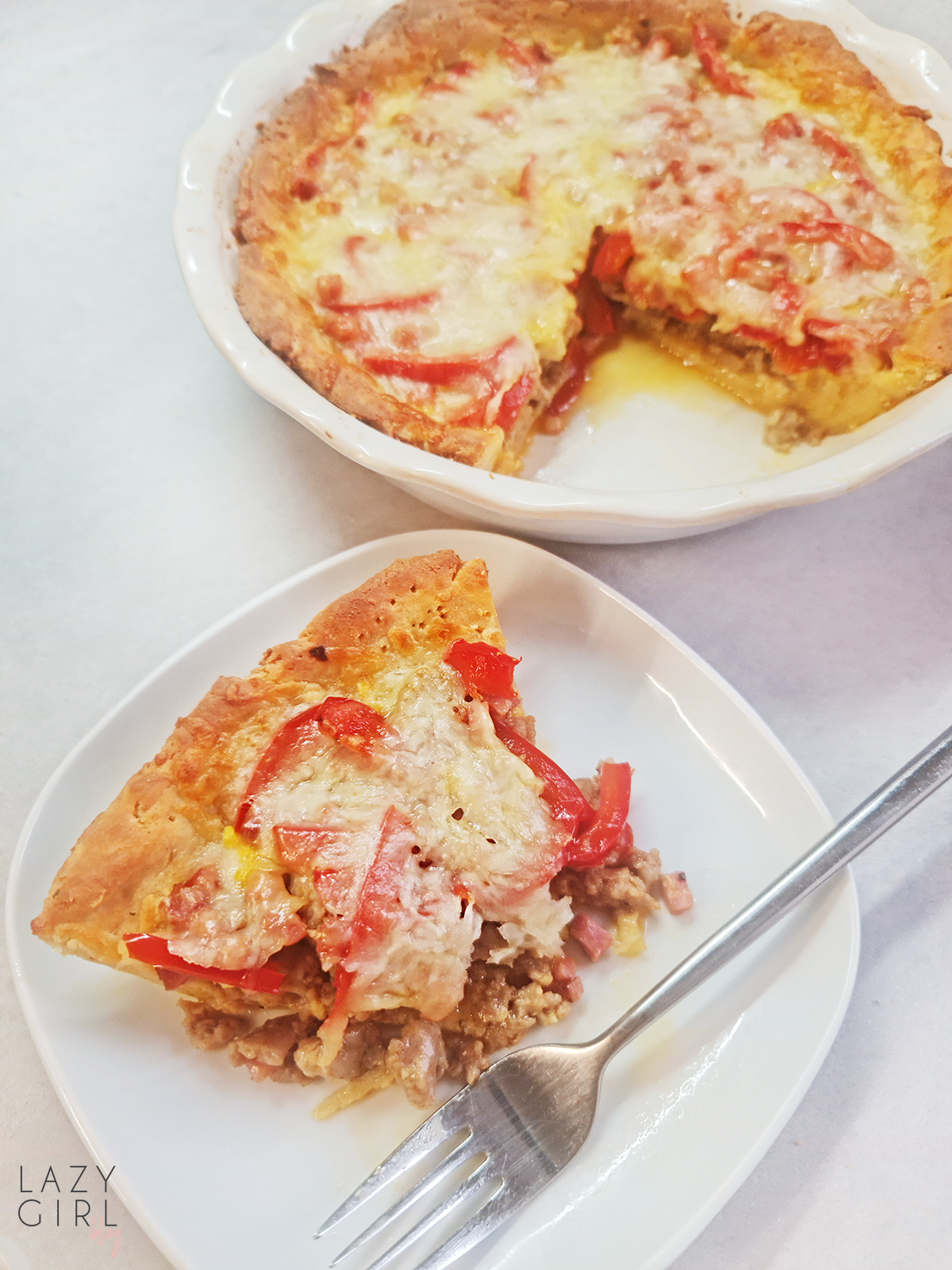 Keto Breakfast Pizza – A Healthy and Satisfying Way to Start Your Day
Keto breakfast pizza is a healthy and satisfying way to start your day. It's low-carb, gluten-free, high-protein, high-fat, and high-fiber. It will help you lose weight, boost your energy, satisfy your cravings, and improve your mood.
It's also easy and quick to make with simple ingredients that you probably already have in your kitchen. So what are you waiting for? Try this keto breakfast pizza recipe today and enjoy a delicious and guilt-free breakfast that will make you feel like you're cheating on your diet. You won't regret it.
What do you think of keto breakfast pizza? Have you tried it before? If not, I highly recommend that you do. It's one of the best keto recipes that I have ever tried, and I'm sure you will love it too.
If you liked this blog post, please leave a comment below and share it with your friends. Also, don't forget to subscribe to my newsletter to get more keto recipes, tips, and tricks delivered straight to your inbox.
Please let me know in the comments below how you liked it, and if you have any suggestions for other toppings or ingredients that you would like to try on keto breakfast pizza. I would love to hear from you. Thank you for reading and happy keto-ing!
If you're looking for more delicious and crowd-pleasing keto dinner recipes, try these:
Garlic Butter Keto Bread Recipe
Best Low Carb Keto Bacon Wrapped Grilled Cheese
Tag me on Instagram @lazy_girl_tips so I can see it! Leave a comment, rate it, pin it, share it, and don't forget to tag a photo #lazy_girl_tips on Instagram. I'd love to see what you come up with. Cheers, friends!