Hey there, pumpkin lovers! 🎃 Fall is here, and you know what that means: pumpkin everything! If you're anything like me, you love everything about fall. The crisp air, the cozy sweaters, the colorful leaves and of course, the pumpkins. From pumpkin spice lattes to pumpkin pies, there's no shortage of ways to enjoy this seasonal squash. But are you looking for a low carb, healthy and delicious snack for fall? Well, I have the perfect recipe for you: roasted pumpkin seeds with Celtic Sea salt. Trust me, these are so addictive, you'll want to make them all year round. Plus, they are super healthy and easy to make in the air fryer.
One of the best things about fall is carving pumpkins and making jack-o-lanterns. But what do you do with all those pumpkin seeds after you scoop them out? Do you toss them in the trash, or roast them in the oven? Well, I have a better idea for you: air fryer roasted pumpkin seeds!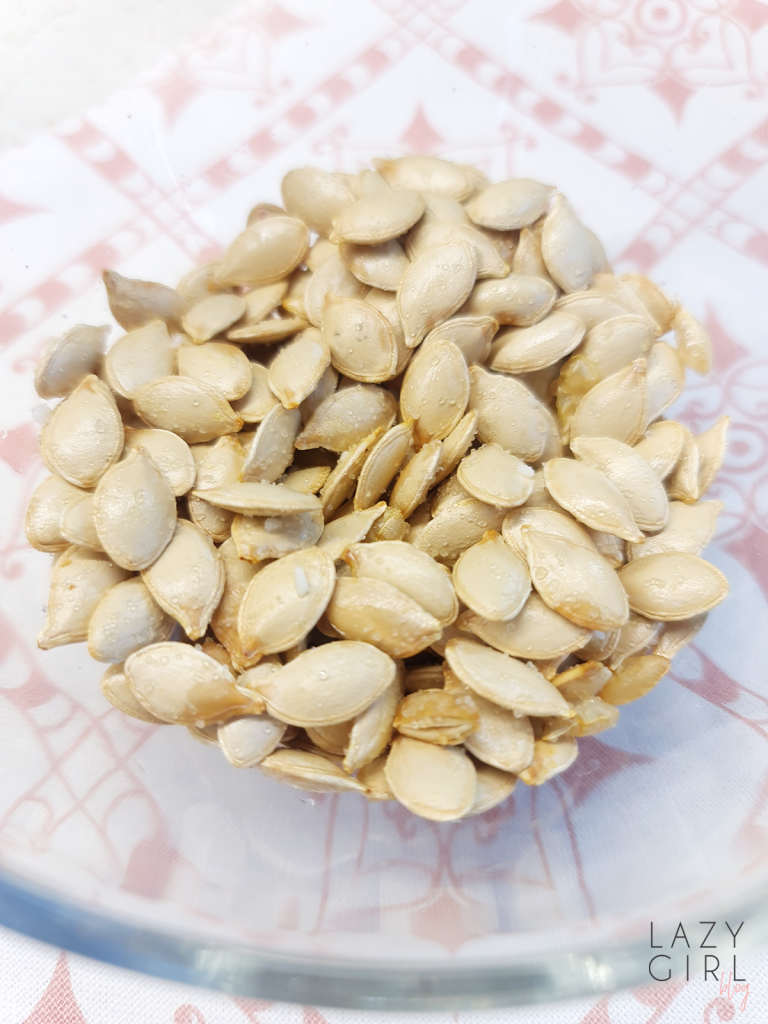 ---
This post may contain affiliate links. As an Amazon Associate, I earn from qualifying purchases for my referral at no extra cost to you! See Disclosure
---
So, don't throw away those pumpkin seeds! They are a nutritious and tasty snack that you can easily make at home. Roasted pumpkin seeds have many health benefits that you may not know about.
Did you know that pumpkin seeds are also a great snack to munch on? They're crunchy, flavorful, and packed with nutrients. Plus, they're super easy to make at home with your air fryer. And did I mention they are good for you too?
Yes, you heard me right. You can roast pumpkin seeds in the air fryer and they come out perfectly crunchy, salty and delicious. They are low in carbs, high in protein and full of minerals and antioxidants. So, let's get started!
In this blog post, I'm going to show you how to make air fryer roasted pumpkin seeds, a low-carb, healthy and delicious snack for fall, with a simple recipe that you can customize with your favorite seasonings. I'm also going to tell you why you should use Celtic Sea salt for this recipe, what are the health benefits of roasted pumpkin seeds, and some tips and variations for roasting pumpkin seeds.
So, grab your pumpkin guts and let's get started!
---
---
The Health Benefits of Roasted Pumpkin Seeds
Roasted pumpkin seeds are not only delicious, but also good for you. They are packed with protein, fiber, healthy fats, antioxidants, and minerals. Here are some of the health benefits of roasted pumpkin seeds:
They're rich in protein, fiber, healthy fats, magnesium, zinc, iron, and antioxidants.
They help to lower cholesterol, blood sugar, and inflammation.
They support your immune system, brain function, bone health, and mood.
They can also help you sleep better, as they contain tryptophan, an amino acid that converts to serotonin and melatonin in your body.
---
What is Celtic Sea Salt and Why You Should Use It
Celtic Sea salt is rich in magnesium, calcium, potassium, iron, zinc, and iodine, which are essential for your health. It is a type of sea salt that is harvested from the coastal regions of France. Celtic Sea salt also has a lower sodium content than regular table salt, which can help lower your blood pressure and prevent water retention.
Why should you use Celtic Sea salt for roasting pumpkin seeds? Well, for one thing, it adds a nice crunch and a subtle saltiness that complements the nuttiness of the seeds. But more importantly, Celtic Sea salt helps to balance the pH levels in your body, which can improve your digestion, immunity, and energy levels. Celtic Sea salt also helps to regulate your blood pressure, hydrate your cells, and detoxify your system. Sounds pretty amazing, right? For this recipe I`ve used this Light Gray Celtic Sea Salt.
You can find Celtic salt in most health food stores, or online. You can also use other types of sea salt or kosher salt for this recipe, but I highly recommend giving Celtic salt a try. Trust me, you'll taste the difference!
---
How to Roast Pumpkin Seeds in the Air Fryer
Roasting pumpkin seeds in the air fryer is super easy, fast, and mess-free. This is one of my favorite things to do after carving pumpkins with my kid. Not only do we get to enjoy a fun family activity, but we also get to snack on some crunchy and flavorful pumpkin seeds afterwards.
All you need are some pumpkin seeds, some oil, some Celtic Sea salt. You can also add some other spices of your choice (scroll down to recipe card for complete instructions and exact measurements when you are ready to begin). Here's what you do:
– Rinse the pumpkin seeds and pat them dry with a paper towel
– Toss them in a medium bowl and add oil and Celtic Sea salt
– Spread them in a single layer on the air fryer basket
– Air fry at for about 15 minutes
– You can sprinkle some spices over the roasted pumpkin seeds while they are still hot if you want, such as paprika, garlic powder, cumin, or cinnamon.
That's it! You have a batch of delicious roasted pumpkin seeds ready to munch on.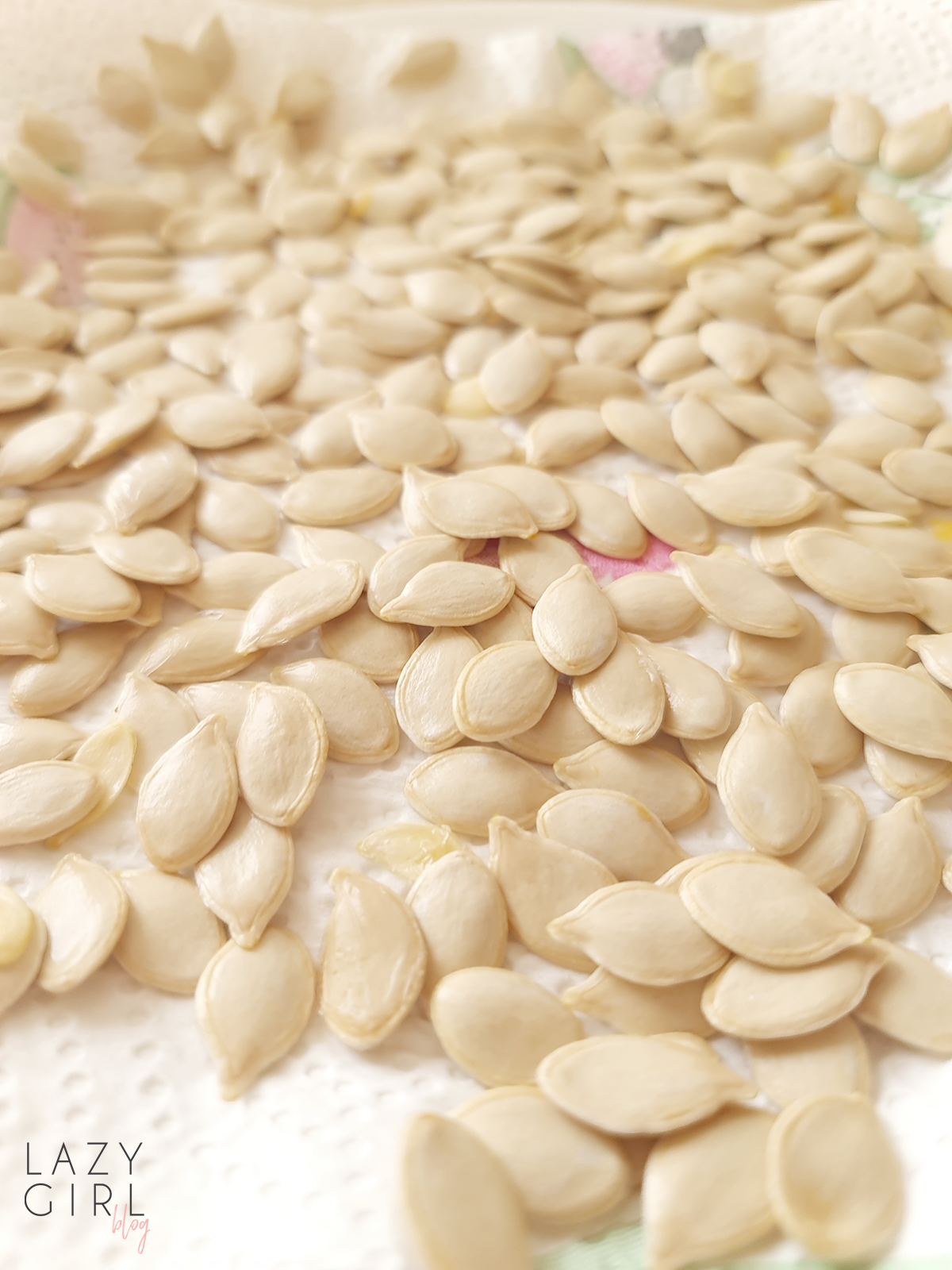 ---
How to Store and Enjoy Your Roasted Pumpkin Seeds
One of the best things about roasted pumpkin seeds is that they last for a long time. You can store them in an airtight container at room temperature for up to a month, or in the fridge for up to three months.
You can enjoy your roasted pumpkin seeds as a snack, or sprinkle them over salads, soups, yogurt or oatmeal for some extra crunch and protein. Also, you can use them to make granola bars, trail mix, pesto or hummus. The possibilities are endless!
---
Tips and Variations for Roasting Pumpkin Seeds
Roasting pumpkin seeds in the air fryer is pretty straightforward, but here are some tips and variations to make them even better:
You can use any type of pumpkin or squash seeds for this recipe.
You can experiment with different seasonings. You can use any spices or herbs you like, such as curry powder, rosemary, thyme, oregano, chili powder, etc.
You can use any kind of salt you like, such as Himalayan pink salt, but I prefer Celtic Sea salt because all the benefits.
You can adjust the amount of salt and seasonings according to your taste preferences.
Adjust the cooking time. Depending on the size and moisture of your pumpkin seeds, you may need to air fry them for more or less time. Check them frequently and shake the basket often to ensure even roasting.
You can roast the seeds in the oven instead of the air fryer if you don't have one. Just bake them at 350°F (180°C) for 25 to 30 minutes on a baking sheet, stirring occasionally, until they are crisp and golden.
You can also add some nuts or even dried fruits. You can mix some almonds, walnuts, pecans, cashews, cranberries, raisins, apricots or dates with your pumpkin seeds for a more varied and nutritious snack.
You can make your roasted pumpkin seeds more festive by adding some food coloring to the oil before tossing them with the seeds. You can use orange, green, purple, or black for Halloween, or red and green for Christmas.
---
So, there you have it: Air fried roasted pumpkin seeds with Celtic Sea salt. A low-carb, healthy and delicious snack for fall that you can make in no time with your air fryer. Give it a try and let me know what you think in the comments below. And don't forget to share this recipe with your friends and family who love pumpkin as much as you do. Happy snacking! 🎃
If you enjoyed this recipe, please share it with your friends, and leave me a comment below.
Leave a comment, rate it, pin it, share it, and don't forget to tag a photo #lazy_girl_tips on Instagram. I'd love to see what you come up with. Tag me on Instagram @lazy_girl_tips so I can see it! Cheers, friends!