Keto Corn Dogs are the perfect way to get the authentic flavor of corn dogs without all the carbs. You may remember those days when you were a kid and had these and other favorite foods at the county fair or carnival during the summer. This great recipe is a fun way of making these for the whole family, kids and adults alike.
For this low-carb corn dog recipe, all you need are a few ingredients, and you can use mini muffin pans or mini muffin tins if you do not have any hot dog sticks. You may already have the ingredients you need in the kitchen like hot dogs, flour, an egg, mozzarella cheese, baking powder, oil, and xanthan gum.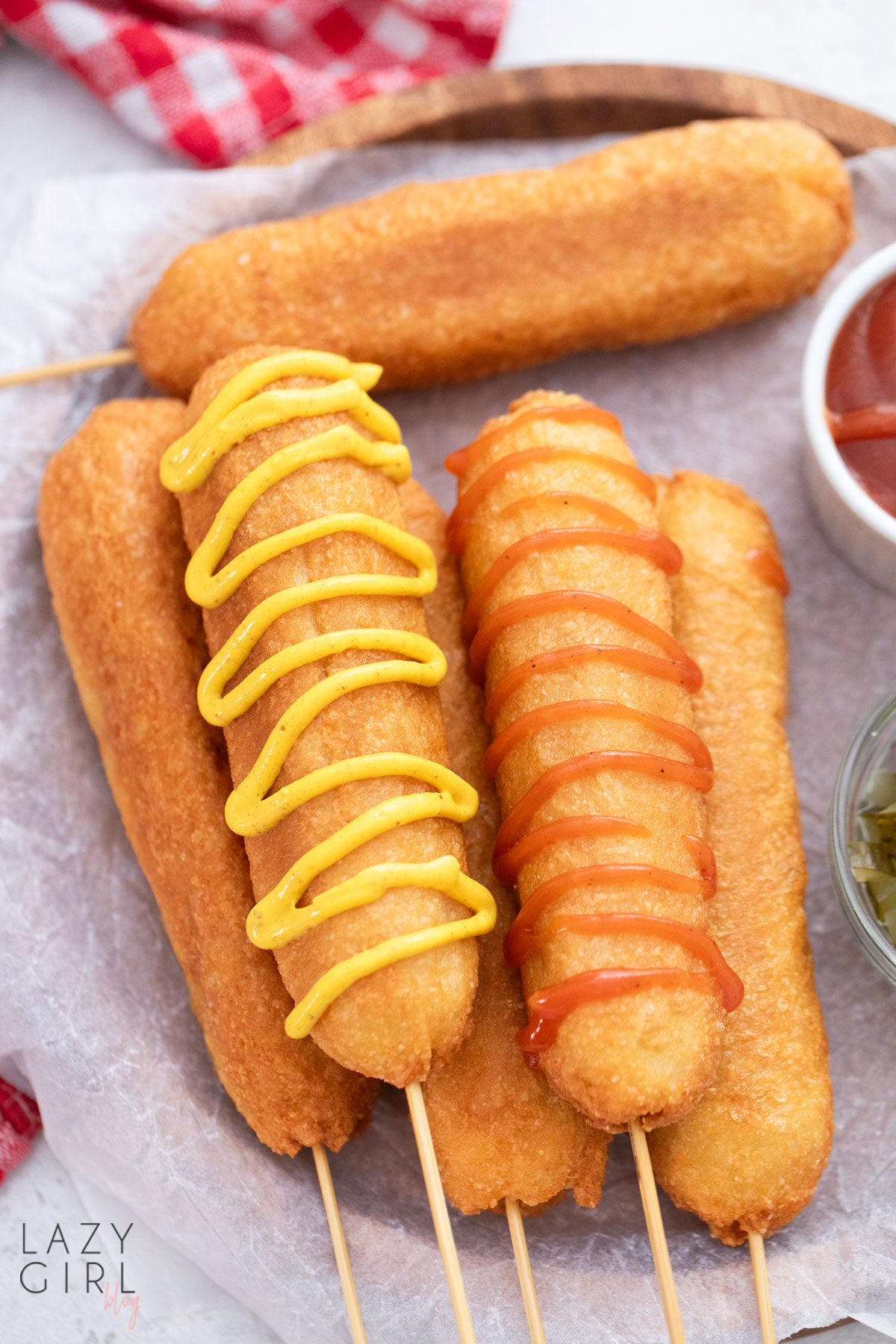 ---
This post may contain affiliate links. As an Amazon Associate, I earn from qualifying purchases for my referral at no extra cost to you! See Disclosure
---
Ingredients needed:
Here are the common ingredients for this keto corn dog recipe. When ready, scroll down to our printable recipe card for complete instructions and measurements.
Hot dogs
Egg
Almond flour
Mozzarella cheese
Baking powder
Xanthan gum
Avocado oil
Kosher salt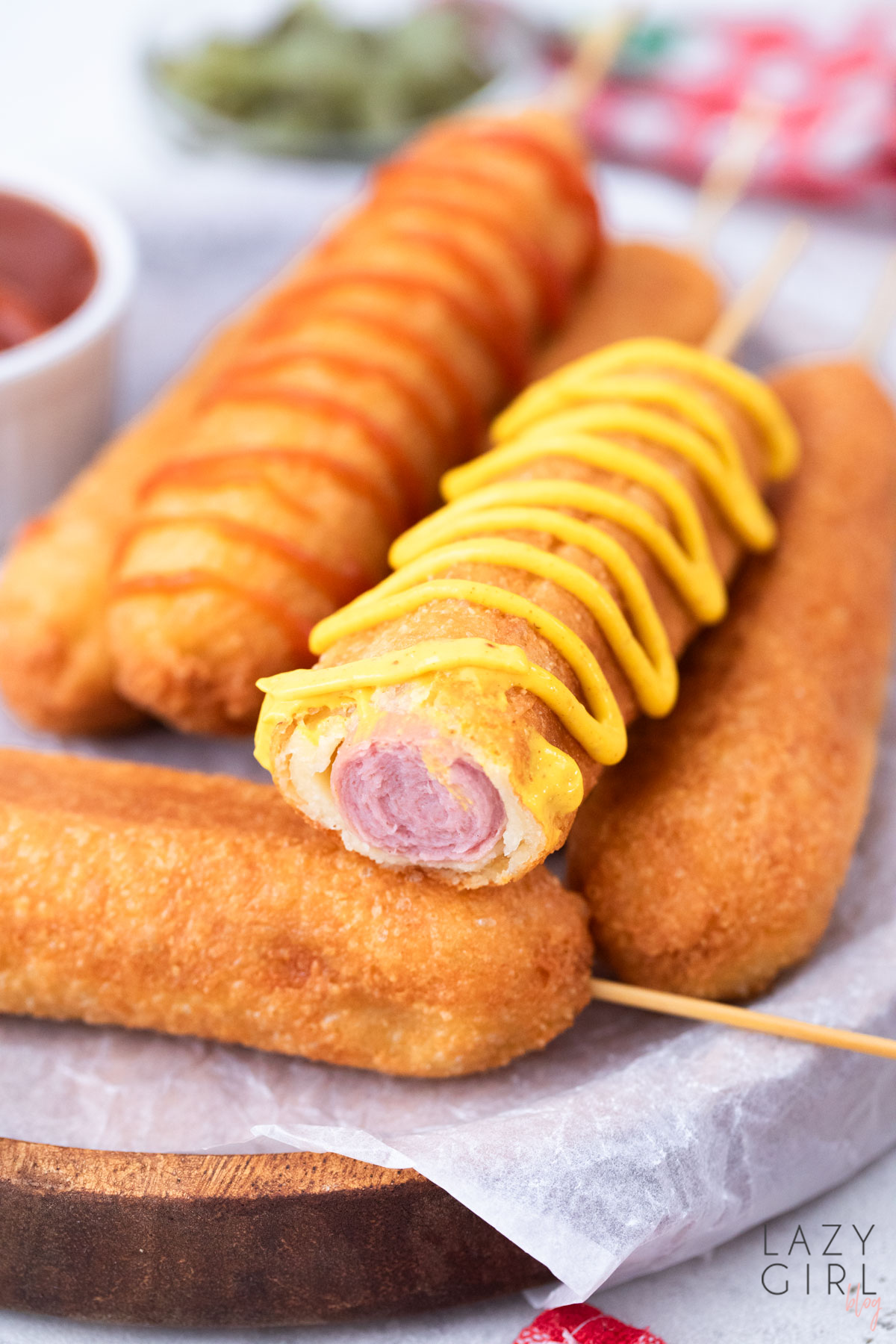 ---
How to make keto corn dogs from scratch?
Stick them: First, insert corn dog sticks into hot dogs and set them to the side for now.
Melt the cheese: Now, melt the cheese in a medium bowl in the microwave for 60 seconds at a time until the cheese melts.
Make corn dog breading: Next, mix almond flour, xanthan gum, baking powder, and salt in a small bowl and set aside.
Finish the dough: Then, combine the egg, cheese, and almond flour mixture in a food processor. Pulse until combined and dough forms.
Wrap the dogs: After, lay the dough between two pieces of parchment paper and roll it out until it is about 1/4 inch thick. Put a hot dog on the dough and cut off enough to cover it. Mold around the hot dogs. Continue with the rest of the dogs, placing them on a baking sheet as you go.
Fry your dogs: Immediately, start frying wrapped hot dogs two at a time in a hot 10-inch skillet with 1/4 inch of oil. Once they are golden brown, turn them over and brown the other side.
Drain and serve: Finally, remove them from the oil and place them on paper towels to drain before serving.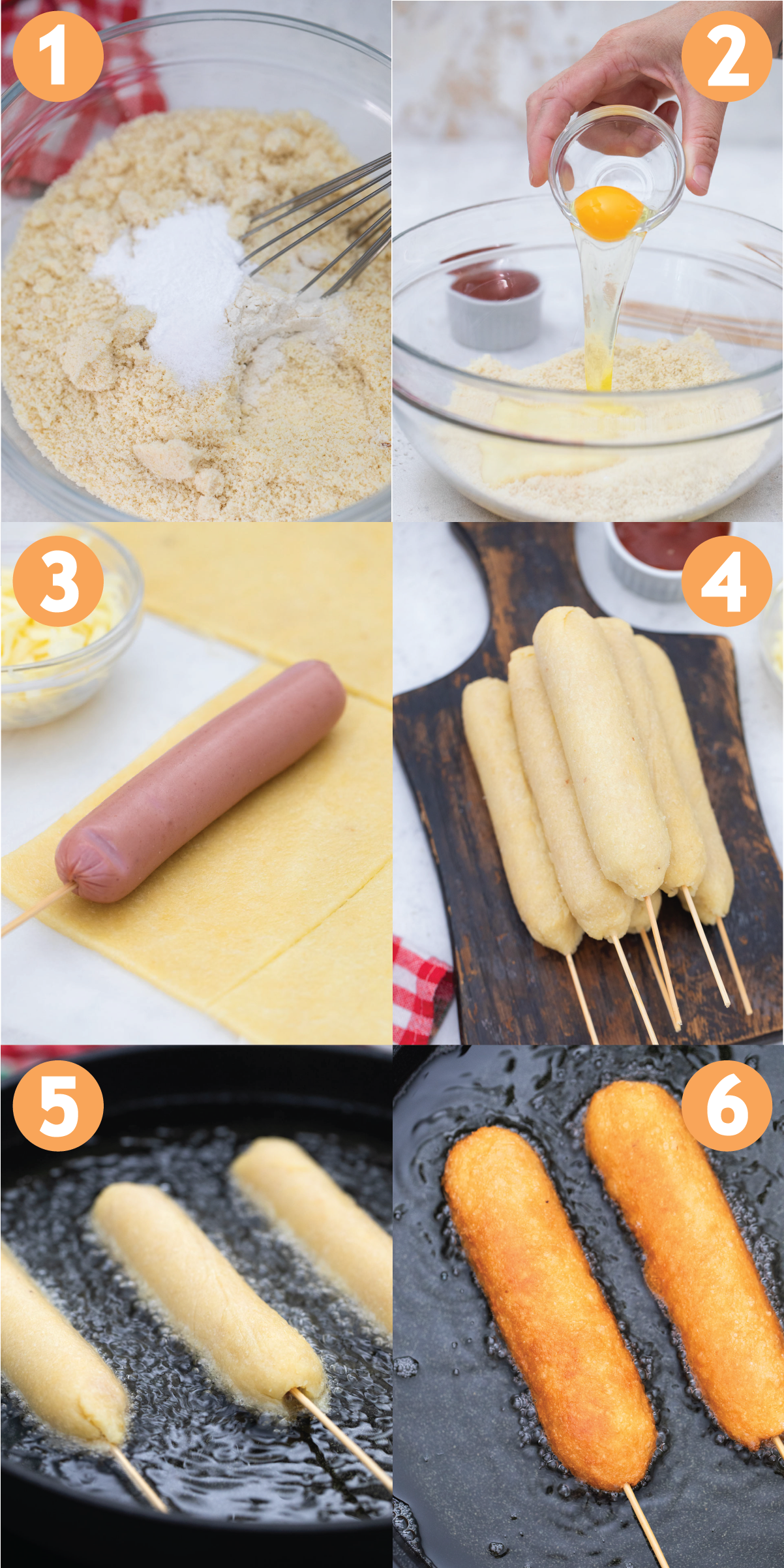 ---
Recipe variations:
Another oil: You could also use other oils such as olive oil, peanut oil, or another high-heat cooking oil.
Keto corn dog muffins: Using a mini muffin pan or mini muffin tin, you can easily make keto corn dog muffins. Just make the dough and spoon it into muffin liners. Then cut the hot dogs into six pieces each and place one in the middle. Bake for 12 to 14 minutes.
Keto corn dog bites: Also known as mini keto corn dogs, these are great for the kids. Just cut the hot dogs into pieces before wrapping and frying them.
Add butter: Add 1/4 cup of melted butter for a richer and buttery batter.
Sweet corn extract: For more corn flavor, add a teaspoon of corn or cornbread extract or corn syrup to your batter. You can also sprinkle a little corn meal on top of each of the corn dogs.
Other shredded cheese: Try using your own favorite cheese like Swiss, parmesan, or Monterey jack.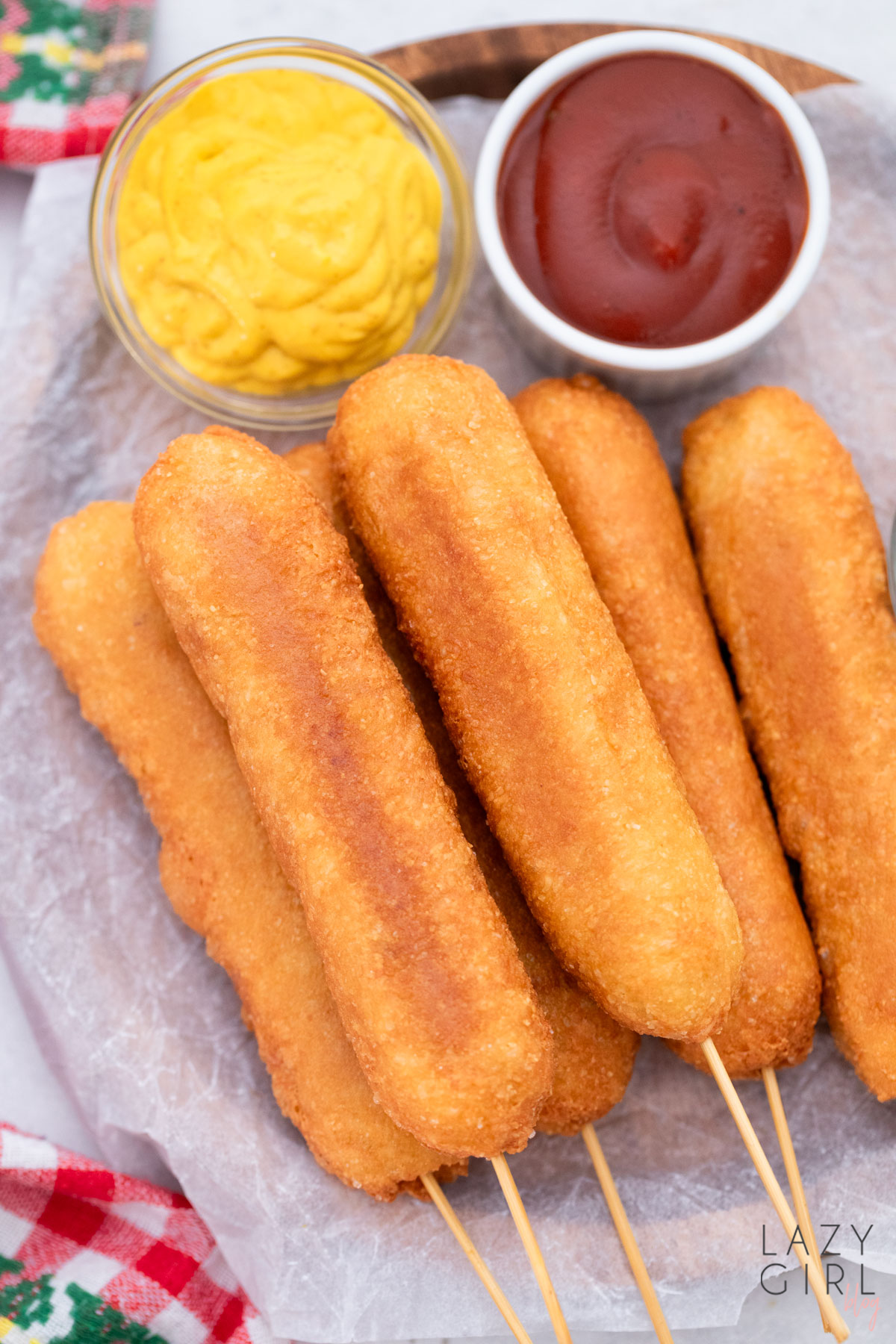 ---
How to serve Keto Corn Dogs
These low-carb corn dogs are easy to make and perfect for anyone on a keto diet. Try one of these serving ideas or share one of your own ideas in the comments section under the recipe notes.
These tasty deep-fried keto-friendly gluten-free corn dogs taste great dipped in sugar-free ketchup.
Another way to enjoy these delicious dogs is with a bit of hot sauce or sriracha sauce.
You cannot forget the mustard. All good corn dogs need some mustard. Honey mustard would be amazing.
Love cheese? Why not add some more shredded cheese on the outside of your corn dogs while they are still warm?
Use leftover corn dogs in a casserole. Just remove the sticks and chop them into pieces. These would be great mixed into a cheesy potato casserole.
Serve a variety of dips like barbecue sauce, melted cheese, honey, mustard, ketchup, mayo, and whatever else you like.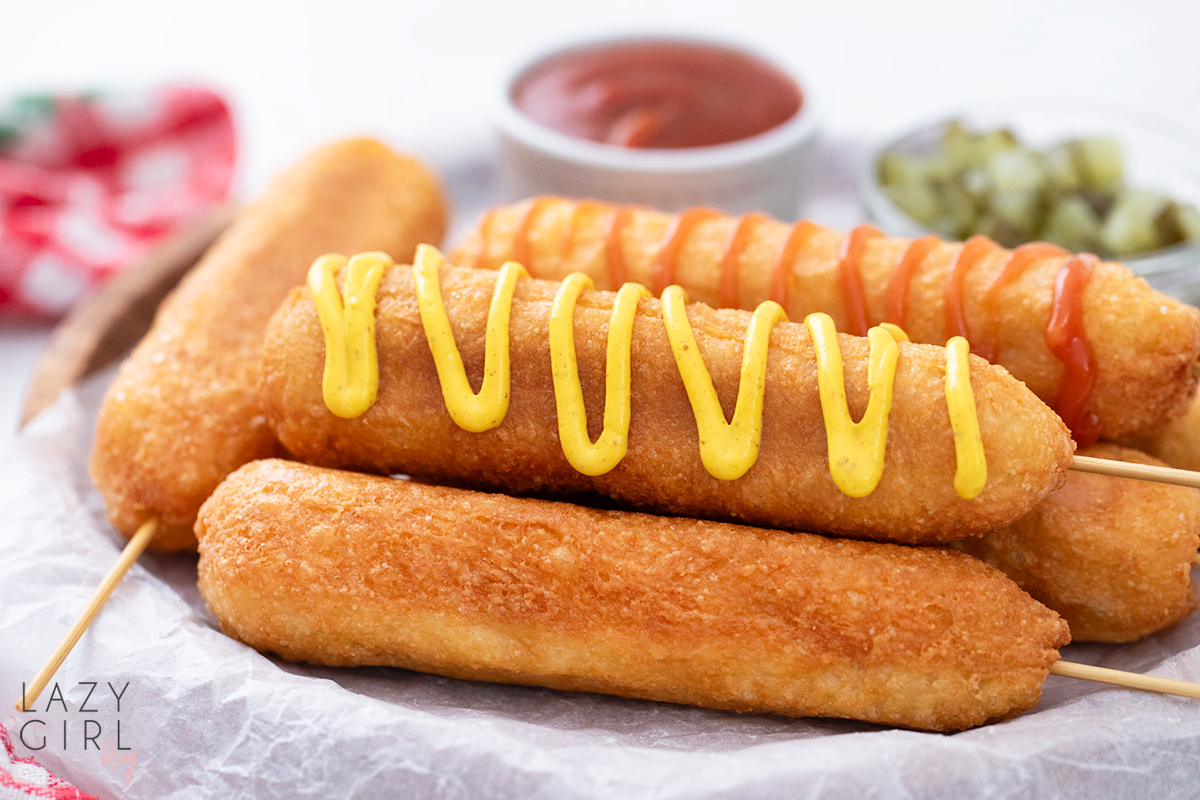 ---
How to store leftovers:
Store: You can store your leftover keto corn dogs in an airtight container or a large zipper baggie. Refrigerate for three to four days.
Freeze: To freeze, wrap in plastic wrap and then in foil. Then place them in a freezer bag in the freezer where they will be good for several months.
Thaw: Be sure to put your frozen leftovers in the fridge the night before serving to thaw out.
Reheat: To reheat, place one corn dog in the microwave for 30 to 60 seconds.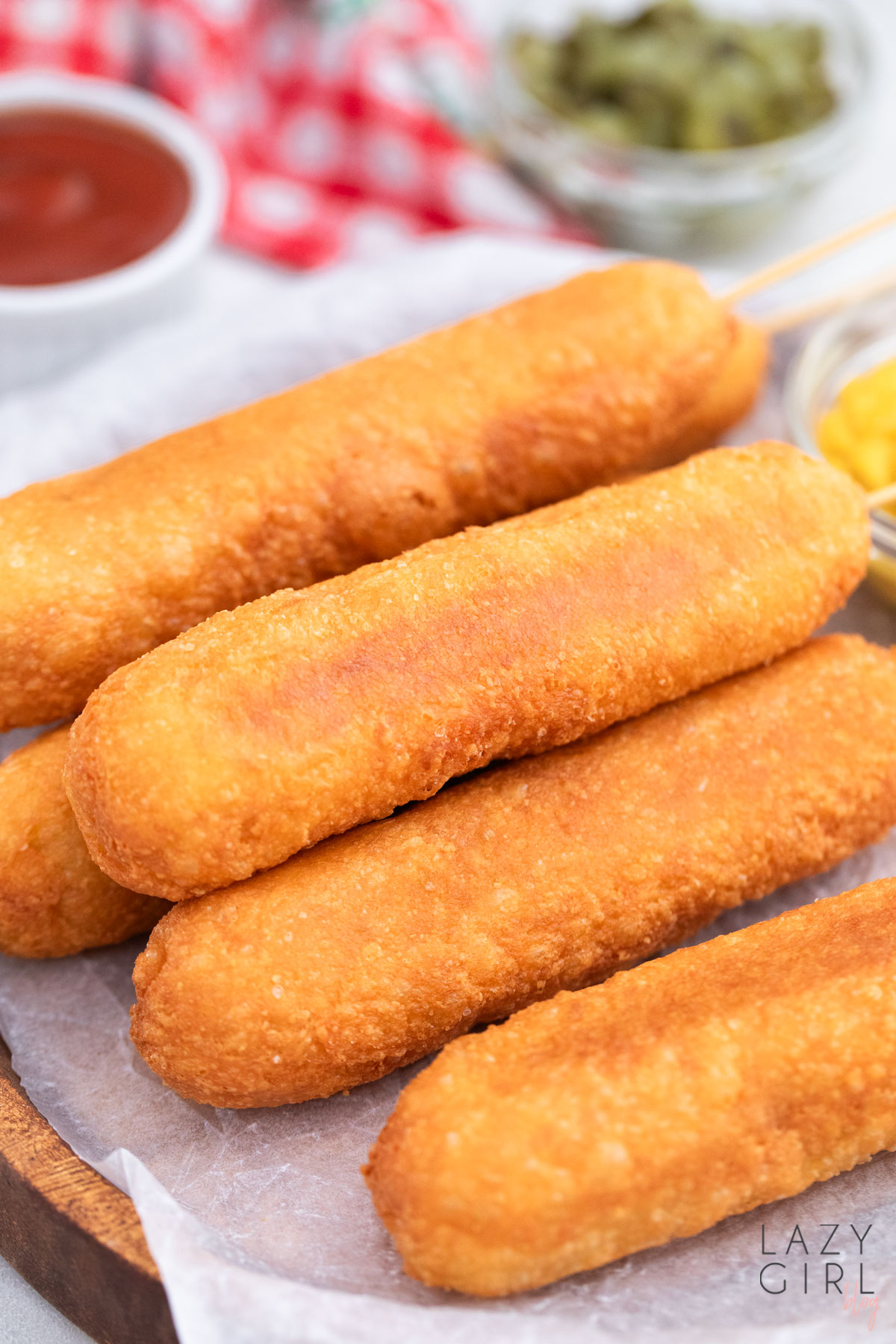 ---
Keto Corn Dogs Recipe tips
If you are worried about calories and fat, try making air-fried corn dogs. To air fry, just follow the same instructions but cook in the air fryer for three minutes per side instead of using the deep fryer or frying pan.
You can use mini muffin pans or mini muffin tins if you do not have any hot dog sticks.
Actually, you can also use popsicle sticks or skewers for your corn dogs.
Instead of mozzarella cheese, try using heavy cream for a creamier flavor.
Feel free to use different flour such as coconut flour, almond flour, almond meal, or whatever you like.
Instead of xanthan gum, you can use ground flax seeds and water, chia seeds and water, or psyllium husk. Other substitutes include guar gum, agar agar, and unflavored gelatin.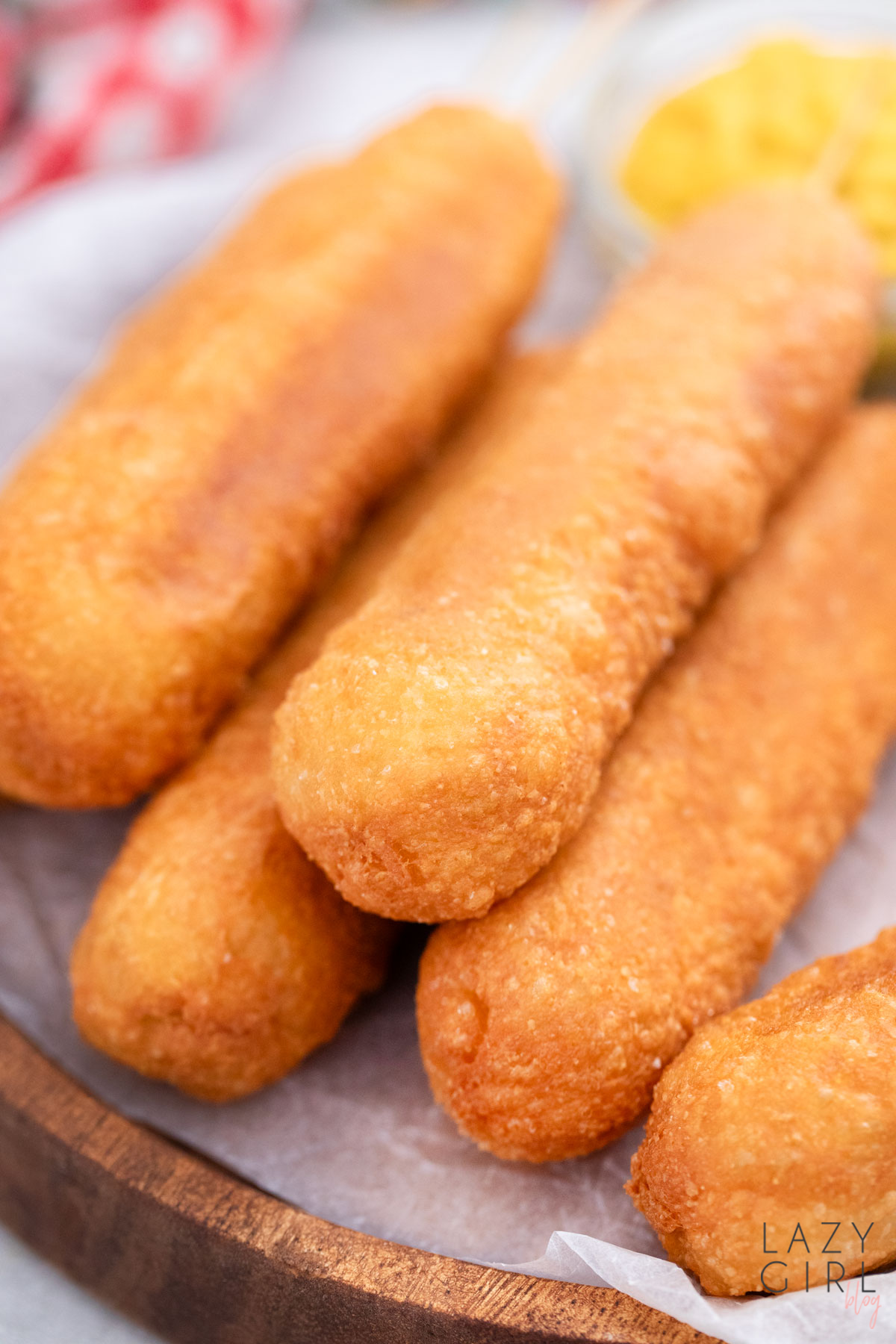 ---
Frequently asked questions
What makes these corn dogs keto-friendly?
A regular corn dog is not keto-friendly because they are made of a cornmeal batter that is high in carbs. Our keto corn dog recipe, however, has just five net carbs per serving. To figure the net carb count, you just subtract the fiber from the total number of carbs. You can also use Fat Head dough, which is made from a mixture of almond flour, cream cheese, mozzarella, and baking powder.
What are keto Korean corn dogs?
A Korean corn dog is a delicious street food in Asia made from a half hot dog and half cheese sticks. Then it is deep fried in a sweet batter. They typically use Fathead Dough for these tasty treats, which are sweeter and more doughy than regular ones. The melted cheese and hot dogs go great together.
What is the nutritional information in this recipe?
Each corn dog has 560 calories, 320 mg of sodium, 10 grams of carbs, 5 grams of net carbs, 35 mg of cholesterol, 48 grams of fat, 3 grams of saturated fat, and 2 grams of sugar. But you will also get 9 grams of protein, 1 gram of unsaturated fat, 100 mg of potassium, 1 mg of vitamin C, 130 units of vitamin A, 75 mg of calcium, 2 mg of iron, and 5 grams of fiber.
Looking for more delicious keto recipes to try with this delicious Keto Corn Dogs? This goes perfectly with this Fried Cabbage with Bacon that is very easy to prepare!
If you're looking for more delicious and crowd-pleasing keto dinner recipes, try these:
The Best Keto Bacon Wrapped & Cheese Stuffed Burgers
Best Low Carb Keto Bacon Wrapped Grilled Cheese
If you enjoyed this recipe, please share it with your friends, and leave me a comment below.
Tag me on Instagram @lazy_girl_tips so I can see it! Leave a comment, rate it, pin it, share it, and don't forget to tag a photo #lazy_girl_tips on Instagram. I'd love to see what you come up with. Cheers, friends!