With a super moist cake and silky smooth cream cheese frosting, Pecan Carrot Cake is more than a dream come true. It is sooooo moist and so full of flavor!
This classic low-carb pecan carrot cake with cream cheese icing is a fabulous treat with your morning coffee or as a dessert.
This low-carb carrot cake is so versatile that you can make it for any occasion.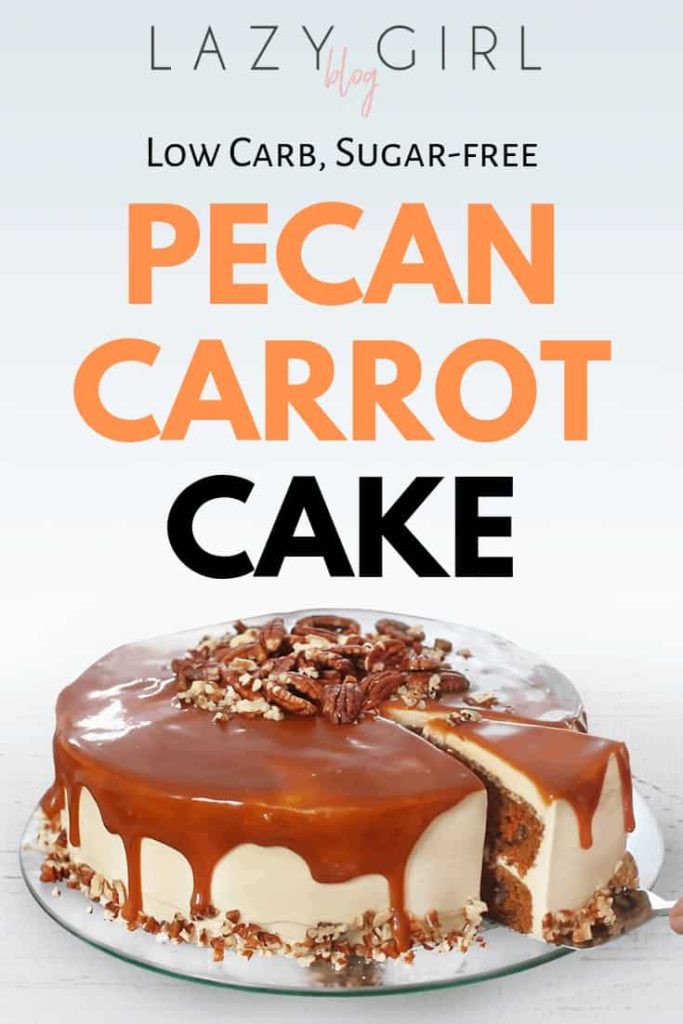 What I love about this healthy carrot cake recipe is just that- It's healthy enough to enjoy for breakfast, but it also doesn't sacrifice taste or texture.
Even if you're not much of a baker, you can make this lovely cake for a special occasion.
It's not as hard as you might think but does take some prep work to prepare this beauty.
These look all fancy but they really are so easy to make. Just follow the following tips and you're guaranteed to have the best tasting low carb pecan carrot cake out there!
Friends and family will be shocked when they taste it and then you share this is a Healthy Low Carb, Gluten-Free, Sugar-Free Cake!
Now that you know how to make a homemade pecan carrot cake, for what occasion will you make this amazing recipe?
---
This post may contain affiliate links. As an Amazon Associate, I earn from qualifying purchases for my referral at no extra cost to you! See Disclosure
---
Low Carb Pecan Carrot Cake Recipe:
[bs_icon name="glyphicon glyphicon-time"] Prep Time: 30 minutes
[bs_icon name="glyphicon glyphicon-time"] Cook Time: 20 minutes
[bs_icon name="glyphicon glyphicon-time"] Total Time: 1 hour 20 minutes
[bs_icon name="glyphicon glyphicon-cutlery"] Servings: 16
---
Ingredients
For the carrot cake:
2 cups superfine almond flour
1/2 teaspoon baking soda
1/2 teaspoon ground cinnamon
1/4 teaspoon salt
1/4 cup butter, melted
1/3 cup unsweetened almond milk
3 large eggs, room temperature
2 teaspoons vanilla extract
1/2 cup chopped pecans
3/4 cup finely grated carrots about 1 medium or 3 ounces
---
For the cheesecake:
---
Instructions
For the carrot cake:
Preheat the oven to 350º Fahrenheit. Line 2 9-inch springform pans with parchment paper.
In a medium mixing bowl, whisk together the almond flour, sweetener, baking soda, cinnamon, and salt.
Whisk in the melted butter. The mixture will appear mealy.
In a small mixing bowl whisk together the milk, eggs, and vanilla extract. Slowly pour this mixture into the dry ingredients, while stirring.
Stir the batter until all ingredients are well-combined. Stir in the pecans and carrots.
Divide the batter between the two prepared pans and spread evenly. Bake in the center of the oven for about 20-25 minutes or until the top springs back when lightly touched.
Place pans on a cooling rack and allow to cool to room temperature, then cover and refrigerate for about 30 minutes before assembling the cake.
---
For the cheesecake:
In a medium mixing bowl, blend the cream cheese and 2 tablespoons sweetener together using a hand mixer at low speed until combined. Once combined, increase the speed to high and blend until smooth.
Blend in the sour cream until smooth.
Add 1/4 cup of the caramel sauce (reserving the rest for later), vanilla extract, and maple extract to the cream cheese mixture. Blend until completely smooth. Set aside
Add whipping cream and 1 teaspoon sweetener in a separate small mixing bowl. Using a clean hand blender, whip the mixture until stiff peaks form.
Gently fold 1/3 of the whipped cream mixture into the cream cheese mixture to lighten. Fold in the remaining 2/3rds of the whipped cream, trying not to break the bubbles.
---
To assemble:
Remove the first layer of the cooled carrot cake from the pan and transfer it to a serving plate. Spread about 1/3 of the cheesecake mixture on top. Remove the second layer of cheesecake and place it on top of the cheesecake layer. Spread the rest amount of the cheesecake mixture over the second carrot layer and around the cake. Refrigerate at least 3 hours before serving.
Just before serving, sprinkle the pecans on the top. Gently heat the remaining caramel sauce in a small saucepan over low heat until just melted, but not hot. Pour desired amount over the top of the cake.
---
[bs_icon name="glyphicon glyphicon-heart"]

Tip:

How to make a moist carrot cake and take it to the next level?
FINELY grated carrots – Use the side of the cheese grater that has the smallest holes. Yes, it will take an extra minute to grate the carrots but it's worth it. It helps make the cake moister and less chunky.
Toasted pecans – Toasting the pecans makes the nuts a little crunchier but also really brings out their flavor.
For a paleo pecan carrot cake, swap the erythritol for maple sugar or coconut sugar. And use coconut whipped cream instead of the cream cheese frosting.
Storage-wise, this healthy carrot cake is fantastic. It keeps so well in the refrigerator, and is also freezer friendly, for up to 2 months.
---
[bs_icon name="glyphicon glyphicon-tasks"]

Nutrition

Per serving: Calories: 367; Fat: 36g; Carbs: 7g; Fiber: 3g; Protein: 7g; Net Carbs: 4g;

If you like this recipe share it with your friends and (..of course..) pin it for later. 🙂