Need a quick low carb or keto dessert? If you are craving a break from the richness of chocolate desserts and cake then try a recipe for this Crunchy Low Carb Keto Berry Mousse.
This delicious berry mousse is a light, crunchy, creamy, and fruity dessert.
This is a super easy, Sugar-free, keto, and LCHF recipe.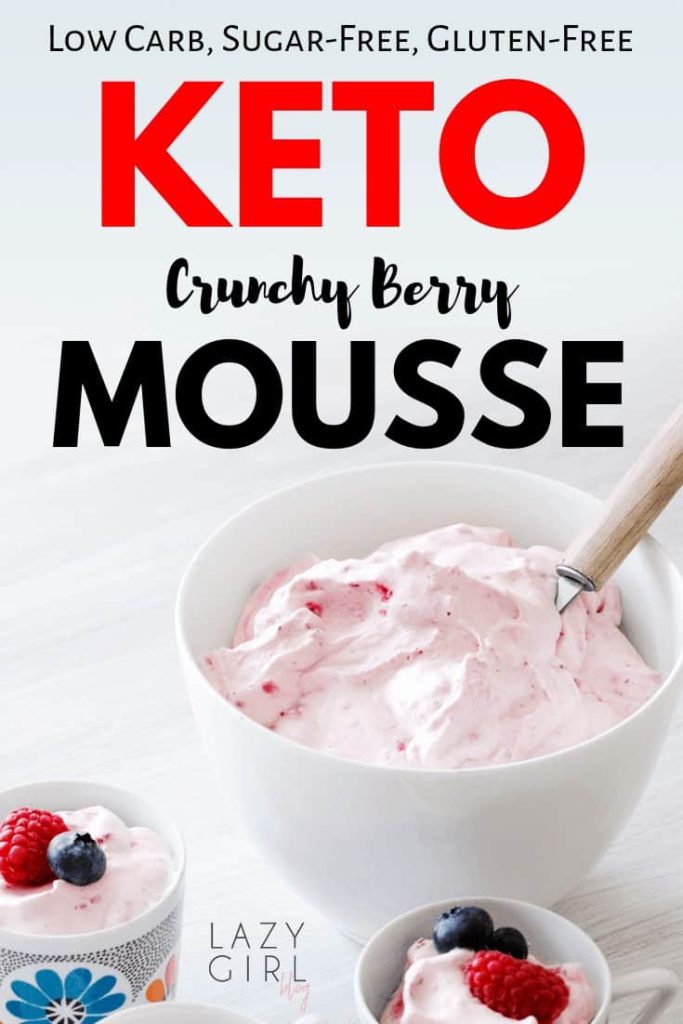 It is so simple to make that any cook can throw it together in the afternoon and wow everyone after dinner.
With berries in the mix, plus the crunch of pecans and a touch of lemon zest, everyone gathered at your table will appreciate the festive treat!
---
This post may contain affiliate links. As an Amazon Associate, I earn from qualifying purchases for my referral at no extra cost to you! See Disclosure
---
Crunchy Keto Berry Mousse Recipe:
[bs_icon name="glyphicon glyphicon-time"] Prep Time: 10 minutes
[bs_icon name="glyphicon glyphicon-time"] Total Time: 4 hours
---
Ingredients
2 cups

heavy whipping cream

3 oz.

fresh raspberries or fresh strawberries or fresh blueberries

2 oz.

chopped pecans

½

lemon the zest
---
Instructions
Pour the heavy whipping cream into a bowl and whip with a hand mixer until soft peaks form. Add the lemon zest and vanilla towards the end.
Add berries and nuts to the whipped cream and stir thoroughly.
Cover with plastic wrap and let sit in the refrigerator for 3 or more hours for a firm mousse. You can also enjoy the dessert immediately if you don't mind a less firm consistency.
---
[bs_icon name="glyphicon glyphicon-heart"] Tip: You can try any combination – strawberries, cherries, blackberries, or red and black currants.
---
[bs_icon name="glyphicon glyphicon-tasks"]

Nutrition

Per serving: Calories: 260 | Net carbs: 3 g | Fiber: 2 g | Fat: 27 g | Protein: 3 g;

If you like this recipe share it with your friends and (..of course..) pin it for later. 🙂

Recipe by: Anne Aobadia; Photo credit: Emma Shevtzoff