1 Minute Cinnamon Roll Mug Cake is an easy way to make low-carb and keto-friendly cake with cinnamon glaze and delicious icing for an easy keto dessert!
This healthy Mug Cake is also naturally gluten-free, vegetarian, paleo, and sugar-free!
This Mug Cake is perfect when you need a delicious dessert in a flash.
There's nothing easier or more comforting than this easy low-carb cinnamon mug cake, ready in under a minute!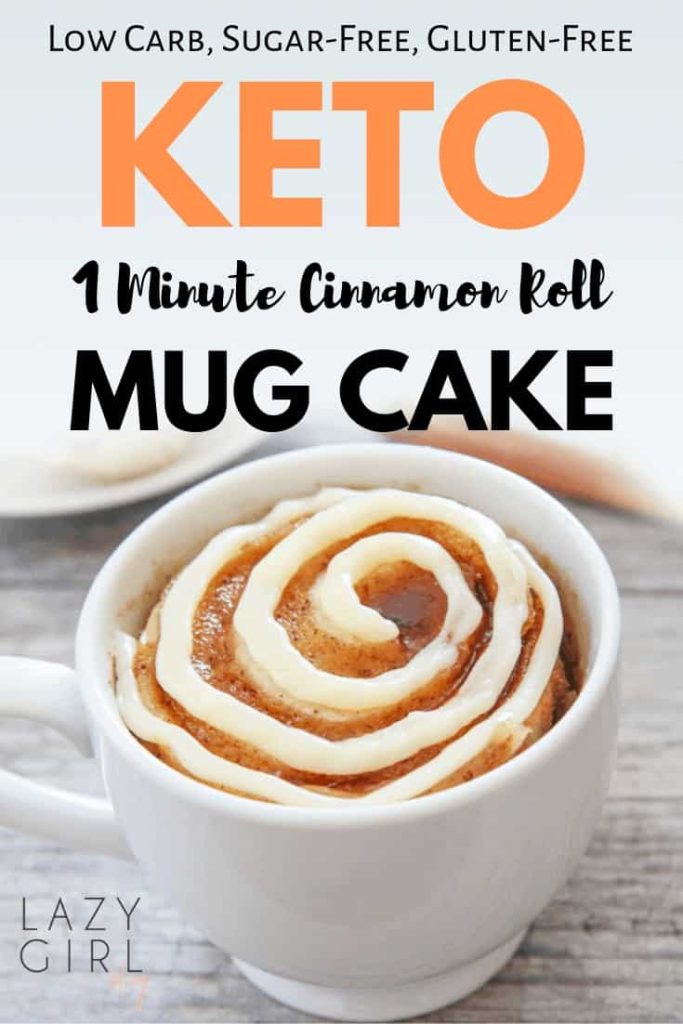 ---
This post may contain affiliate links. As an Amazon Associate, I earn from qualifying purchases for my referral at no extra cost to you! See Disclosure
---
1 Minute Low Carb Keto Cinnamon Roll Mug Cake Recipe:
[bs_icon name="glyphicon glyphicon-cutlery"] Servings: 1
[bs_icon name="glyphicon glyphicon-signal"] Calories: 132kcal
---
Ingredients
For the cake:
---
For the cinnamon swirl:
---
For the frosting:
---
Instructions
Grease a microwave-safe bowl with cooking spray and add baking powder, almond or coconut flour, cinnamon, and sweetener of choice and mix well.
Add the melted butter and egg and mix them into the dry mixture. Add the milk of choice and vanilla extract – if a batter is too crumbly, continue adding milk of choice until a very thick batter is formed.
For the cinnamon swirl add granulated sweetener and extra cinnamon and swirl over the top.
Microwave for 60 seconds, or until just cooked in the center.
In a medium bowl, beat butter with powdered sweetener until well combined. Beat in vanilla extract and heavy cream.
Transfer to a small ziplock bag and snip the corner. Drizzle decoratively over the chilled mug cake.
Top with glaze and enjoy!
---
[bs_icon name="glyphicon glyphicon-tasks"]

Nutrition

Serving: 1 mug cake | Calories: 132kcal | Carbohydrates: 6g | Protein: 25g | Fat: 4g | Fiber: 253g |

If you like this recipe share it with your friends and (..of course..) pin it for later. 🙂