Coffee is the ultimate way to wake up in the morning. When it comes to the health benefits of coffee, increased mental focus almost goes without saying.
Caffeine in coffee is transmitted through the bloodstream to the brain, where it blocks the inhibitory neurotransmitter adenosine, leading to increased firing of neurons.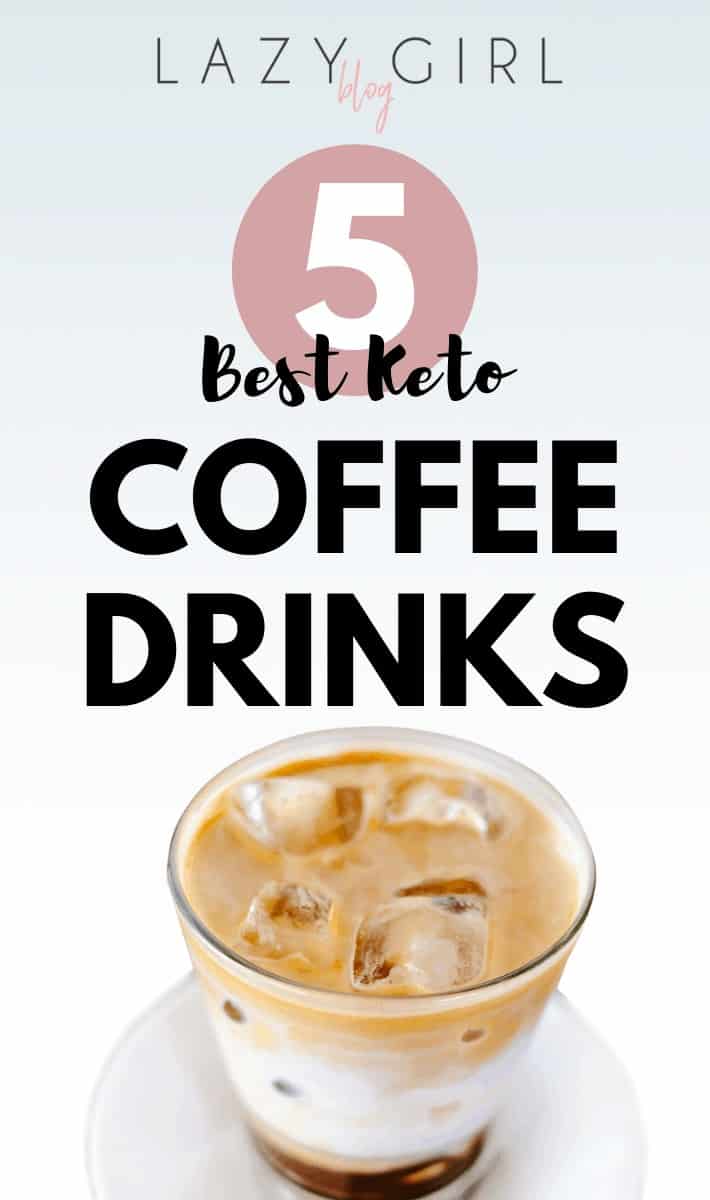 By now you're probably wondering why we're putting all of these crazy things in our coffee.
There are a number of reasons actually! The biggest reason is energy.
However, quality matters when it comes to keto coffee recipes.
And while some keto coffees use compliant low-carb ingredients like heavy cream and conventional butter, these can still cause inflammation and irritation that can hamper your results.
If you make keto coffee, use the best ingredients that will cause the least inflammation.
---
This post may contain affiliate links. As an Amazon Associate, I earn from qualifying purchases for my referral at no extra cost to you! See Disclosure
---
These keto coffee recipes combine the rich taste you love with healthy fat sources to fill your macros. Hot or iced, blended or frozen, these coffees come with amazing perks.
5 Best Keto Coffee Drinks
1# Classic Bulletproof Coffee
Bulletproof Coffee is not your average latte.
It's a high-performance drink that has a massive impact on your energy and cognitive function.
Bulletproof Coffee has helped everyone from driven CEOs to professional athletes to busy parents increase their energy so they can do more of what fulfills them.
Classic Bulletproof Coffee Recipe:
Grab a ready-to-go Bulletproof Coffee Cold Brew, or
Toss a packet of Instamix creamer in your coffee – no blender required. Each Instamix packet contains grass-fed butter and Brain Octane Oil in powdered form, for easy, on-the-go Bulletproof Coffee.
---
2# Low-Carb Cappuccino
Coconut milk creates the perfect froth for this keto coffee recipe, without the inflammation that heavy cream and milk can cause.
Simply brew your coffee, add warm coconut milk, and top with a beautiful, easy-to-prep foam. Enjoy this cafe-worthy coffee with 1.7 net carbs.
Ingredients (per serving)
---
3# Iced Bulletproof Coffee
It's delicious and tastes more like a coffee milkshake – recipe below.
You know summer is coming when the weather starts to heat up… and when readers start writing in asking for the best way to make iced Bulletproof Coffee!
Iced Bulletproof Coffee Recipe:
Blend up a hot Bulletproof Coffee just like you normally would, but use *ghee* instead of butter – it will not separate out when iced.
Pour over ice.
Enjoy!
---
4# Fat-Burning Rocket Fuel Latte
A creamy upgrade to the classic keto butter coffee, without butter!
Specifically made to assist women in burning fat all morning long while regulating hormones and abolishing cravings.
Rocket Fuel Lattes make the classic keto butter coffee, better. Each keto ingredient has been specifically chosen for a purpose.
Fat-Burning Rocket Fuel Latte Recipe:
Ingredients
Instructions
Brew coffee, and add to the jug of your high-powered blender along with MCT oil, cacao butter, hemp hearts, and stevia. Blend on high for 1 minute. During the last 10 seconds, add collagen.
Transfer to a cup and enjoy!
---
5# Cafe Mocha with Chia
Bulletproof-style coffee with a twist, chia seeds!
Add chia seeds to your blended coffee to pump up your daily omegas, balance blood sugar and boost fiber intake.
Cafe Mocha with Chia Recipe:
Ingredients
Instructions
Brew coffee, add to the jug of your high-powered blender along with remaining ingredients, and blend on high for 1 minute. Transfer to a cup and enjoy!