Who wouldn't want a homemade Snickers Bar that is actually good for you…
These Homemade Snickers Bars are a healthier version of the classic candy with no baking required!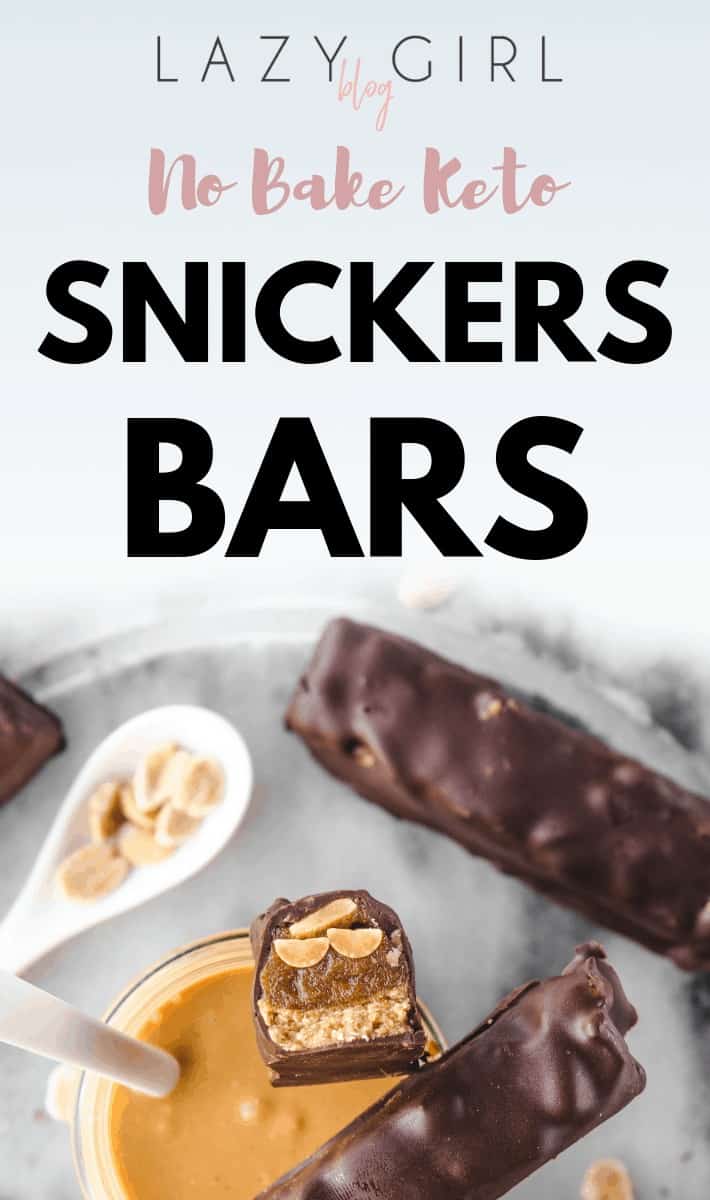 No baking, or cooking, is necessary. The most you've got to do is blend some things.
They're really super easy. A small-time investment with a BIG reward!
My only regret about this recipe is that I did not make it sooner.
---
This post may contain affiliate links. As an Amazon Associate, I earn from qualifying purchases for my referral at no extra cost to you! See Disclosure
---
Keto Snickers Bars Recipe:
Ingredients
Creme" Layer:
"Caramel" Layer:
Chocolate Layer:
---
Instructions
Add the ingredients for the "creme" layer (soaked cashews, coconut cream, brown erythritol & vanilla extract) into a food processor and blend for at least 1-2 minutes until you get a smooth and chunk-free, creme-like mass.
Chill in the fridge while you continue to the next step.
Melt the sugar-free chocolate using a double boiler. Pour the chocolate into rectangularly shaped silicone molds. The bottom should be fully covered but don't add too much chocolate (about 5mm/0.2″ is more than enough).
Place the mold with the chocolate in your freezer for approx. 10 minutes until the chocolate has hardened.
Add the cashew creme into the silicone mold as well. Press the creme into shape using your fingers. Place back in your freezer for approx. 15 minutes while you prepare the "caramel" layer.
Mix all of the ingredients for the caramel layer except for the whole peanuts.
Pour the caramel layer on top of the creme layer into the silicone mold.
Place the whole peanuts on top of the caramel layer and chill again for 15 minutes in your freezer or 30 minutes in your fridge before popping the bars out of the silicone mold.
Optional: Melt additional chocolate and pour it over the finished "naked" bars.
Enjoy the finished "naked" keto snickers bars or chocolate-covered bars with a hot cup of tea or coffee!
Cover the remaining keto bars with plastic wrap and store them in your fridge for up to 1 week.
Nutrition
[bs_icon name="glyphicon glyphicon-cutlery"] Per Serving: Calories 214; Total Fat 18.9g; Total Carbohydrate 6.3g; Dietary Fiber 0.8g; Protein 5g
Recipe by: Uliana Zoeller; Photo credit: Caitlin Shoemaker