Making a perfect keto cheesecake is easier than you think. This one is both sugar and gluten-free, yet still tastes like a dream.
Rich and creamy, this keto cheesecake is THE cheesecake to make.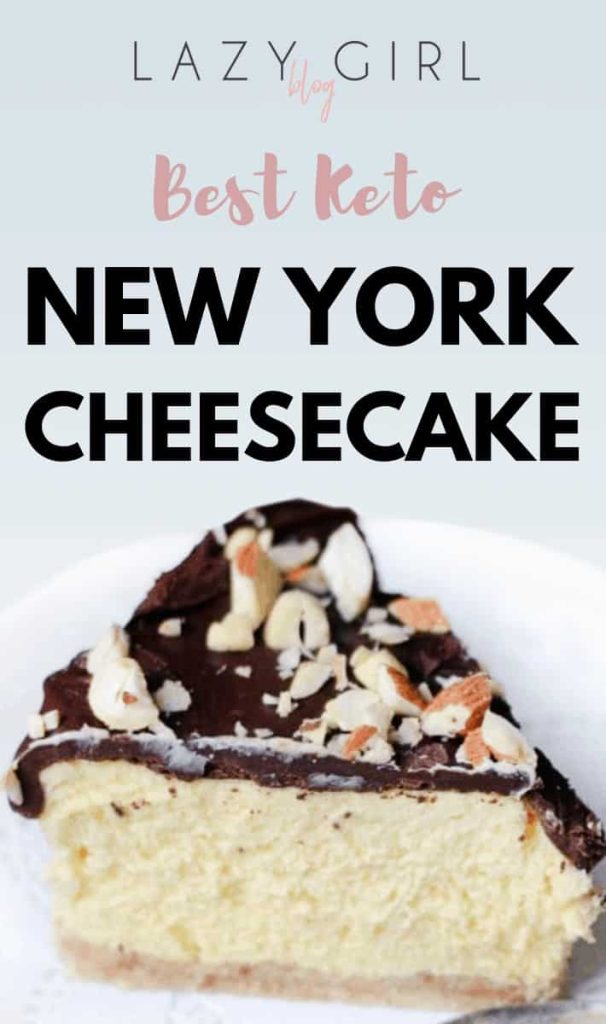 Keto New York Cheesecake is a simple recipe.
The only downside to it is that it just takes a while to let the oven cool once the cooking time has been completed.
---
This post may contain affiliate links. As an Amazon Associate, I earn from qualifying purchases for my referral at no extra cost to you! See Disclosure
---
Keto New York Cheesecake Recipe:
Ingredients
Crust:
Filling:
Optional Decorating ingredients:
---
Instructions
Preheat the oven to 350°F (175°C). Butter a 9-inch (22 cm) springform and line the base with parchment paper.
Melt the butter for the crust and heat until it gets a nutty scent. This will give the crust a lovely toffee flavor.
Remove from heat and add almond flour, sweetener, and vanilla. Combine into a dough and press into the base of the springform pan. Bake for 8 minutes, until the crust turns lightly golden. Set aside and allow to cool while you prepare the filling.
Mix together cream cheese, heavy cream, eggs, lemon zest, vanilla, and sweetener, if you're using any. Combine well. Pour the mixture over the crust.
Raise the heat to 400°F (200°C) and bake for 15 minutes.
Lower the heat to 230°F (110°C) and bake for another 45-60 minutes.
Turn off the heat and let cool in the oven. Remove when it has cooled completely and placed it in the fridge to rest overnight.
Once the cheesecake is cooled, you can then remove it from the springform pan and serve it with any toppings you wish!
Nutrition
[bs_icon name="glyphicon glyphicon-cutlery"] Per serving: Net carbs: 4 % (4 g); Fiber: 0 g; Fat: 87 % (33 g); Protein: 8 % (7 g); kcal: 335
Leave a comment, rate it, pin it, share it, and don't forget to tag a photo #lazy_girl_tips on Instagram. I'd love to see what you come up with. Cheers, friends!