The best tasting, moist meatloaf recipe stuffed with cheddar cheese this low-carb bacon-wrapped meatloaf is the king of all meatloaves.
With a crispy bacon weave wrapped outside and cheese stuffed inside, this recipe can be used for regular family dinners or special occasions such as a party.
This homemade Bacon Wrapped Cheese Stuffed Meatloaf is stuffed with melty cheese and wrapped in plenty of bacon, it's total comfort food.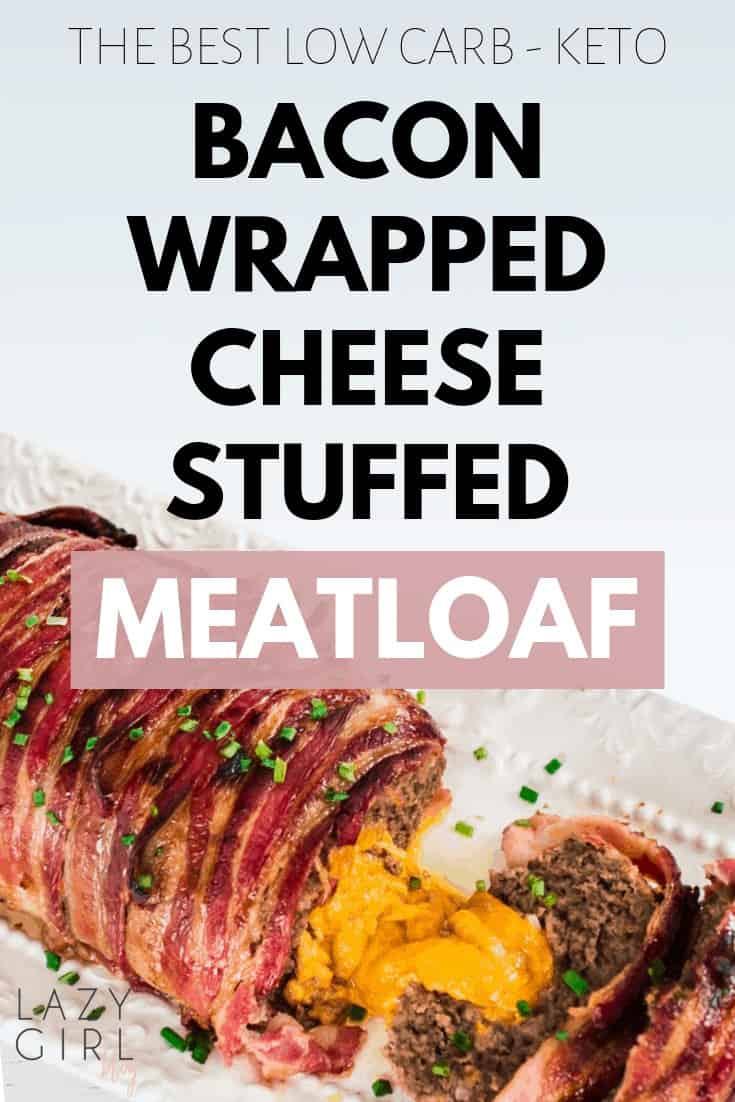 Served with your favorite sides and a simple gravy, the cheesy middle of this meatloaf will be the best surprise at your dinner table!
It is easy to make a low-carb meatloaf. Just leave out the binder that normally comes in the form of breadcrumbs and makes sure to substitute that with almond flour and tomato pureé.
If you want side dishes you have to use keto-friendly veggies for a low-carb meatloaf, so stay away from carrots and opt for green peppers, a little sweet onion, and garlic.
---
This post may contain affiliate links. As an Amazon Associate, I earn from qualifying purchases for my referral at no extra cost to you! See Disclosure
---
Low Carb Keto Bacon Wrapped Cheese Stuffed Meatloaf Recipe:
[bs_icon name="glyphicon glyphicon-time"] Prep time: 20 min.
[bs_icon name="glyphicon glyphicon-time"] Cook time: 45 min.
[bs_icon name="glyphicon glyphicon-cutlery"] Servings: 8
---
Ingredients
For the meatloaf:
---
Cheese filling:
1/2 cup grated Parmesan
1/2 cup cheddar cheese, cut into cubes
1/4 cup sour cream
1/2 cup Jalapeno chopped, optional
---
Instructions:
Preheat the oven to 350F.
Start by making the bacon wrap. On aluminum foil, place long slices of bacon in the vertical direction. It's easier to make this with cold bacon slices.
Mix the ground pork and beef in a bowl. Crack in the egg. Fold together with the almond flour, onion powder, garlic powder, and tomato pureé if available. Pepper the mixture while adding the chopped jalapeno. Combine thoroughly to flavor the meat well.
Place the bacon weave on foil paper to make it easier to roll the meatloaf later. Flatten the seasoned meat onto the weaved bacon, evenly spread it with your hands or a spatula
On one edge of the meat bed, arrange the chopped jalapeno, Parmesan and cheddar cheese, and sour cream. Roll the meat carefully to avoid spilling the fillings.
Place the rolled meatloaf onto a baking sheet. Bake for 40 minutes or more if the loaf is thicker. Check often to make sure it's cooked.
Carefully slice the lukewarm loaf into pieces. Garnish with coriander, chopped avocado, and fresh cheese.
Serve and enjoy!
[bs_icon name="glyphicon glyphicon-tasks"] Nutrition:
Per serving: Calories: 481; Fat: 42.4g; Net carbs: 2.7g (total carbs: 3.5g, dietary fiber: 0.8g); Protein: 20.8g;