Who else out there loves a good old Pecan Pie? Golden crust, toasty pecans, and that sweet maple syrup infused filling. What could be better?
This one is no different except that it is totally sugar-free, grain-free, low in carbs, and keto-friendly.
This mug cake can be thrown together in no time and it will satisfy your sweet tooth without destroying your diet.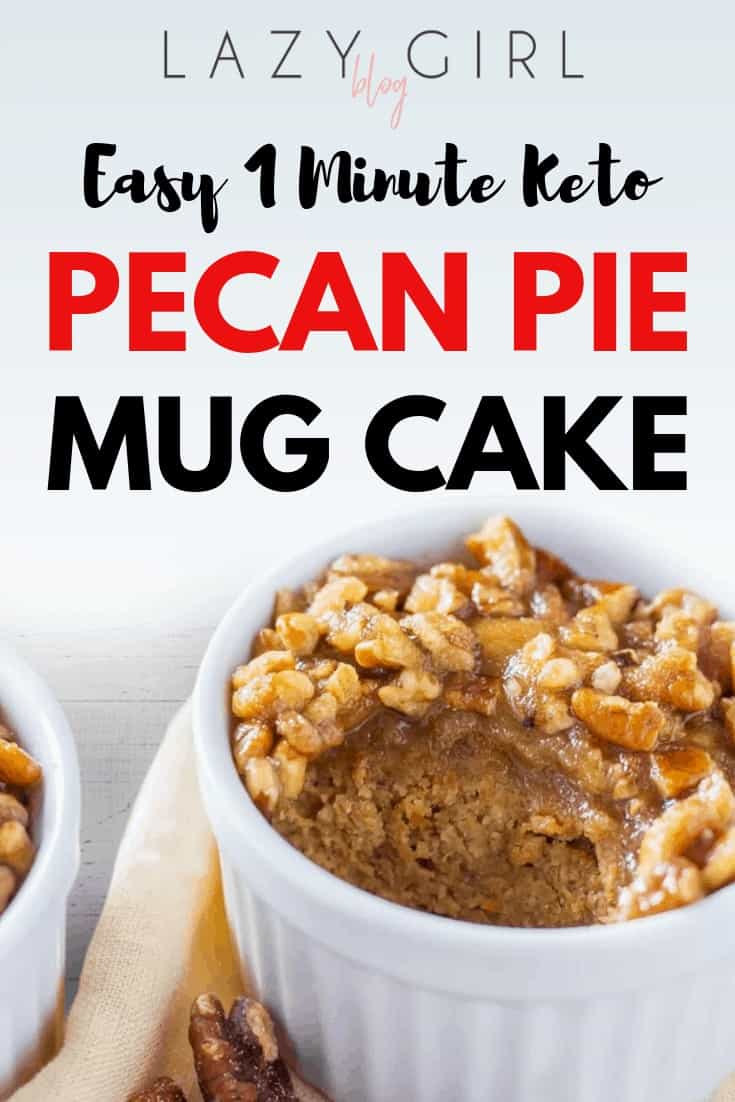 With all that fiber and its' low carb count, it'll fill you up, satisfy any cravings and leave you in your cozy state of ketosis!
I'll be the first to admit that many low-carb versions of foods, especially baked goods are not always as good as the original version. But I was thrilled to discover that a good mug cake recipe is just as tasty as the high-carb, high sugar version.
---
This post may contain affiliate links. As an Amazon Associate, I earn from qualifying purchases for my referral at no extra cost to you! See Disclosure
---
Keto Pecan Pie Mug Cake Recipe:
[bs_icon name="glyphicon glyphicon-time"] Prep Time: 5 min.
[bs_icon name="glyphicon glyphicon-time"] Cook Time: 1 min. per cake
[bs_icon name="glyphicon glyphicon-cutlery"] Servings: 2 mug cake
---
Ingredients
Mug Cake Base:
---
Pecan Pie Topping:
---
Instructions
Pecan Pie Mug Cake:
Add all of the ingredients for the mug cake base into a middle-sized bowl.
Whisk until you get a smooth and chunk-free dough.
Grease your microwave-safe mug or ramekin with cooking oil that doesn't have a strong taste (I like to use coconut oil, butter, or avocado oil).
Add your cake batter into your mug or ramekin (the mug should be at least double the size of the mixed ingredients).
Microwave for about 1-3 minutes ( 1 Minute at 1200 Watt and more like 2-3 minutes at <600 Watt.)
You can test if your mug cake is completely cooked by pricking the center with a toothpick – if it comes out "clean" it's ready!
---
Pecan Pie Topping:
Melt butter then combines pecan and brown sugar alternative. Can swap out for sugar-free maple syrup as well.
Once your mug cake has finished baking, add the pecan pie topping on top of it.
---
[bs_icon name="glyphicon glyphicon-tasks"]

Nutrition

Per Serving: Calories: 409; Total Carbs: 6.7g; Fiber: 3.1g; Total Fats: 44g; Net Carbs: 3.6g; Protein: 11g;

If you like this recipe share it with your friends and (..of course..) pin it for later. 🙂