Check out this Easy No-Bake Cherry Cheesecake Lush Dessert!
Desserts that are easy to make and kept in the refrigerator are always best. Lush desserts are always sooo tasty. The layers of yumminess always make for wonderful desserts.
They are great for potlucks, BBQs, or just to have for an after-dinner dessert. The perfect dessert recipe for the holidays and all year round!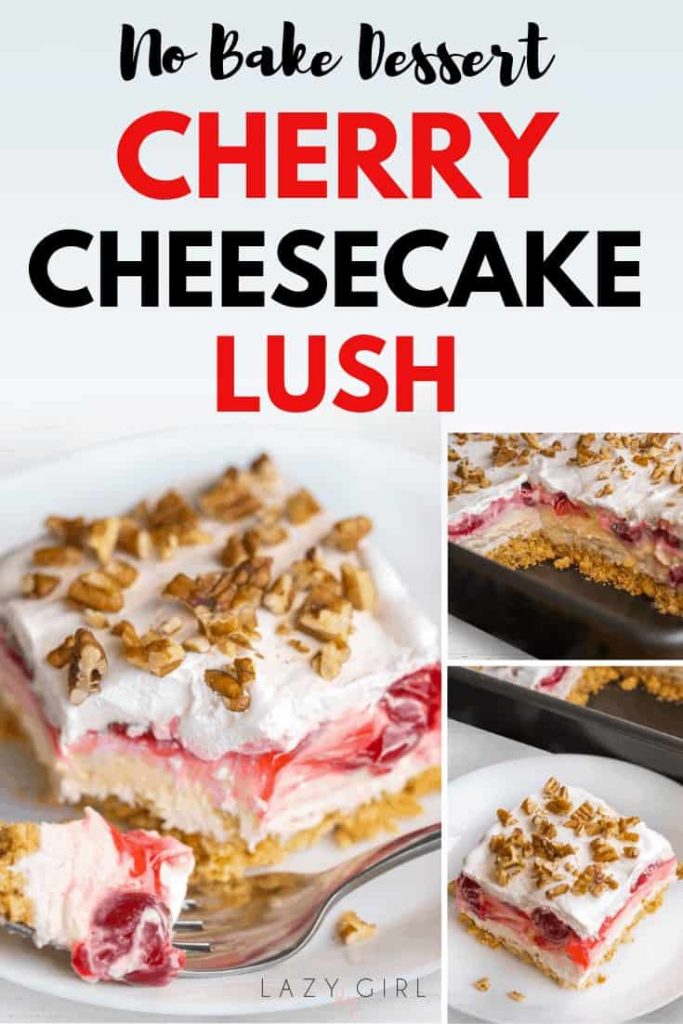 You really can't go wrong when it comes to Cherry Cheesecake Lush.
If you decide to make my Cherry Cheesecake Lush, you could use a graham cracker crust, a vanilla crust, or even an Oreo crust.
The flavors of any crust can work with cherries and cheesecake.
While you are shopping this week, add these super simple ingredients to your shopping list to make this amazing dessert.
You can have it made quite quickly and easily. Just a few messy dishes to clean up!
Do you have a favorite Lush dessert?
---
This post may contain affiliate links. As an Amazon Associate, I earn from qualifying purchases for my referral at no extra cost to you! See Disclosure
---
No-Bake Cherry Cheesecake Lush Dessert Recipe:
[bs_icon name="glyphicon glyphicon-time"] Prep Time: 30 minutes
[bs_icon name="glyphicon glyphicon-time"] Total Time: 30 minutes
[bs_icon name="glyphicon glyphicon-cutlery"] Servings: 12-16
---
Ingredients
1 package vanilla sandwich cookies (approx. 36 cookies), crushed
1 cup finely chopped pecans
1/2 cup (1 stick) unsalted butter, melted
8 oz. cream cheese, softened
1 cup powdered sugar
16 oz. whipped topping, divided
2 small boxes cheesecake flavored pudding
3 cup milk
1 can Cherry Pie Filling
1/2 cup chopped walnuts or chopped pecans
---
Instructions
Add melted butter and 1/4 teaspoon salt to a large bowl and toss until cookie crumbs are all thoroughly coated.
Pour the crumb mixture into a 9×13-inch baking dish and press into an even layer. Place in refrigerator and chill until ready to use.
In a separate mixing bowl, combine cream cheese, powdered sugar, and 1 1/2 cup of whipped topping.
Mix until smooth; spread evenly over cooled crust.
Combine cheesecake pudding mix, milk, and 1 cup whipped topping and mix until smooth.
Spread evenly over cream cheese layer in pan.
Spread cherry pie filling over pudding mixture.
Refrigerate for at least 1-2 hours, or until pudding is set.
Spread whipped topping over bars.
When ready to serve, top with chopped walnuts or chopped pecans if desired. Slice, serve, and enjoy!
If you like this recipe share it with your friends and (..of course..) pin it for later. 🙂