This Vanilla Cream Cake is a melt-in-your-mouth soft and creamy dessert. It is not one of the best, but THE BEST dessert you will ever try!
No fancy decorative multi-layered cake can top this simple, heavenly vanilla cream, almost no-bake wonder. It tastes DELICIOUS and can be very addicting!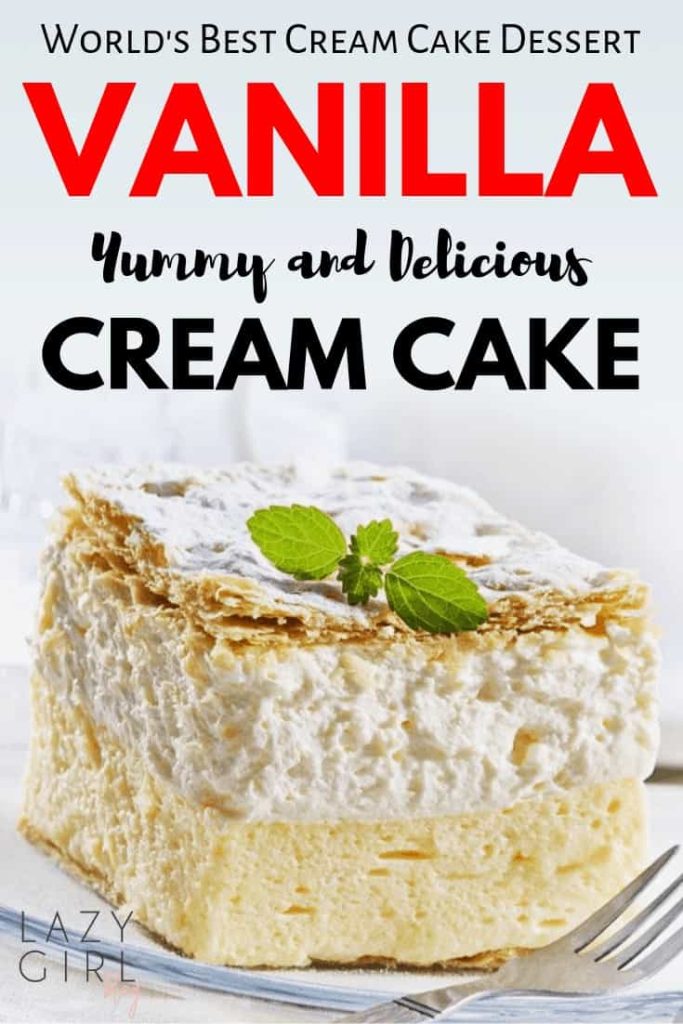 Almost as if you are eating cold vanilla pudding with a soft crust and dusted with sweet powdered sugar.
While this dessert is a little tricky to eat without making a complete mess, it rivals any decadent layer cake out there.
We say the crunchy layers of puff pastry and cool vanilla custard are well worth any minor cleanup that might ensue.
See, it's the complete package. It's airy and creamy and just sweet enough and it's all sandwiched with that little snappy bite of puff pastry.
And an extra dusting of powdered sugar doesn't hurt matters either.
If you want them to be really fluffy and not runny you really need to measure the ingredients in this recipe, very exact.
---
This post may contain affiliate links. As an Amazon Associate, I earn from qualifying purchases for my referral at no extra cost to you! See Disclosure
---
Vanilla Cream Cake Dessert Recipe:
[bs_icon name="glyphicon glyphicon-cutlery"] Servings: 15
---
Ingredients:
2 sheets puff pastry, thawed
9 large eggs divided into egg yolks and egg whites
10,5 oz. (1.5 cups) sugar for the egg yolk mixture
3,5 oz (0,5 cup) of sugar for the egg white mixture
54 fl oz of milk and save 1 cup of milk for the egg yolk mixture
2 bags vanilla sugar or if you don't have it just use 1 to 2 tsp of vanilla extract
6,35 oz. all-purpose flour
For the topping you will need:
2 cups of heavy whipping cream
2 tsp sugar
And for the serving:
---
Instructions:
Preheat the oven to 350°F. The first thing you need to do is to roll and bake the puff pastry. Roll it into 2 equal squares. The size should be just a bit bigger than your baking dish because it will shrink in the baking process. Place each puff pastry sheet on a baking sheet. Then take a fork and poke the dough here and there. Bake for 10 minutes or until golden brown. Set aside to cool.
For the egg mixture divide the eggs, leaving the egg whites in the larger bowl.
Mix the egg whites firmly using a hand mixer. When you see a sort of peaks forming, slowly add the sugar. Mix for another minute or until the sugar gets nicely incorporated. Egg white mixture should be as you can see very firm.
For the egg yolk mixture, first, boil the milk. Then add into a separate flour, vanilla, egg yolks, sugar, rum, and about one cup of cold milk which you previously took from the whole quantity. Mix everything together until you get a nice and creamy mixture.
When the milk is boiling slowly add the mixture into the milk and mix constantly. Cook it for about 5 minutes and be careful not to burn it as it can burn very fast.
Take the boiling mixture and slowly pour it into egg whites. Use a big whisk and immediately start mixing. You need to be quite fast here and combine the mixtures very well because If you get this part wrong you just won't get the fluffiness out of cakes. Instead, you will get a runny sort of pudding-like mixture – and you don't want that.
When the two mixtures are combined mix for another few seconds and then immediately pour everything onto the baked puff pastry in your baking dish. Arrange the mixture a bit and leave it to cool completely for a few hours (best if overnight).
The next thing you need to do is to whip the cream in which you added 2 tsp of sugar. The cream also needs to be whipped firmly.
When the cream cake mixture is cold enough take it out of the fridge. Then add your whipped cream to the cream cake mixture. Arrange it through a baking dish in order to get nice square-shaped cakes when you cut them.
Using a long, sharp, and clean knife, cut the second pastry sheet into 15 squares. Place over the custard cake in place. Before serving, sprinkle each slice with powdered sugar.
Best serve very cold. Enjoy!
If you like this recipe share it with your friends and (..of course..) pin it for later. 🙂