Thick, rich, chewy low-carb Keto Snickers Brownies make a decadent dessert that's quick and easy to make.
They're the ultimate combination of brownies and candy. Brownie heaven!
They have the perfect consistency for this recipe and the combination of all ingredients tastes SO good!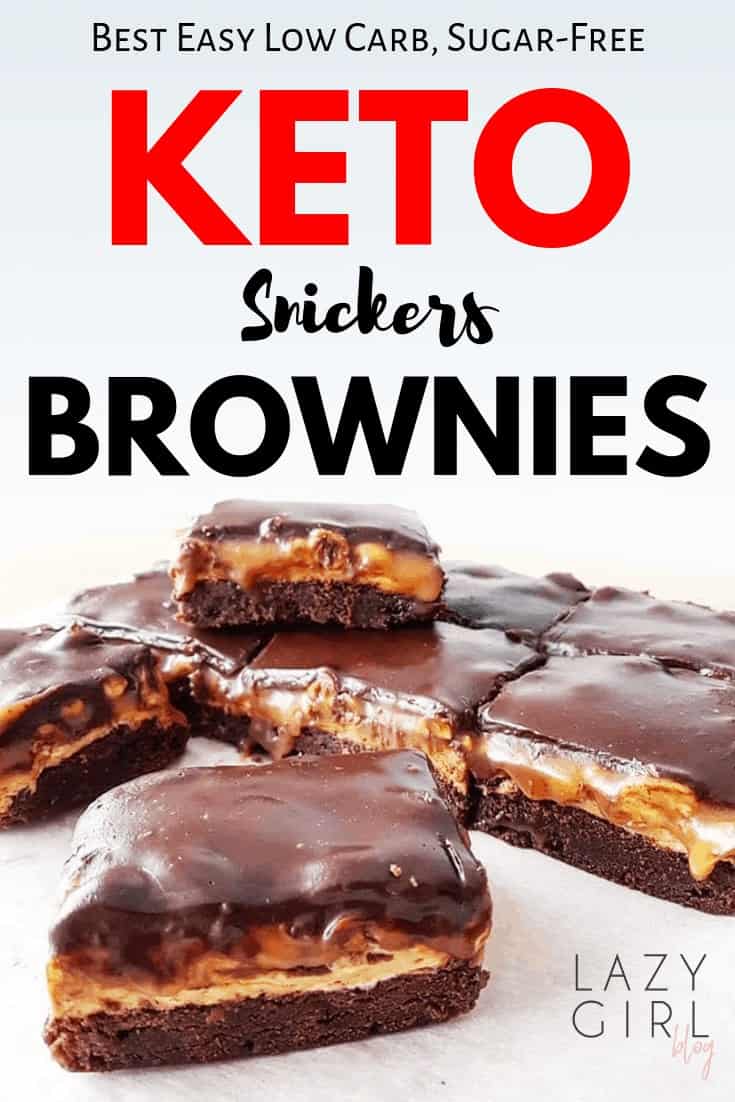 Granted, it's not zero carbs but one of these brownies will fill you up quite well!
If you don't believe me, try them and you'll be as pleasantly surprised as I was when I first tried this batch!
I hope you enjoy this recipe as much as did.
Have a fantastic day and thanks so much for stopping by to check out this sweet treat!
---
This post may contain affiliate links. As an Amazon Associate, I earn from qualifying purchases for my referral at no extra cost to you! See Disclosure
---
Keto Snickers Brownies Recipe:
[bs_icon name="glyphicon glyphicon-cutlery"] Servings: 16 servings
---
Ingredients
Brownie Base:
---
Peanut Butter Fudge:
---
Chocolate Glaze:
1/2 cup heavy whipping cream
---
Instructions
For Brownies:
Line an 8×8 inch baking pan with parchment paper, with an overhang for easy removal. Preheat the oven to 350F and grease an 8×8 inch baking pan.
In a large bowl, whisk together the butter, sweetener, eggs, and vanilla extract.
Add the almond flour, cocoa powder, gelatin, baking powder, and salt and whisk until well combined. Stir in the water to thin the batter. Stir in the chocolate chips, if using.
Spread the batter in the prepared baking pan. Bake 15 to 20 minutes, until the edges, are set but the center still seems a tiny bit wet.
Remove and let cool in the pan.
---
For Peanut Butter Fudge:
In a small saucepan over medium heat, melt together peanut butter and butter. Stir in vanilla and salt.
Stir in powdered Swerve a little at a time until the mixture thickens to a spreadable consistency. Spread over cooled brownies and refrigerate for 1 hour, until set.
---
For Chocolate Glaze:
In a small saucepan, heat the cream until just simmering. Remove from heat and add the chopped chocolate. Let sit for 5 minutes to melt.
Add the sweetener and vanilla and whisk until smooth. Let sit a few minutes to thicken, then spread or drizzle over the peanut butter layer.
Lift brownies out by edges of parchment paper and cut them into squares.
---
[bs_icon name="glyphicon glyphicon-list-alt"]

Nutrition

Per Serving: Calories 248; Total Fat 22g; Total Carbohydrates 5.5g; Dietary Fiber 2.1g; Protein 6g;

If you like this recipe share it with your friends and (..of course..) pin it for later. 🙂