If you are looking for a keto lemon dessert that is easy to make, gluten-free, and sugar-free, then you will love this Keto Lemon Lush. It is a beautiful layered dessert that has a crunchy crust, a creamy cheese layer, a tangy lemon filling, and a fluffy whipped cream topping.
This Lemon Lush is the ultimate keto lemon dessert. It's deliciously light and refreshing and is perfect for spring and summer gatherings. It's seriously good!
This dessert is also gluten-free and that makes this Keto Lemon Lush recipe the best of all.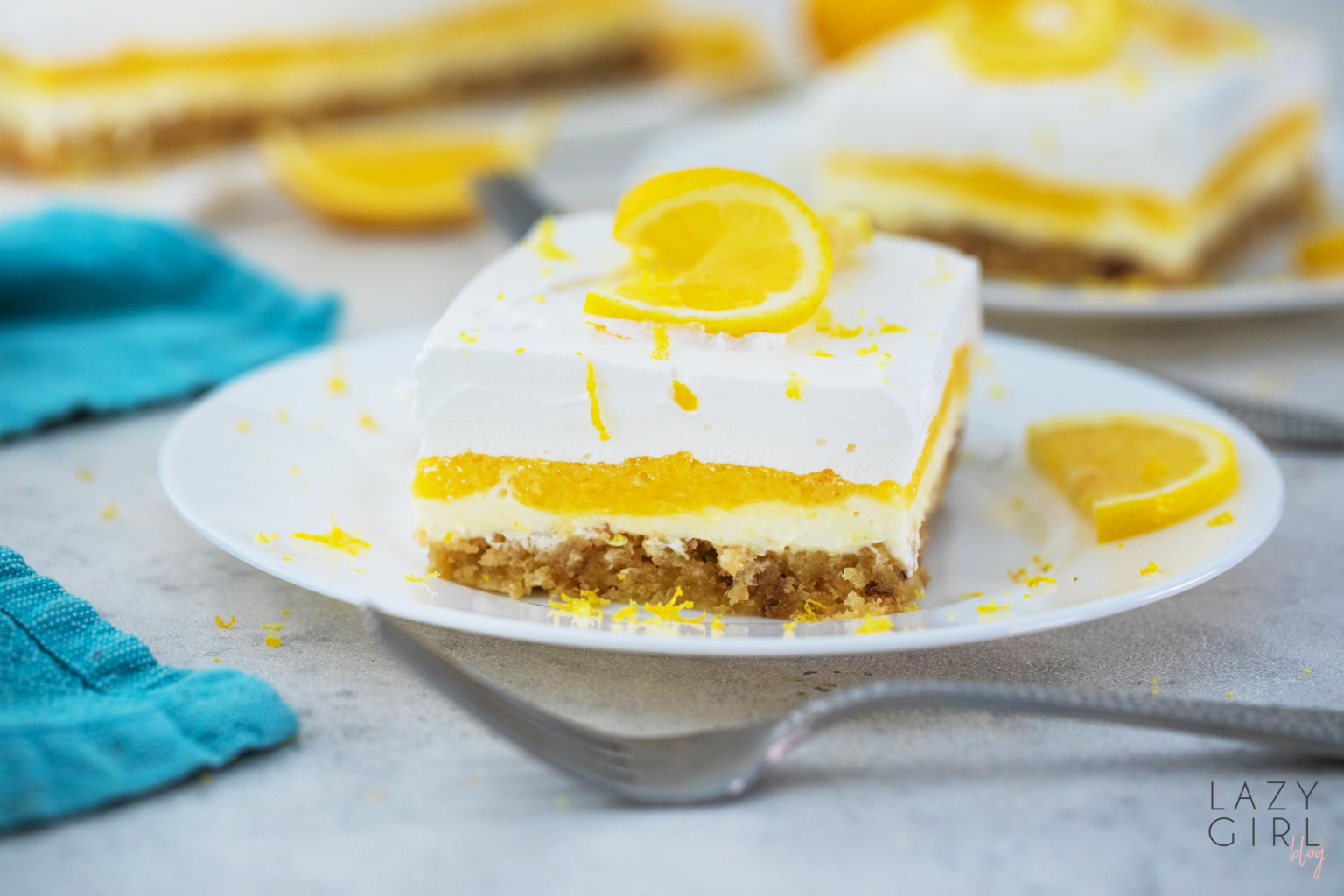 Now tell me that doesn't look lovely and delicious?!? I could eat the whole pan. I love a good lemony dessert, the bright citrus flavors really wake up my tastebuds.
And lemon desserts, like this low-carb lemon lush, are the perfect refreshing finish to warm weather days.
This dessert needs to be set for about an hour or so before serving but you can make it up to 5 days in advance so it's great for serving at parties and gatherings.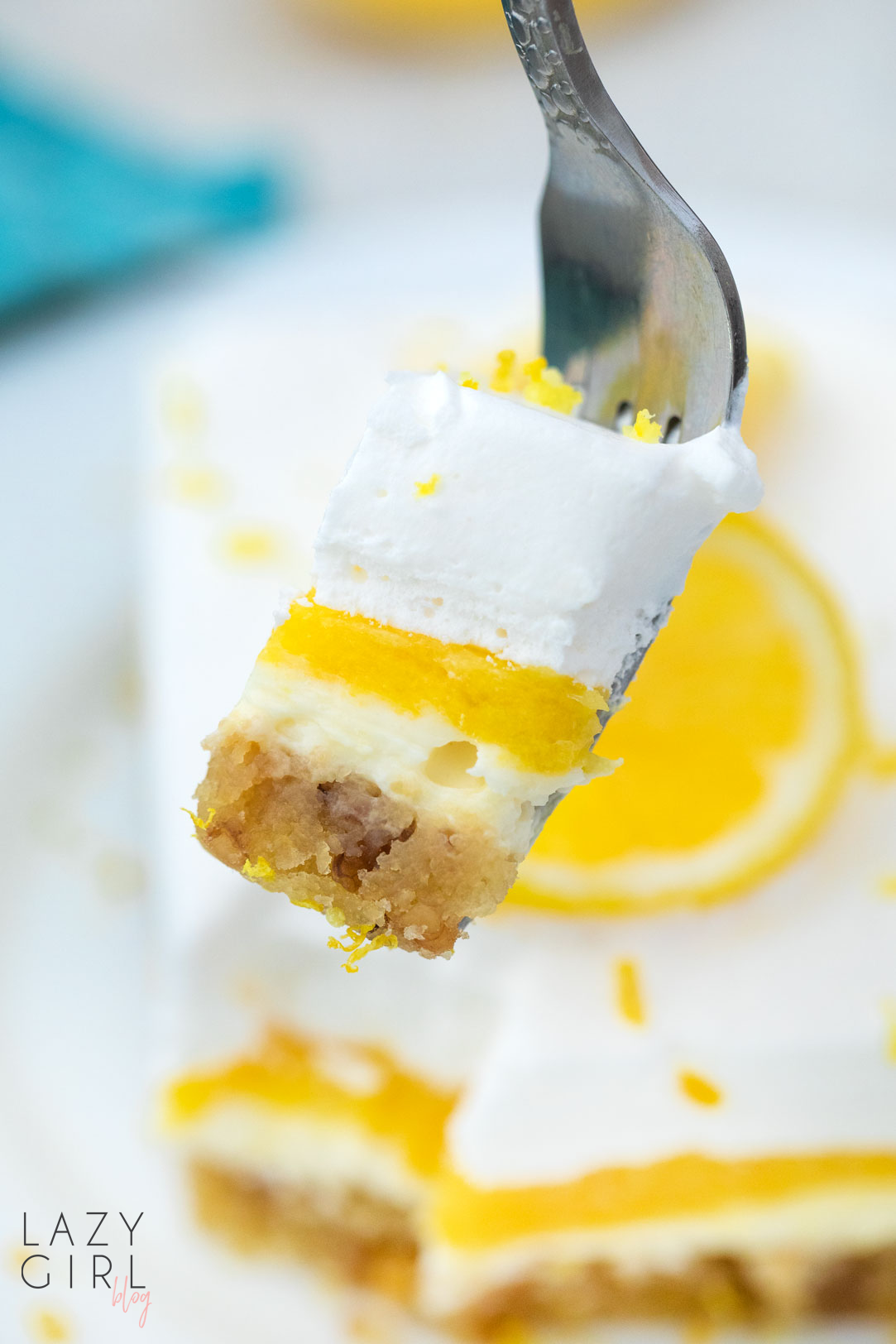 ---
This post may contain affiliate links. As an Amazon Associate, I earn from qualifying purchases for my referral at no extra cost to you! See Disclosure
---
---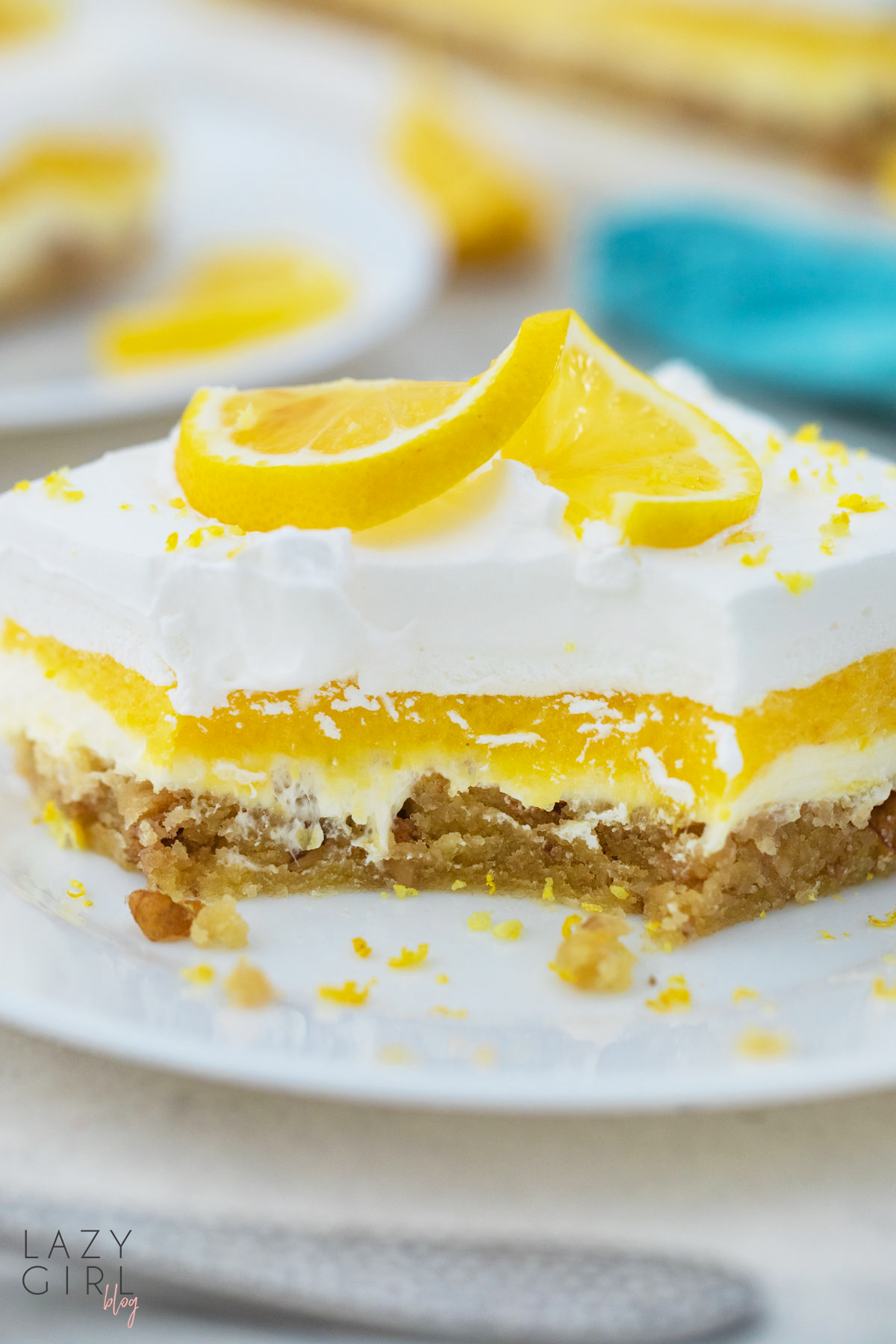 What is Lemon Lush?
Lemon Lush is a very popular dessert that consists of four layers: a crunchy crust, a cream cheese layer, a lemon filling layer, and a whipped cream layer. It is also known as Lemon Delight or Lemon Lasagna. It is similar to Chocolate Lasagna or Sex in a Pan, but with a citrus twist.
The traditional version of Lemon Lush is made with flour, butter, pecans, cream cheese, sugar, lemon pudding mix, milk, and whipped topping.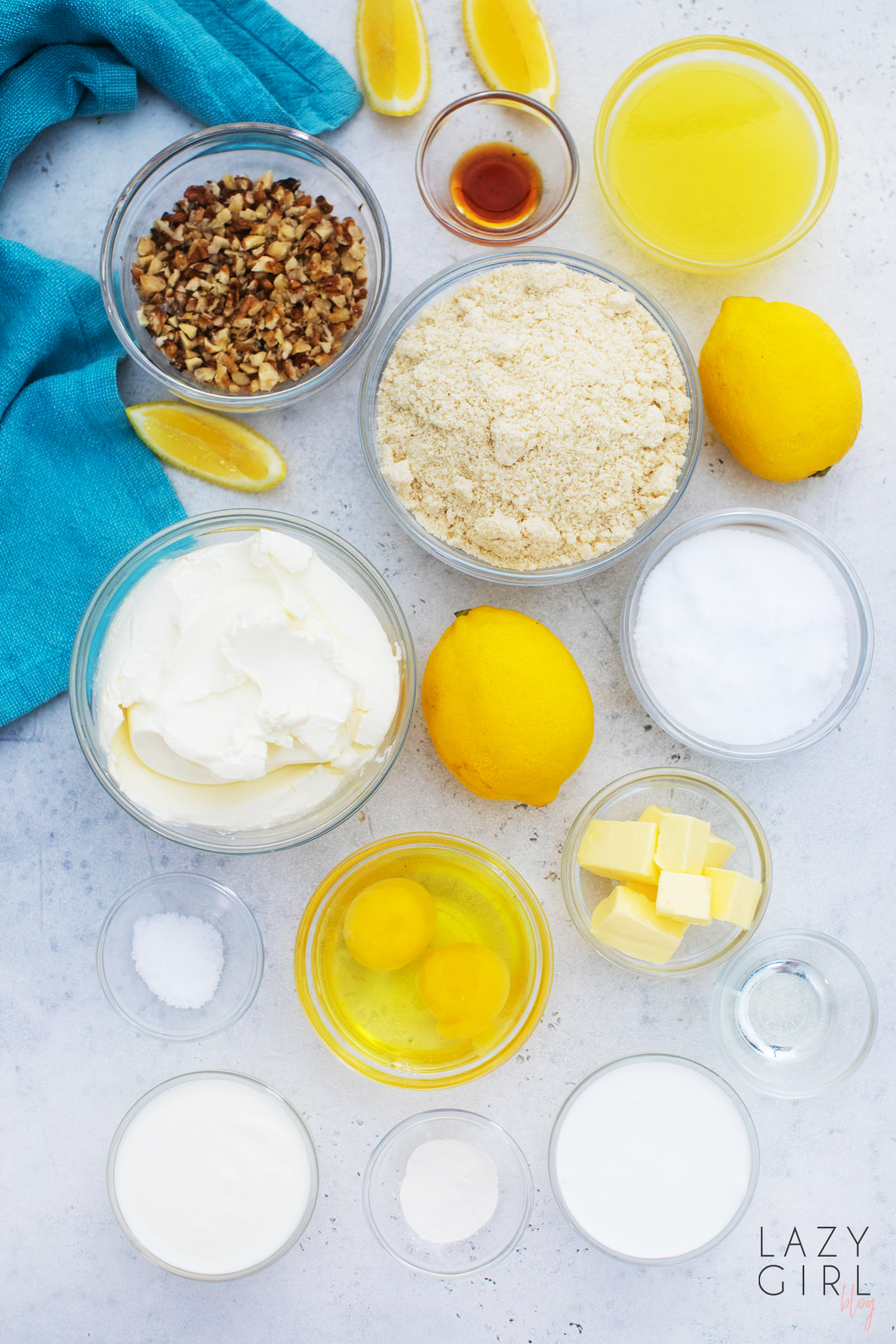 However, this original version is not keto-friendly or low-carb, as it contains a lot of carbs and sugar. I think that everyone needs to enjoy this dessert, and that is why I am giving you low carb version of this very popular dessert that is, in my opinion, even more delicious than original.
This is healthy version and you can enjoy eating it without worrying about that it will kick you out of ketosis. There is more than a few ways to do this popular diet.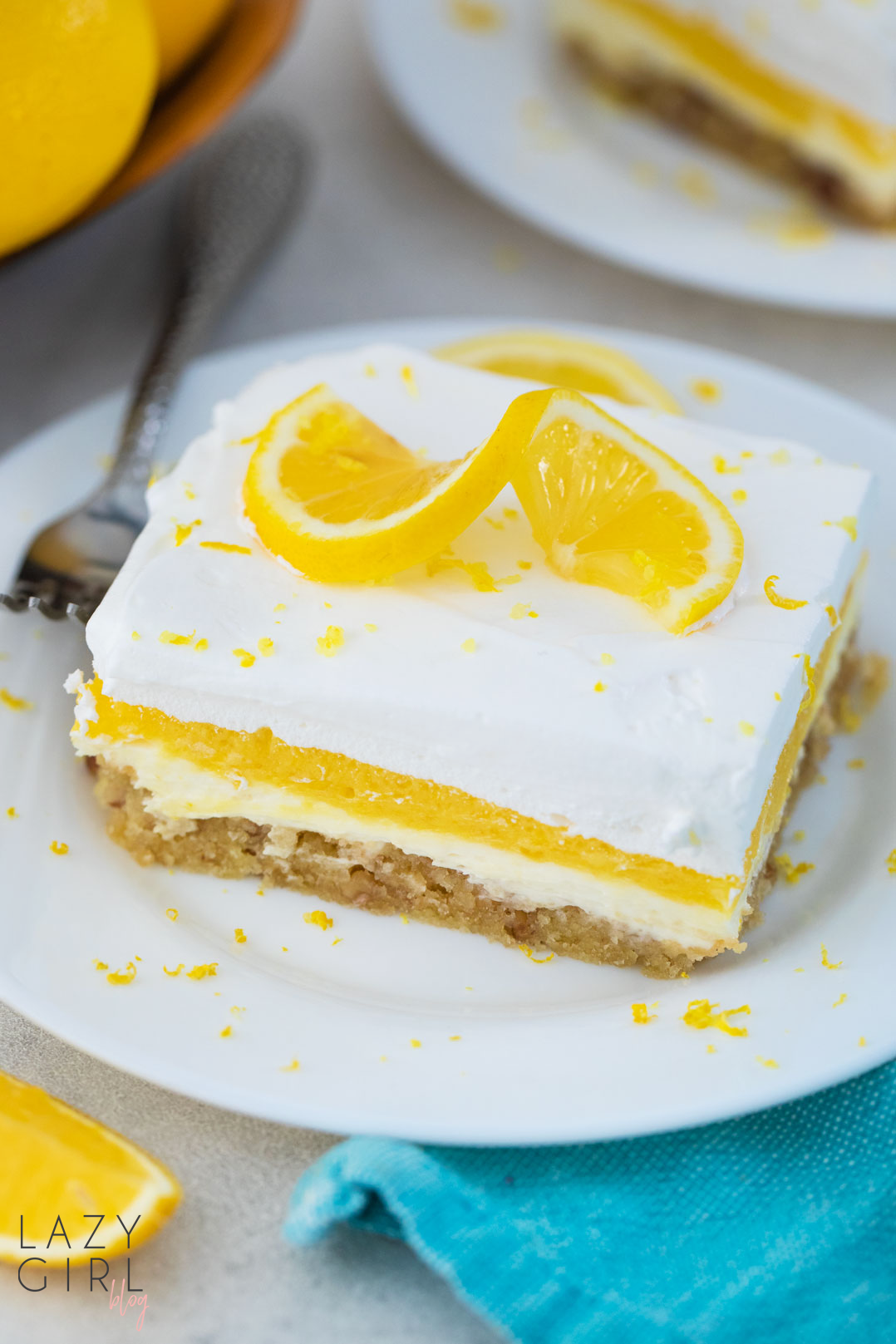 This Keto Lemon Lush recipe is a low-carb version of the classic dessert that uses almond flour, butter, walnuts, cream cheese, erythritol, lemon juice, gelatin, heavy cream, and xanthan gum. These ingredients are keto-friendly and gluten-free, and they create a delicious dessert that has only 4 grams of net carbs per serving.
---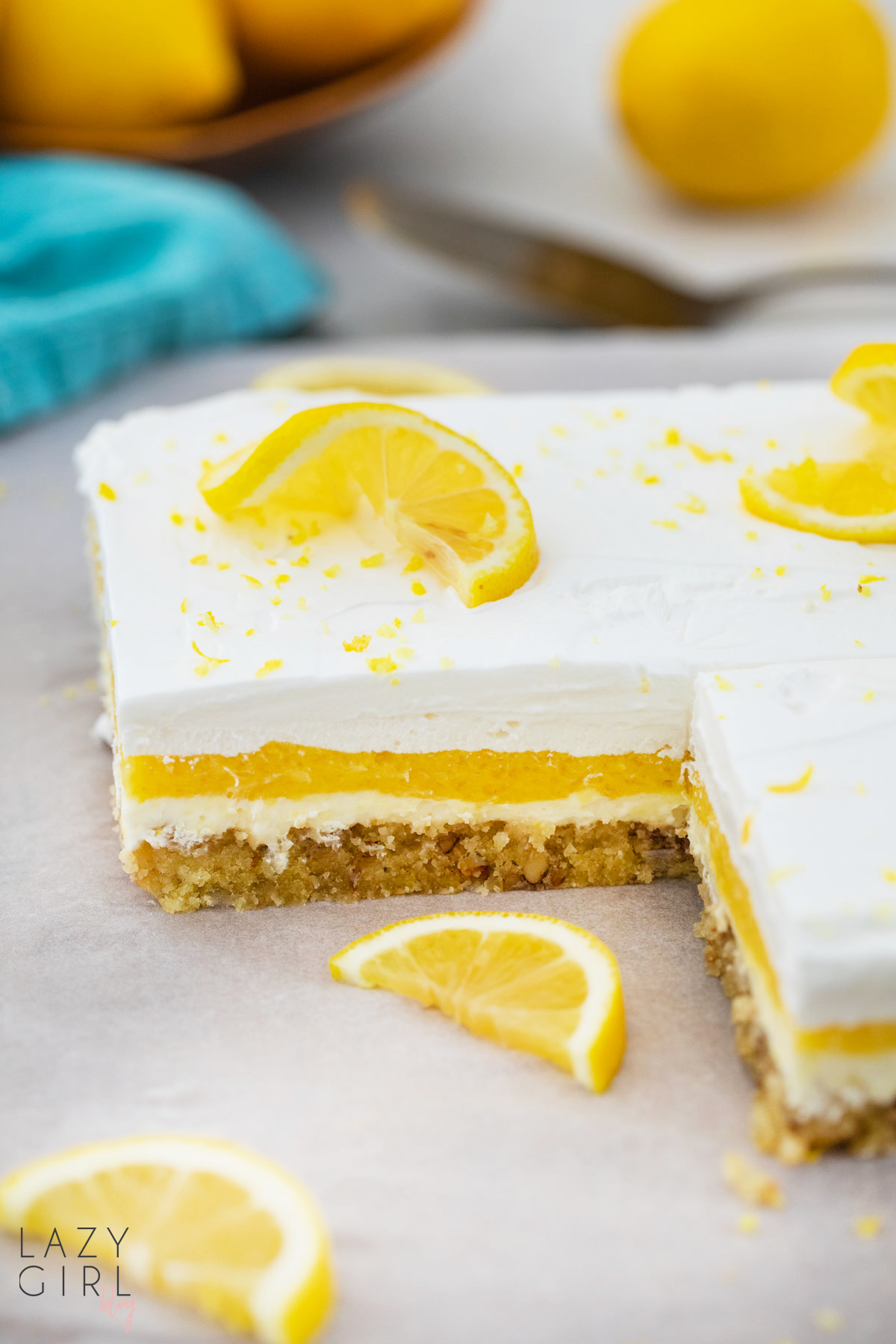 How to Make Keto Lemon Lush
Making Keto Lemon Lush is not very difficult, but it does require some time and patience. You will need to make each layer separately and let them set in the fridge before adding the next layer. Here you will find all the steps that will help you to make this beautiful and delicious keto lemon dessert:
Make the crust: In a bowl, mix almond flour, melted butter, erythritol (or sugar substitute of choice), and chopped walnuts. Press the mixture evenly into a 8×8 inch baking dish. Bake for 15 minutes at 180°C (350°F) or until golden brown. Let it cool completely.
Make the cream cheese layer: In another bowl, beat cream cheese with an electric mixer until smooth. Add erythritol and vanilla extract and beat until well combined. Spread the mixture over the cooled crust.
Make the lemon filling: In a small saucepan over low heat, whisk together lemon juice, water, erythritol, and gelatin until dissolved. Let it cool slightly. Pour the mixture over the cream cheese layer and refrigerate until set.
Make the whipped cream layer: In a large bowl, whip heavy cream with an electric mixer until soft peaks form. Add erythritol and xanthan gum and whip until stiff peaks form. Spread the whipped cream over the lemon filling layer.
Refrigerate and enjoy: Refrigerate the Keto Lemon Lush for at least an hour or overnight before serving. Cut into 16 pieces and enjoy!
---
Helpful Tips for Making Keto Lemon Lush
Here are some helpful tips to make this Keto Lemon Lush recipe even better:
Make sure that the crust is completely cooled before adding the cream cheese layer. Otherwise, the cream cheese will melt and mix with the crust.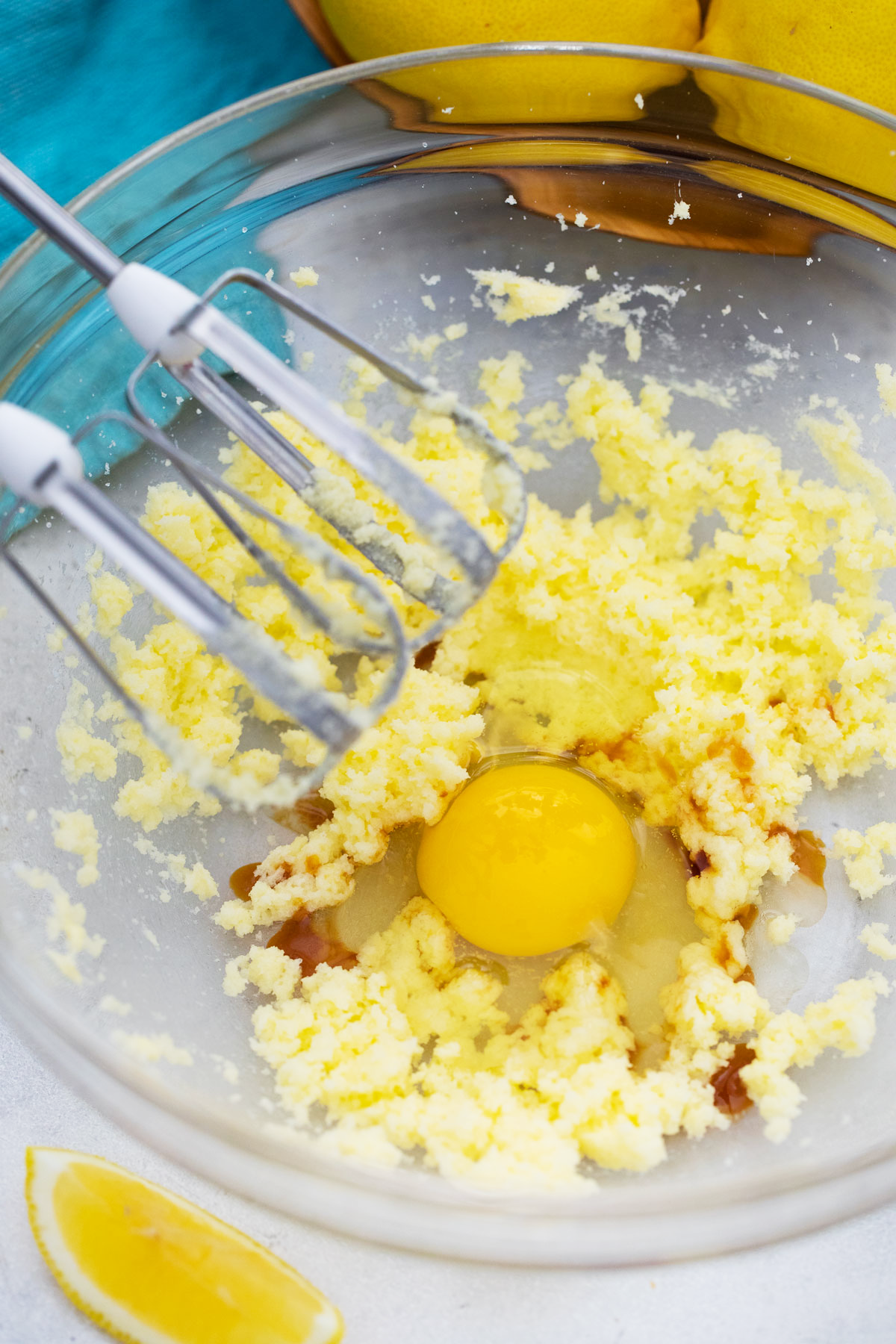 You can use pecans instead of walnuts for the crust if you prefer.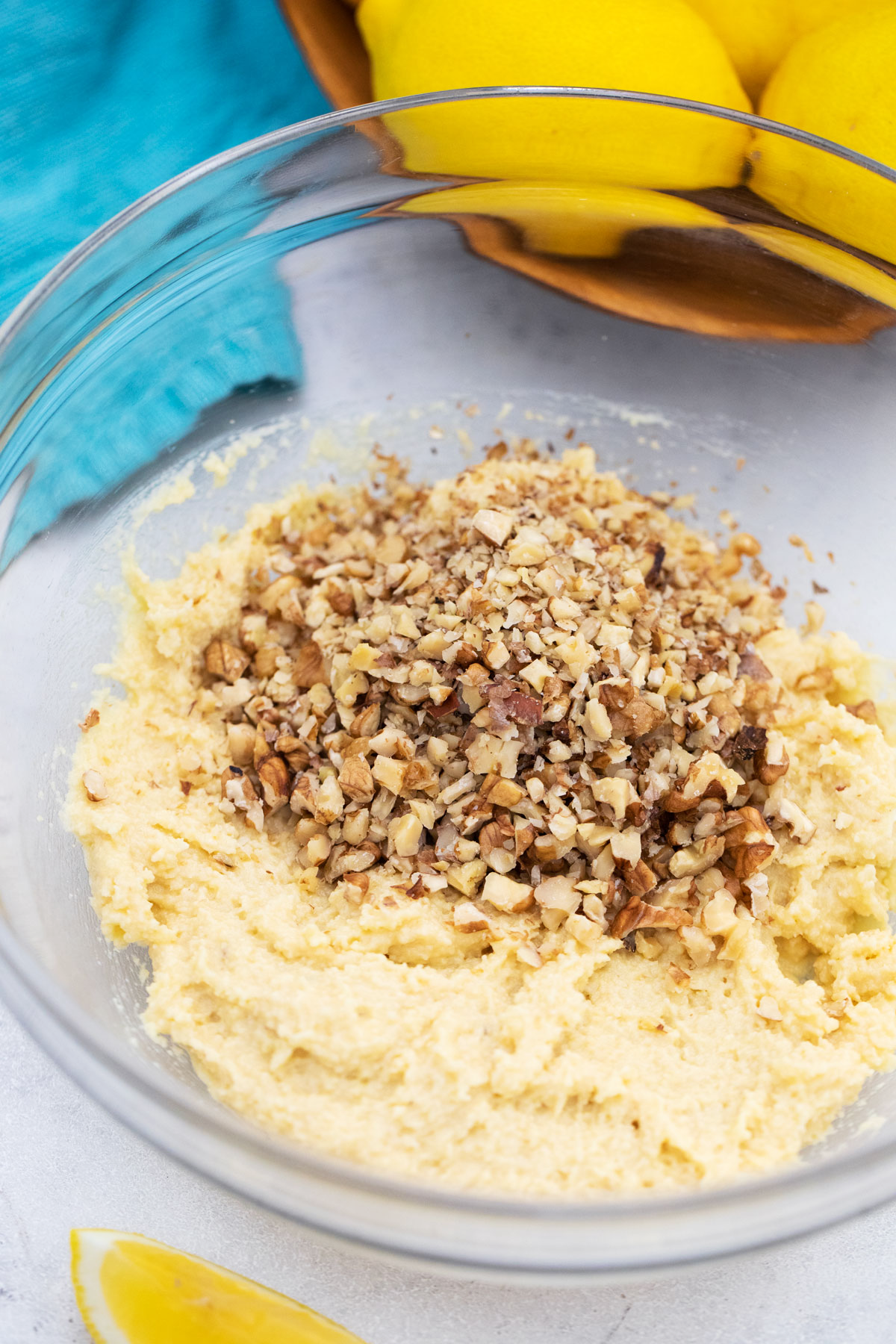 You can use lemon zest to add more lemon flavor to the filling if you like.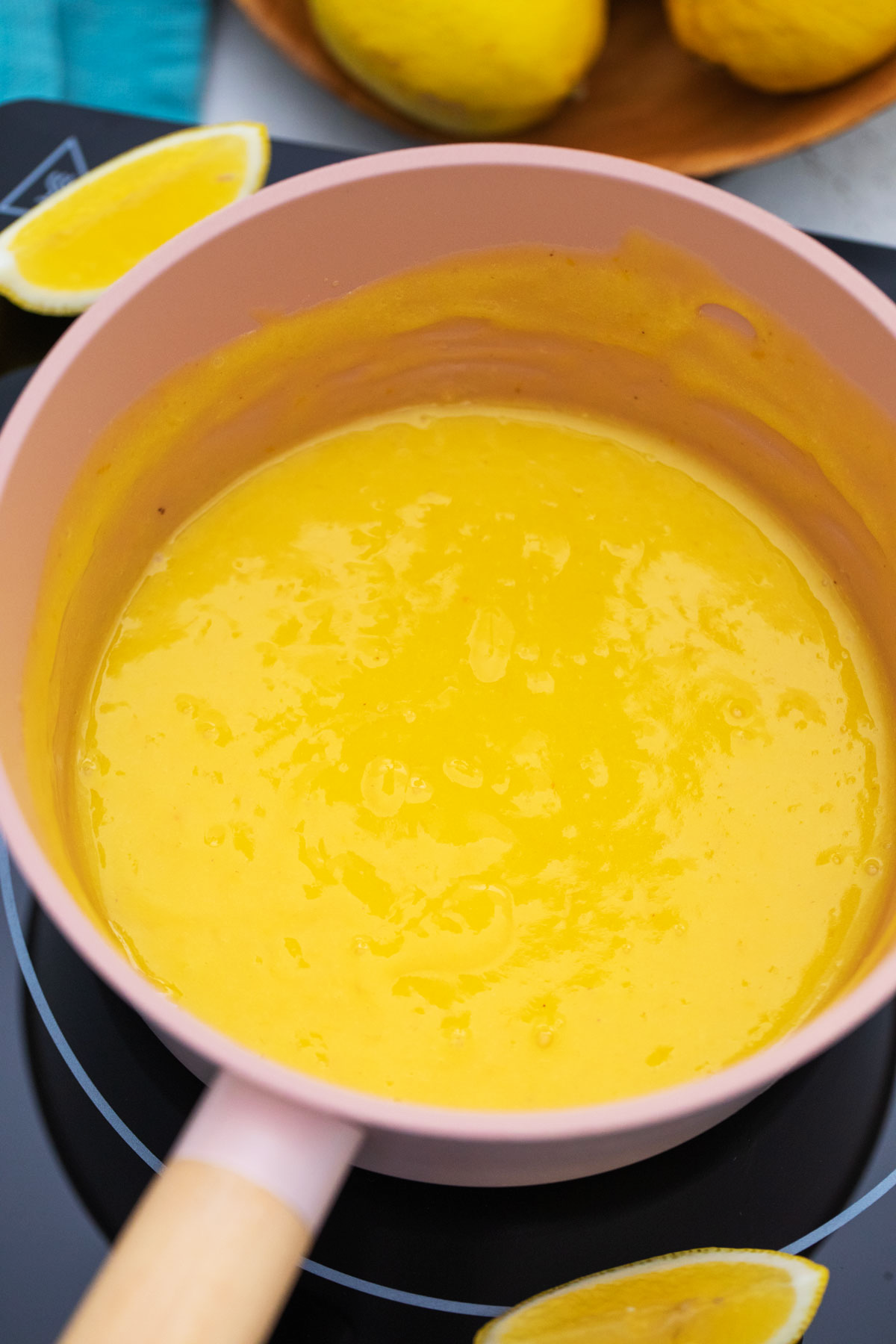 You can use store-bought sugar-free whipped cream instead of making your own if you want to save time.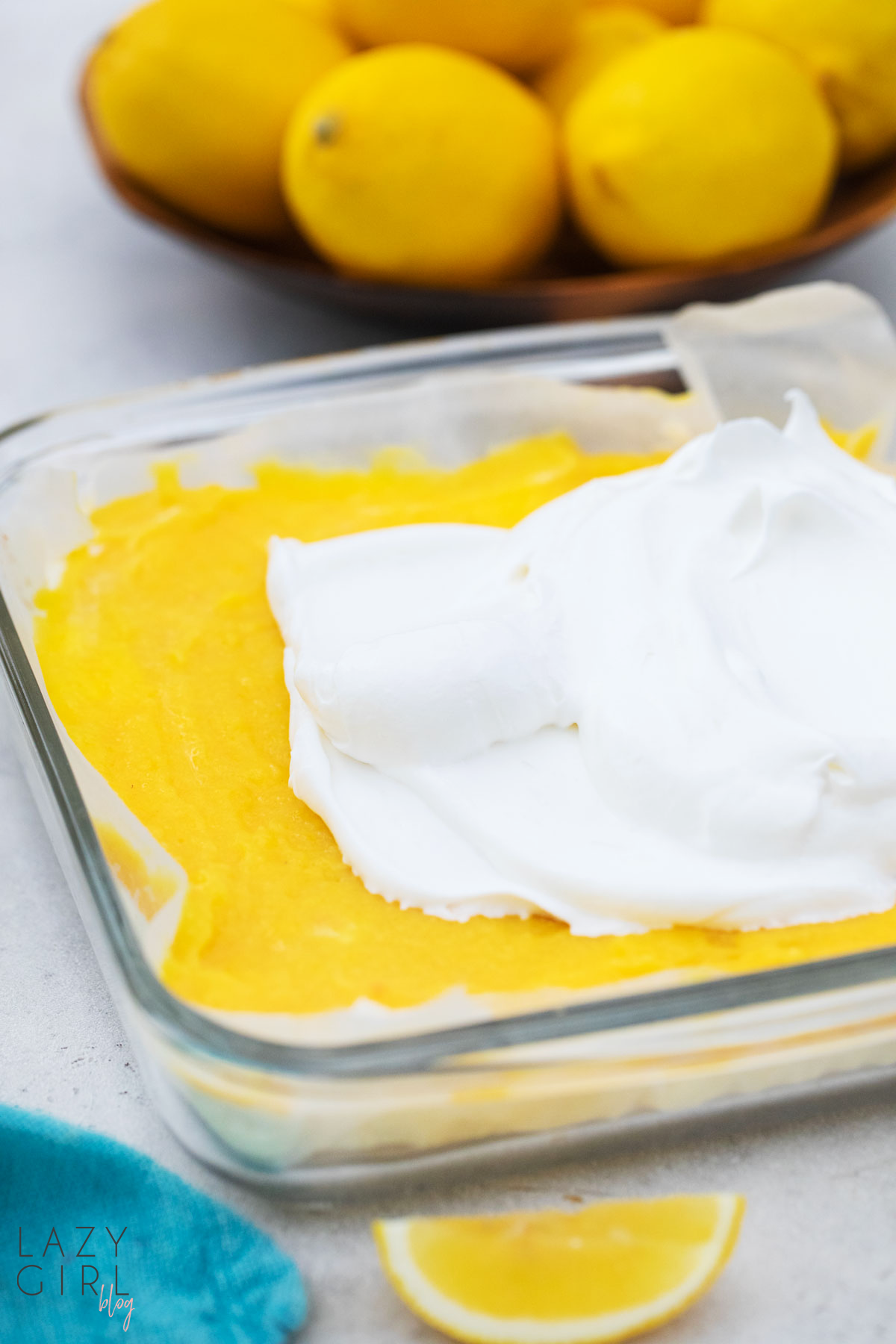 Adding Xanthan Gum to the homemade whipped cream keeps it stable and prevents it from melting. If you don't have xanthan gum or don't want to use it, you can skip it but make sure to serve the dessert soon after making it or keep it refrigerated until ready to serve.
You can make this dessert up to 5 days in advance and store it in an airtight container in the fridge.
---
Tools To Make low carb Keto Lemon Lush Dessert
Click the links below to see the items used to make this recipe.
---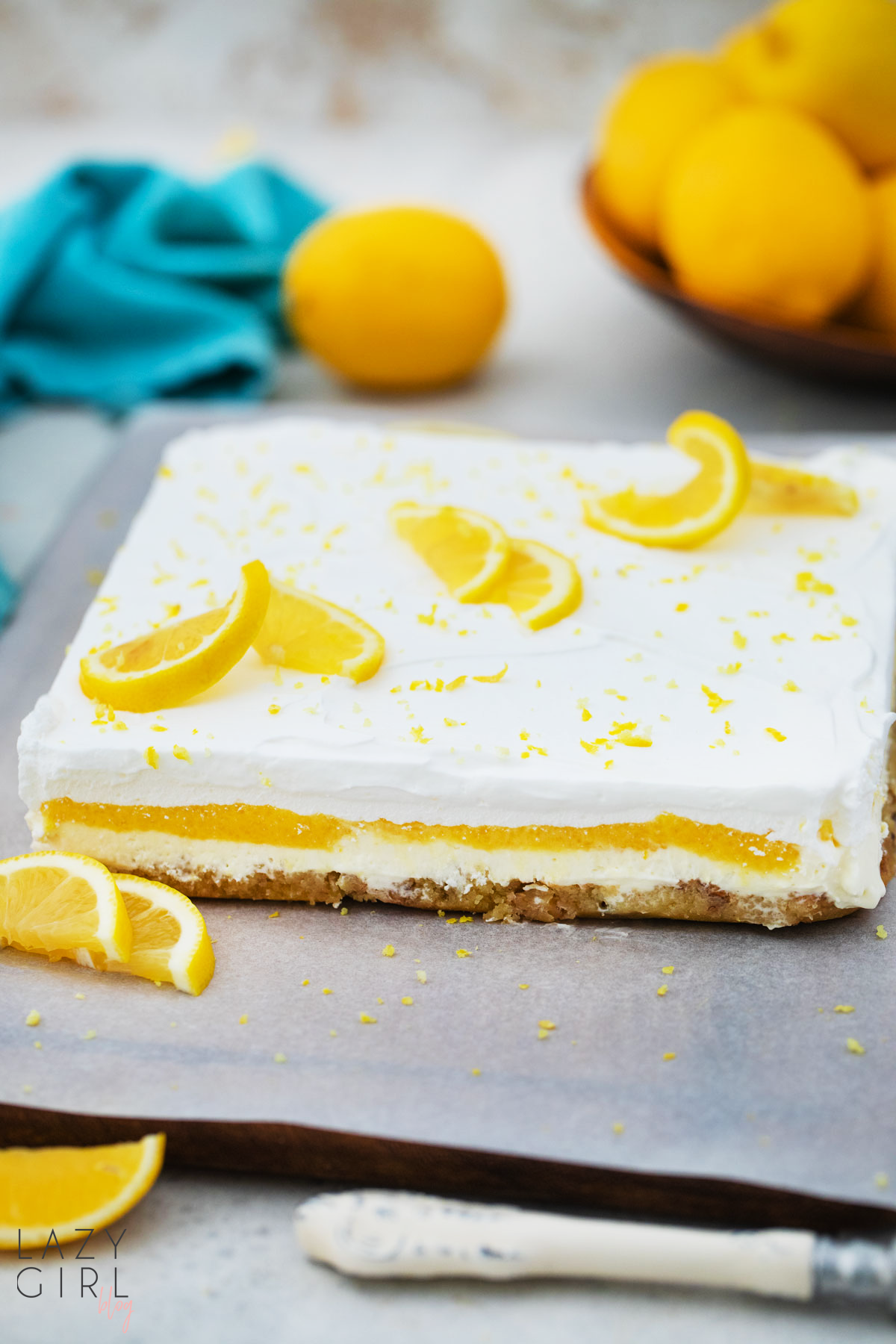 Nutrition Facts and Serving Size
This Keto Lemon Lush recipe makes 9 servings. Each serving has:
Calories: 324
Fat: 31 g
Protein: 7 g
Carbs: 5 g
Fiber: 1 g
Net Carbs: 4 g
---
More Sugar-Free Dessert Recipes
If you're looking for more crowd-pleasing sugar-free desserts, try these:
Learn how to make this low-carb Keto Lemon Lush dessert – easy and sugar-free! And, this is one of the best low-carb desserts ever. If you're looking for delicious keto desserts that everyone else will love too, this is for you.
---
Did you make this Low Carb Keto Lemon Lush dessert recipe? Tag me on Instagram so I can see! @lazy_girl_tips
I hope you enjoy this Keto Lemon Lush as much as I do. It is a perfect dessert for any occasion. Let me know what you think of it in the comments below.
Leave a comment, rate it, pin it, share it, and don't forget to tag a photo #lazy_girl_tips on Instagram. I'd love to see what you come up with. Cheers, friends!