This post is the ultimate guide to making zucchini noodles (zoodles)!
It has everything you need to know about how to make zucchini noodles and the perfect basic zucchini noodles recipe.
---
This post may contain affiliate links. As an Amazon Associate, I earn from qualifying purchases for my referral at no extra cost to you! See Disclosure
---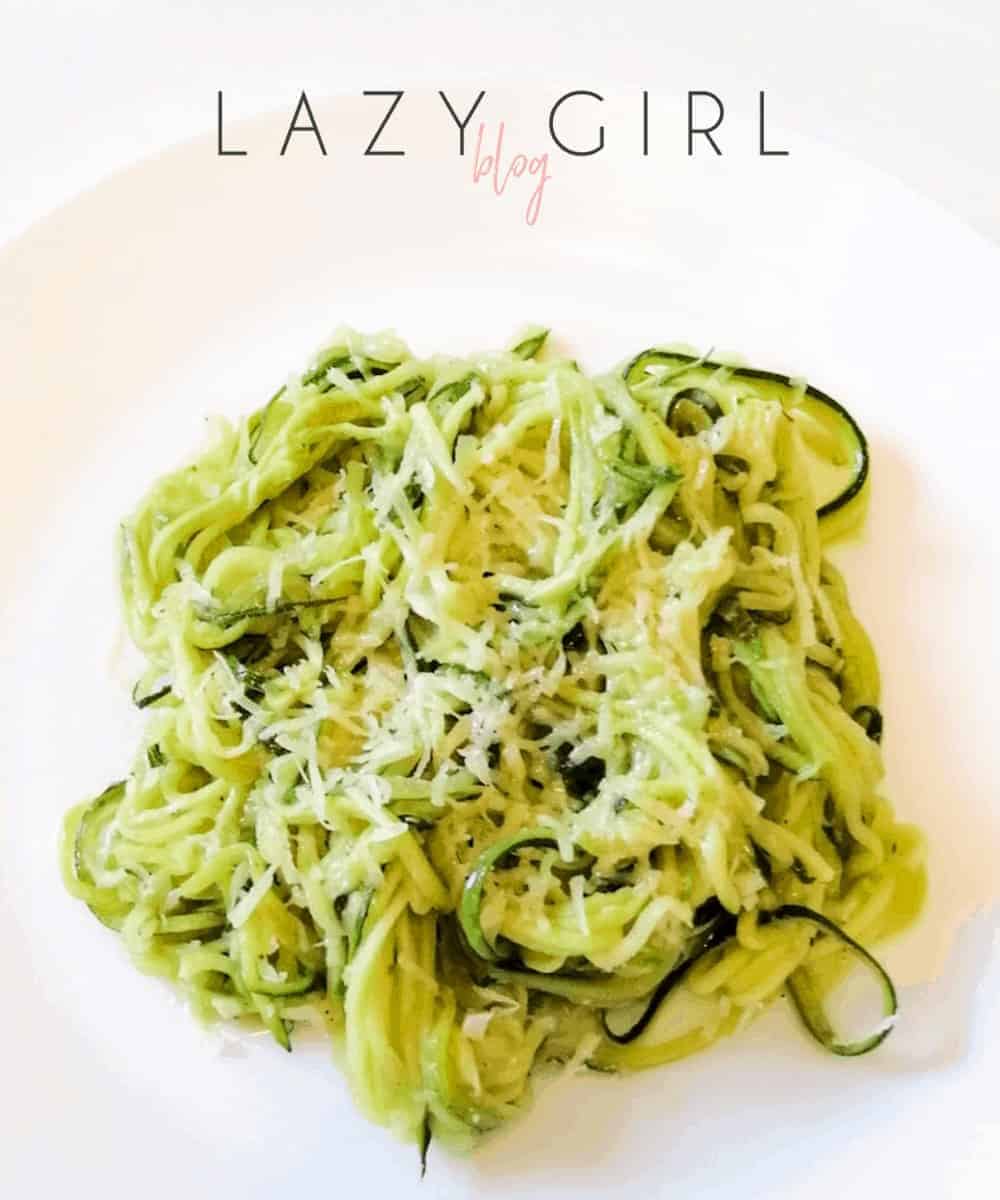 What are zucchini noodles?
First, what are zucchini noodles?
Zucchini noodles, aka zoodles, are basically strips of zucchini that are used to replace pasta noodles in traditional, carby pasta dishes.
Since they are a straight-up vegetable, zoodles fit as nicely (as you hope to into those old jeans) into a wide variety of dietary plans, including vegan, low carb, gluten-free, keto, and paleo.
Zucchinis are also a good source of both vitamin C & riboflavin.
These and other nutrients found in zucchinis act as antioxidants, have anti-inflammatory properties, and help to lower your risk against serious diseases like cancer.
---
Tips for choosing the right zucchini for zoodles
When choosing your zucchini, it is important to choose one that is not too overripe.
Squeeze the zucchini and see if it is pretty firm. The more give there is, there more it is past its ideal ripeness and could result in a noodle texture that is not ideal.
Make sure that the flesh is firm and the surface is free from significant defects like large indents. Select large-sized zucchini for maximum yield, but not too much flesh.
Zucchini is high in moisture content, so overly large zucchini has a lot of flesh and can become soggier after cooking when not connected to the skin.
This is more of an issue with homegrown zucchini. Don't limit yourself, yellow summer squash and Mexican squash work well too!
Be sure to keep the skin on because this makes your noodles firmer and releases less water = non-soggy noodle bliss.
It takes about one medium-sized zucchini to make enough noodles for one adult meal portion.
---
Ways to make zucchini noodles
There are a million zucchini noodles recipes out there, but first, you need to know how to make them.
I'll go over each tool you can use, so you can decide which one you like best!
Types of Spiralizers for Zoodles
There are 5 basic tools to choose from when making zucchini noodles:
By far my favorite! This method is super fast and makes zoodles that have a uniform thickness.
An electric spiralizer is a kitchen tool that you plug in and turn on, which will then automatically cut the zucchinis you feed into it into noodle strips.
These handy larger units give more noodle size and shape options. It creates zoodles for you effortlessly and in seconds.
When shopping for your spiralizer, be sure to consider the speed at which the spiralizer cranks out noodles and what the different blade options are to ensure you are happy with your purchase.
This countertop spiralizer has the highest quality I've seen, and unlike others, the bottom suction stays put. It has a giant suction cup on the bottom, and a lever to make it stay in place – I love it!
A good option is to save space in the kitchen. Hand-powered spiralizers work by having you first insert the zucchini so that it is touching the spiralizer blade.
Then, depending on how the spiralizer is designed, you manually twist either the zucchini or the spiralizer to have the blades cut out the noodles for you. Here`s a good hand-held spiralizer to try.
One way to make zucchini noodles without a spiralizer is to use a julienne peeler. The solution is to avoid buying a separate tool but can be tedious and time-consuming.
Also, the zoodles usually turn out to be much shorter.
Most people already have this type of peeler at home, and it is fairly small making it easy to store. This julienne peeler works well and swivels.
The fourth way to make zucchini noodles is by using a mandoline.
Much easier to use than a julienne peeler and will allow you to get through a zucchini in half the time but it does not allow for the option of making curly noodles.
Using a mandoline will result in slightly thicker noodles than using a julienne peeler.
When buying your mandoline, look at the blade options they come with to ensure it has the options and thicknesses you want. Here is one that works well.
This is basically just cutting the zucchini into thin strips. Definitely the most basic way, but also time-consuming and it's hard to get thin enough noodles.
Use a sharp chef's knife to cut long thin strips of zucchini noodles. About 1/4-inch wide or smaller is recommended.
---
Recommendations
---
[bs_icon name="glyphicon glyphicon-heart"]

Tip:

Do not salt raw zucchini
The moment the zucchini is cut, the cell walls of the plant open, exposing the water contained inside the flesh.
Adding salt draws out even more water, so do not season with salt until the end of cooking to prevent a mushy texture.
The best way to cook zucchini noodles (aka. zoodles) is to heat a tablespoon of oil, such as olive oil or coconut oil, in a frying pan over medium heat and sauté the noodles with a generous pinch of salt and a little pepper.
After about five minutes, the veg will be slightly softened but not mushy, which is what you're after. Ready to get cooking?
Some of the links above are affiliate links, which pay me a small commission for my referral at no extra cost to you! If you make a purchase through the link, it won't cost you more but I may earn a small commission. I only recommend products that I personally use and love!
Did you make this Low Carb Keto Parmesan Zucchini Noodles recipe? Tag me on Instagram so I can see! @lazy_girl_tips
Leave a comment, rate it, pin it, share it, and don't forget to tag a photo #lazy_girl_tips on Instagram. I'd love to see what you come up with. Cheers, friends!