Grilled cheese is one of the most simple things ever. This Grilled cheese with cauliflower bread is a delicious low-carb, keto-friendly lunch.
Cauliflower grilled cheese for the win! Grilled cheese with cauliflower… bread?
Let's put "bread" in quotation marks, yes? I know this isn't bread but this just tastes so so so good!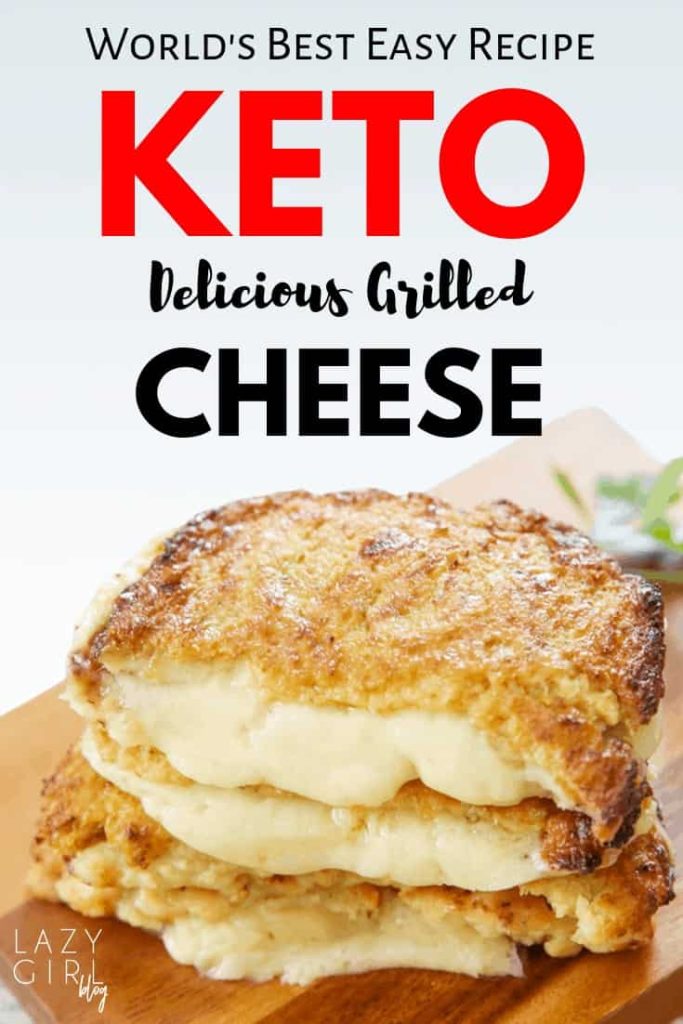 Riced cauliflower can be used to make bread slices for low-carb grilled cheese sandwiches. And, they are cheesy comfort food that's simple to make.
This is a great low-carb solution that still allows you to enjoy a comforting grilled cheese sandwich.
---
This post may contain affiliate links. As an Amazon Associate, I earn from qualifying purchases for my referral at no extra cost to you! See Disclosure
---
Keto Grilled Cheese Recipe:
[bs_icon name="glyphicon glyphicon-cutlery"] Servings: 2
---
Ingredients
For Cauliflower crust "bread" slices:
1 small head of cauliflower, cut into small florets (should yield 3 cups of cauliflower rice)
1 free-range organic egg, lightly beaten
½ cup / 1.7 oz / 50 gr shredded mozzarella cheese or Parmesan cheese
½ teaspoon fine grain sea salt
¼ teaspoon ground black pepper
½ Italian herb seasoning
---
For Grilled cheese:
2thick slices of white cheddar cheese or shredded cheddar cheese, I use this
---
Instructions
Preheat the oven to 450°F.
Place the cauliflower in a food processor and pulse until crumbs are about half the size of a grain of rice.
Place cauliflower into a large microwave-safe bowl and microwave for 2 minutes. Your cauliflower should be soft and tender.
Stir cauliflower to mix up the bottom and top cauliflower. Place back into the microwave and cook for another 3 minutes. Remove and stir again so that all the cauliflower cooks evenly. Place back into the microwave and cook for 5 minutes. At this point, you should see the cauliflower is starting to become drier. Microwave for another 5 minutes. Cauliflower should still be slightly moist to the touch but should look dry and clumped up.
In a medium bowl, combine processed cauliflower, eggs, Parmesan, and oregano. Mix until evenly combined then season with salt and pepper. Divide dough into 4 equal parts. Place onto a large baking sheet lined with parchment paper. Using your knuckles and fingers, shape them into square bread slices about 1/2 inch thick. Bake cauliflower bread for about 15-18 minutes or until golden brown. Remove from the oven and let cool a few minutes.
Using a good spatula, carefully slide cauliflower bread off of parchment paper. Now you are ready to assemble your sandwiches. Make 2 cauliflower sandwiches by adding two slices of cheese in between each pair of bread slices. Place sandwiches into a toaster oven and broil for several minutes (5-10) until cheese is completely melted and bread is toasty. If you don't own a toaster oven, you can also do this in the oven under the broiler.
You can also make them in a skillet. Heat a large nonstick skillet over medium heat. Spray with cooking spray then scoop the cauliflower mixture into a small patty on one side of the pan. Repeat to form a second patty on the other side. (These are your "bread" slices.) Press down on both pieces with a spatula and cook until golden underneath, about 5 minutes. Flip and cook until the other sides are golden, about 3 minutes more.
Top one cauliflower slice with cheese then place the other cauliflower slice on top. Cook until the cheese is melted, about 2 minutes more per side. Repeat with the remaining ingredients.
Serve and Enjoy!
---
[bs_icon name="glyphicon glyphicon-list-alt"]

Nutrition

Per Serving (1 sandwich): Calories 326; Total Fat 19g; Sodium 673mg; Potassium 948mg; Total Carbohydrates 16g; Dietary Fiber 6g; Sugars 5g; Protein 24g;

If you like this recipe share it with your friends and (..of course..) pin it for later. 🙂