This low-carb Chocolate Layer Cake with Whipped Chocolate Ganache Frostings is the best keto chocolate cake that I've ever made on my keto diet!
I have made this cake 4 times now, and it is definitely the best and most delicious low-carb dessert I have ever tasted. It looks and tastes heavenly!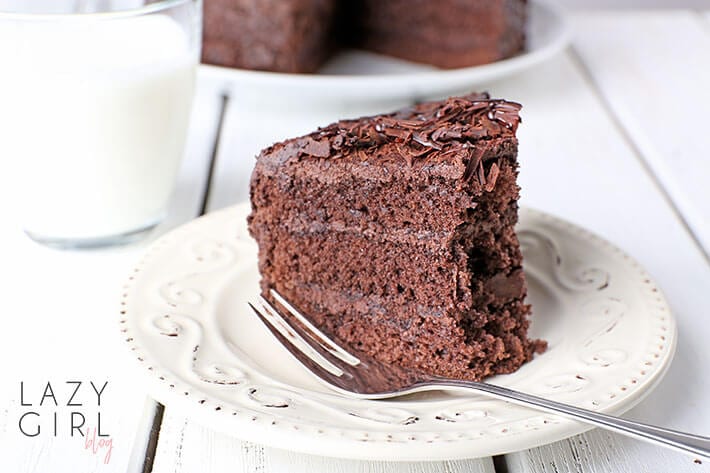 Who doesn't love a multi-layer chocolate cake slathered in tons of sweet chocolaty frosting? This might be the low-carb chocolate cake to end all chocolate cakes.
Lovely dark chocolate sponge layers with an airy but rich whipped ganache frosting. This frosting is so good, that I may never make buttercream again! It is also gluten-free, sugar-free, and paleo-friendly.
---
This post may contain affiliate links. As an Amazon Associate, I earn from qualifying purchases for my referral at no extra cost to you! See Disclosure
---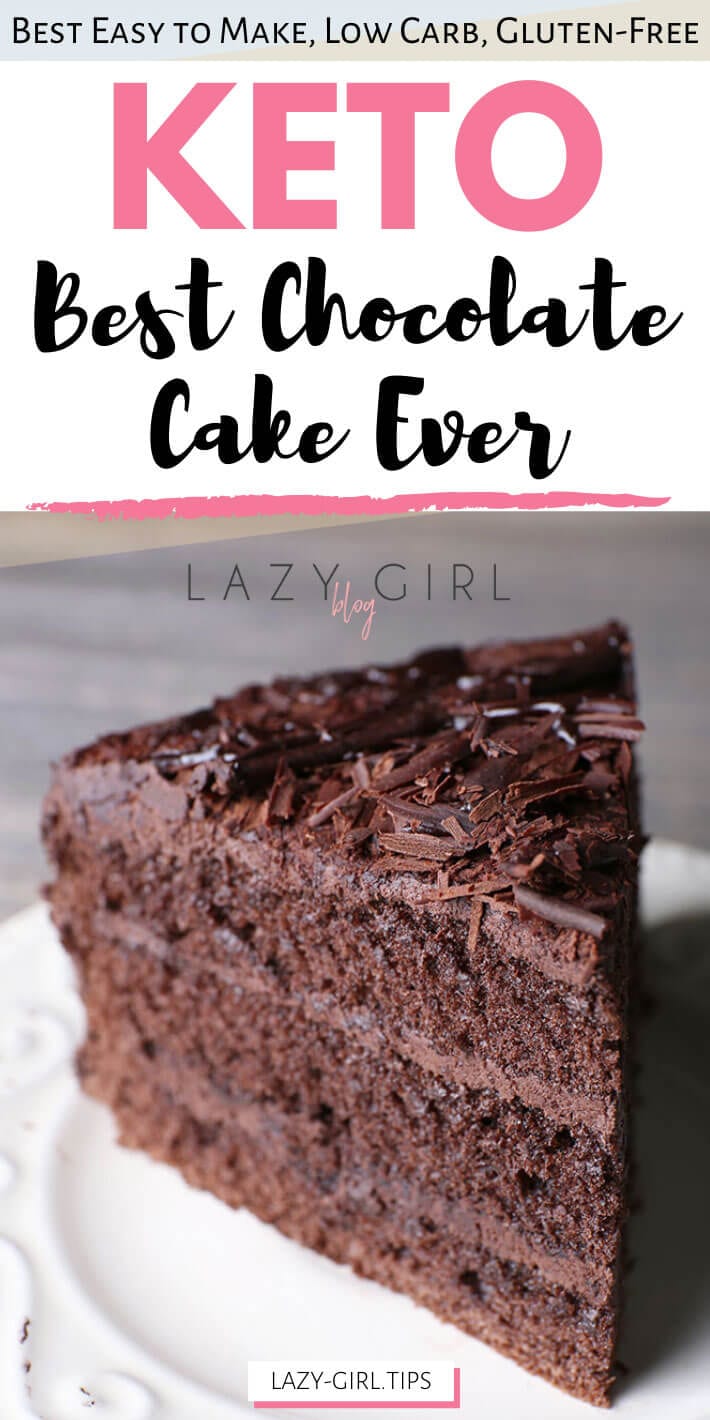 Best Keto Chocolate Cake Recipe:
[bs_icon name="glyphicon glyphicon-cutlery"] Serves: 16
---
Ingredients
For Cake:
---
For Ganache:
1 3/4 cup whipping cream
shredded sugar-free chocolate
---
Instructions
For Cake:
Preheat oven to 325F and grease 3 9-inch circular cake pans well. Line with parchment circles and grease the parchment (8 inches will also work but you need to bake them longer). And if you only have two cake pans, simply hold back 1/3 of the batter and bake it after the first two layers are out of the oven).
In a medium bowl, whisk together the almond flour, cocoa powder, coconut flour, whey protein powder, baking powder, coffee, and salt.
In a large bowl, beat butter with Swerve until light and fluffy. Beat in eggs and vanilla extract, then beat in half of the almond flour mixture. Beat in nut milk and then the remaining almond flour mixture until well combined.
Divide the batter evenly among the cake pans and smooth the tops with a knife or offset spatula. Bake for about 20 minutes, until the center is firm to the touch. Set the timer for 15 minutes and check every couple of minutes. Remove and let cool in pans for 15 minutes, then flip out onto a wire rack to cool completely.
---
For Ganache:
Place chopped chocolate in a large bowl (in the bowl of a stand mixer, if you will be using one).
In a medium saucepan over medium heat, combine whipping cream and confectioner's Swerve. Whisk until Swerve is dissolved and then bring to just a simmer.
Pour over the chopped chocolate and let sit about 10 minutes, until chocolate is melted. Whisk to combine. Let cool to room temperature, about 1 1/2 to 2 hours.
Using the whisk attachment of stand mixer or beater of the hand-held mixer, beat on medium-high for 3 to 5 minutes, until lighter in color and fluffy.
---
Assemble Cake
Place one layer of cake on a serving platter or cake stand and spread with about 1/3 of the whipped ganache. Top with another cake layer and another 1/3 of ganache, then the final layer and remaining ganache. Use a spoon or offset spatula to swirl ganache on the top. Decorate with shredded sugar-free chocolate.
Let sit 30 minutes before serving.
---
[bs_icon name="glyphicon glyphicon-heart"] Tip: The ganache was to be cooled enough for the cream to become whip. It also sometimes helps to start whipping at a low speed and work your way up to high.
The protein powder is in the recipe to provide a fluffy, cake-like texture. However, you can simply leave it out if you're not a fan but you will have a more dense cake.
It is recommend keeping it covered in a cake carrier or covered cake place until serving.
---
[bs_icon name="glyphicon glyphicon-list-alt"]

Nutrition

Per Serving (1 slice): Calories 330; Net Carbs 4g; Total Fat 30g; Sodium 105mg; Dietary Fiber 7g; Protein 10g;

If you like this recipe share it with your friends and (..of course..) pin it for later. 🙂