These Keto Chocolate Raspberry Brownies are everything you ever wanted in a brownie – fudgy, moist and chocolatey all balanced perfectly against the sharpness of delicious raspberries.
The fudgy moist chocolatey goodness melts in your mouth which goes nicely against the tartness of the raspberries.
These keto brownies are not only low in carbs but gluten-free, and refined sugar-free making them a delicious dessert that is paleo-friendly dessert too.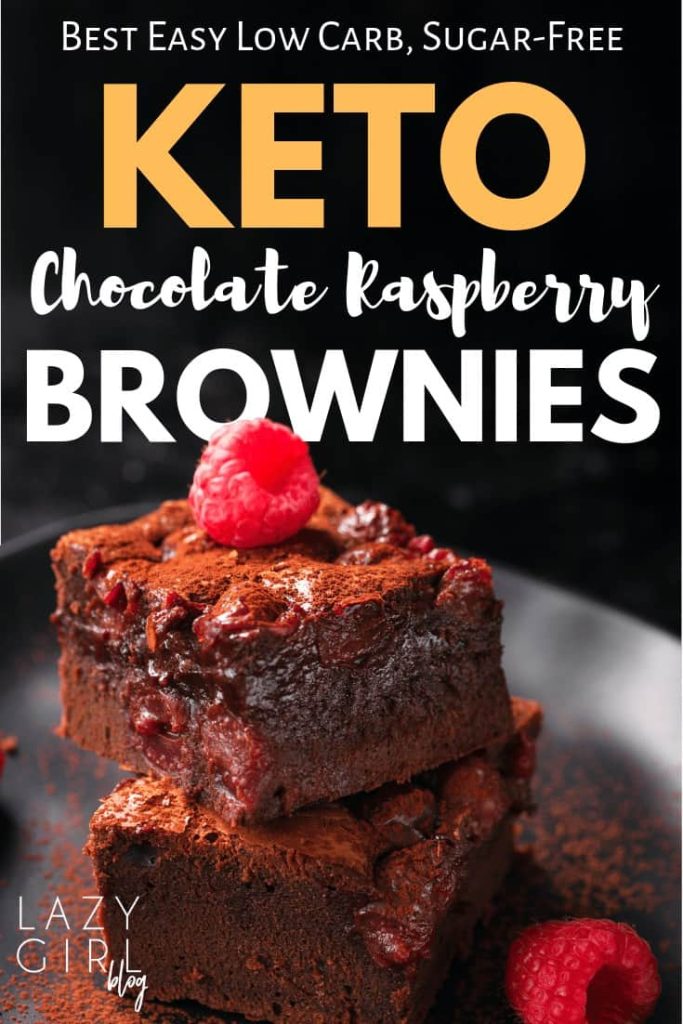 ---
This post may contain affiliate links. As an Amazon Associate, I earn from qualifying purchases for my referral at no extra cost to you! See Disclosure
---
Keto Chocolate Raspberry Brownies Recipe:
[bs_icon name="glyphicon glyphicon-time"] Cook Time: 30 minutes
[bs_icon name="glyphicon glyphicon-time"] Prep Time: 10 minutes
[bs_icon name="glyphicon glyphicon-cutlery"] Servings: 16 Brownies
---
Ingredients
---
Instructions
Preheat your oven to 355 F.
In a medium bowl, sift and mix together the almond flour, dutch cocoa, baking powder, guar gum, espresso powder, and salt. Mix together until a uniform color.
Melt the butter until hot, chop the chocolate into small chunks, place it into a heatproof bowl and pour the melted butter over the top. Leave the mixture for 5 minutes to melt the chocolate, then mix together.
In another bowl, whisk together the eggs and erythritol, and beat very very well. Slowly add in the almond flour and cocoa mixture until combined. Add in the melted chocolate and butter ganache, and pour into a 7-inch baking pan. Place your fresh raspberries on top of the brownie mixture in an even arrangement.
Cook for 20 minutes, then remove from the oven, and drop it down hard against the bench to level out the brownie, cover with salt flakes and return to the oven for 10 minutes. Remove and let cool and slice into 16 slices.
You can decorate your brownies with fresh raspberries and cocoa powder.
---
[bs_icon name="glyphicon glyphicon-list-alt"]

Nutrition

Per Serving (1 brownie): Calories 122; Total Fat 10.5g; Total Carbs 4g; Dietary Fiber 2g; Net Carbs 2g; Protein 2.8g;

If you like this recipe share it with your friends and (..of course..) pin it for later. 🙂

Photo credit: Valeria_Aksakova