This easy Low Carb Keto Chocolate Peanut Butter Roll Cake recipe is a rich chocolate cake filled with a creamy peanut butter filling and it's topped with chocolate glaze.
Chocolate and peanut butter are a classic combo and one that has always held the top spot on my list of favorite desserts.
I am willing to fight someone for that last slice of this cake.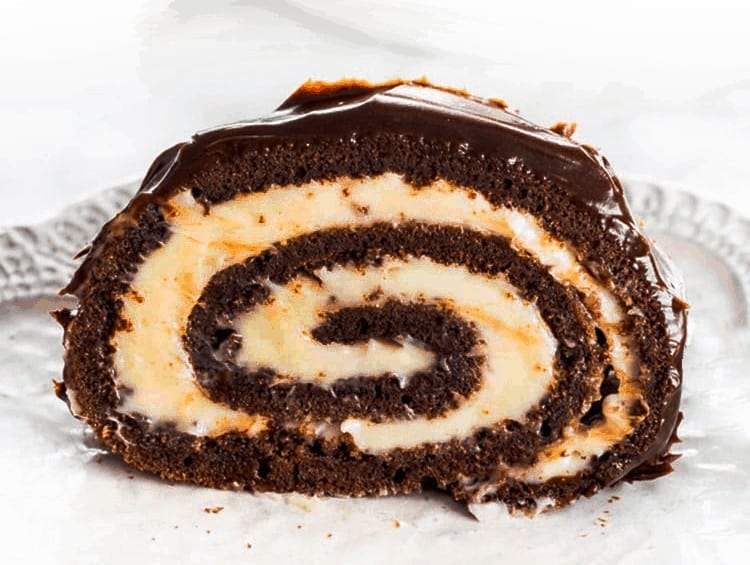 The chocolate cake encompasses a delicious cream cheese filling that's the perfect way to get added fats into your diet. And the cream filling is to die for.
It's just the thing when you are in the mood for something both low carb and chocolatey.
WHY did it take me so long to make a peanut butter cake roll??!!
Basically, this low-carb Keto Chocolate Peanut Butter Roll Cake is the BEST KETO ROLL CAKE EVER. 🙂
---
This post may contain affiliate links. As an Amazon Associate, I earn from qualifying purchases for my referral at no extra cost to you! See Disclosure
---
More Keto Chocolate Dessert Recipes
So what are the best keto chocolate desserts to have on keto? Here are some of our favorite low carb / no carb desserts you might like:
---
Low Carb Keto Chocolate Peanut Butter Roll Cake Recipe:
Total Time: 1h 10m
---
Ingredients
---
Chocolate Roll Cake:
---
Peanut Butter Filling:
---
Chocolate Glaze:
---
Instructions
Preheat the oven to 350 F.
Mix out the dry ingredients into a bowl
Melt butter in the microwave, then add sour cream, and eggs to the dry ingredients. Use a hand mixer to mix this together.
Add 4 tbsp. coconut milk to the batter to make it so that it's more workable and spreadable.
Spread the mixture over parchment paper. It should cover the area of an entire cookie sheet. Feel free to get your hands dirty!
Bake for 12-15 minutes.
Pull your cake out of the oven and flip the cake out onto a piece of parchment paper. Gently peel the foil off your cake and discard it.
Let the cake cool very briefly then start at one end and roll the cake up lightly into a roll shape. Let it cool completely before filling.
Make your filling as your cake cools. Begin by mixing all your filling ingredients together in a bowl. It helps to have your cream cheese at room temperature. Taste the mixture as you go to adjust if you would like it sweeter.
Once your filling is done, place it in the fridge to chill until you are ready to fill your cake roll.
Prepare your Chocolate Glaze. In a bowl, add both the chocolate chips and heavy cream. Microwave in 30-second intervals until the chocolate has melted. Whisk until smooth.
To fill your roll, slowly unroll your cooled cake, making sure to exercise patience. If the cake is a little stiff and doesn't want to unroll completely don't force it. Just spread your filling all over the cake with a knife. Make sure you get some on all parts of the cake.
Once you have added all your filling to the cake, start rolling it back up the opposite way you unrolled it. You will be able to see the center of the roll as it will naturally curl inward. Start rolling with that end.
Roll the cake back up as tightly as you can, if it cracks some don't worry, it will hold together with the filling once you chill it.
Once you have it rolled up, wrap it in wax paper and foil and chill in the fridge for 2 to 3 hours until the filling is set.
---
[bs_icon name="glyphicon glyphicon-tasks"] Nutrition:
This makes 12 total slices. Per slice: Calories: 272; Fats: 26g; Net Carbs: 3.5g; Proteins: 5.44g
---
Some of the links above are affiliate links, which pay me a small commission for my referral at no extra cost to you! If you make a purchase through the link, it won't cost you more but I may earn a small commission. I only recommend products that I personally use and love!
Did you make this Low Carb Keto Chocolate Peanut Butter Roll Cake recipe? Tag me on Instagram so I can see! @lazy_girl_tips
Leave a comment, rate it, pin it, share it, and don't forget to tag a photo #lazy_girl_tips on Instagram. I'd love to see what you come up with. Cheers, friends!