This easy-to-make Low Carb Keto Zucchini Bread with Walnuts is not only Keto, but it's DELICIOUS!
I normally don't make much bread like desserts, but today was an exception.
When it comes to Keto bread, recipes can be really hit or miss.
I even had some friends who are not doing Keto try it, and they said it's crave-worthy.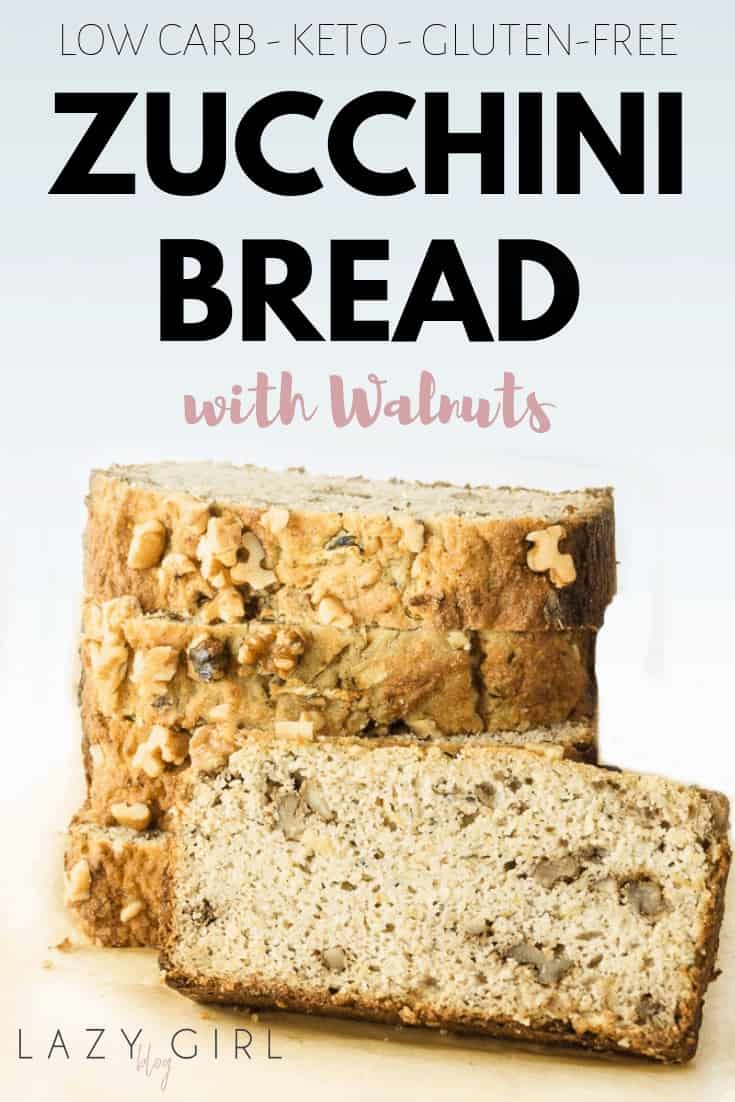 In addition to this Low Carb Keto Zucchini Bread being delicious and just the most perfect texture for a quick bread, the walnuts add such a nice touch.
The semi-crunch gives the bread a great texture.
Walnuts are also low in carbs and high in fat, which makes it great if you're doing Keto and having a hard time hitting those fat levels in your diet.
This Low Carb Keto Zucchini Bread with Walnuts is the perfect treat when you want a baked good while keeping your carbs down.
This easy Keto Zucchini Bread recipe is a perfect addition to a keto brunch, great for an on-the-go breakfast, or top it with butter or cream cheese for a delicious keto snack.
---
This post may contain affiliate links. As an Amazon Associate, I earn from qualifying purchases for my referral at no extra cost to you! See Disclosure
---
Low Carb Keto Zucchini Bread with Walnuts Recipe:
Are you still looking for the perfect zucchini bread that's slightly sweet, packed with hidden veggies, and topped with crunchy walnuts for a low-carb eating plan? Look no further.
This recipe beats all the other ones I've tried and it's gluten-free! It's a healthy keto quick bread recipe that you can serve for breakfast, a snack, or dessert.
Prep Time: 10 minutes
Cook Time: 50 minutes
---
Ingredients
---
Instructions
Preheat the oven to 350°F. Grease 9×5 bread pan.
In a large mixing bowl, cream the butter and sweetener together until light and fluffy.
Add the eggs, one at a time, and mix well to combine. Stir in the vanilla.
In a separate bowl, stir together the almond flour, coconut flour, baking powder, cinnamon, xanthan gum, and salt. Break up any lumps of almond flour or coconut flour.
Add the dry ingredients to the wet ingredients, and stir to combine. (Optionally, add up to 1/2 cup of mix-ins, like chopped nuts or chocolate chips.)
Add the grated zucchini, and fold it in gently.
Pour the batter into the prepared loaf pan. Bake for 50 – 55 minutes, or until a toothpick inserted into the center of the loaf comes out clean.
If the bread is browning too quickly, you can cover the pan with a piece of aluminum foil.
Cool for about 15 minutes, then remove from the pan. Cool completely. Store in refrigerator.
---
[bs_icon name="glyphicon glyphicon-tasks"] Nutrition:
Total Fat: 15g; Protein: 5g; Total Carbs: 5g; Fiber: 3g; Net Carbs: 2g; Cals: 171. Each serving size is 1/12 of the recipe.
[bs_icon name="glyphicon glyphicon-heart"] Tip: It's important to use parchment paper and/or make sure that your baking pans are well lubricated with baking spray, butter, Low Carb Keto Zucchini Bread with Walnuts, or olive oil when making a coconut flour recipe.
I recommend NOT using coconut oil to lubricate your pans in this instance because for some reason it doesn't prevent sticking.