There's no recipe easier than homemade Low Carb Keto Bacon Butter.
Everything's better with bacon! And butter. There are few things in this world more lovable than bacon or butter.
Combine the two and you've got the most delicious spread for your bagels, veggies, and steaks alike.
This spicy combo of the two is amazing on fish and chicken. Mmmm. Go for it!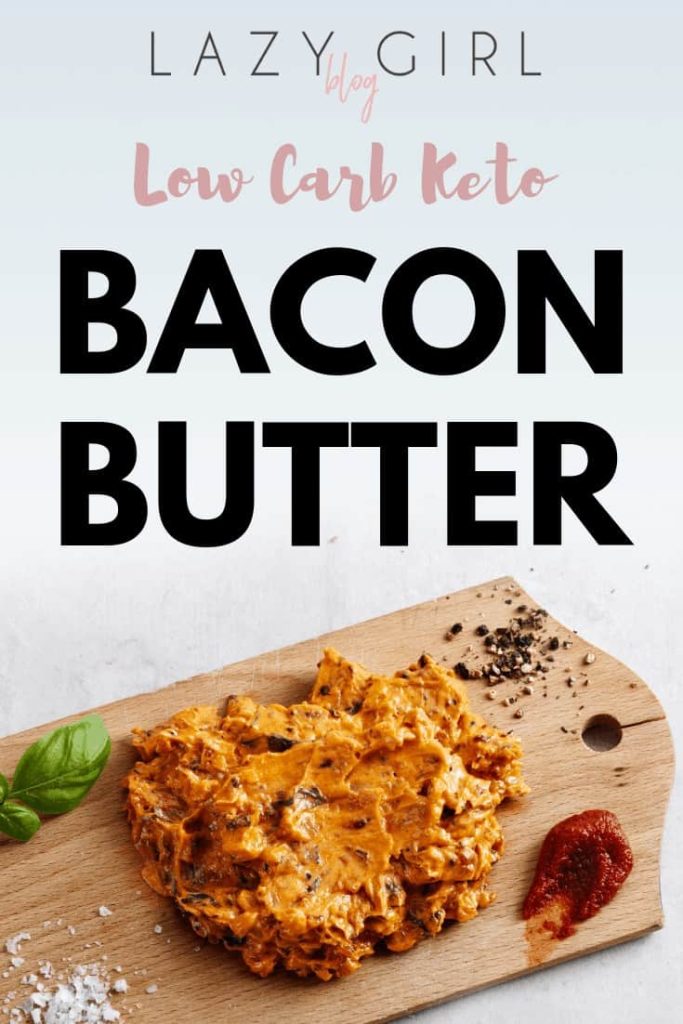 ---
This post may contain affiliate links. As an Amazon Associate, I earn from qualifying purchases for my referral at no extra cost to you! See Disclosure
---
Low Carb Keto Bacon Butter Recipe:
Prep time: 10 minutes
Cooking time: 5 minutes
---
Ingredients
---
Instructions
Peel and chop the shallots finely. Cut the bacon into small pieces.
Fry shallots and bacon in 1 tablespoon of butter for about 5 minutes.
Let cool and combine with the rest of the butter, tomato paste, and finely chopped basil.
Add salt and pepper to taste.
Form the butter into a roll in parchment paper or store it in a small bowl. Put in the fridge for about half an hour so that it solidifies.
[bs_icon name="glyphicon glyphicon-heart"] Tip: Feel free to make a big batch and store it in an airtight container in the fridge. It should last for a couple of weeks. Or freeze it to use at a later time.
[bs_icon name="glyphicon glyphicon-tasks"] Nutrition
Per serving: Net carbs: 3 % (2 g); Fiber: 1 g; Fat: 93 % (30 g); Protein: 4 % (3 g); kcal: 290
Recipe by: Anne Aobadia; Photo credit: Emma Shevtzoff