Never enough recipes for an egg fast… Agree? These delicious low-carb keto egg fast cinnamon crepes have 2 carbs and are fine for an egg fast.
Perfectly sweet and satisfying. Sweet crepes that are ideal for an egg fast or any low-carb breakfast.
Easy to make and you wouldn't think they were eggs if you hadn't made them yourself. It's ok if you aren't on an egg fast — these recipes work fine for any of the stages of low-carb eating.
I think that to keep someone motivated for doing a whole 5-days egg fast, it is essential to plan the fast out in advance (to some degree at least) and keep it safe from becoming boring and mundane.
The egg-fast pancakes are relatively fragile but still "flippable" and, with a carefully selected topping, very filling and nutritious.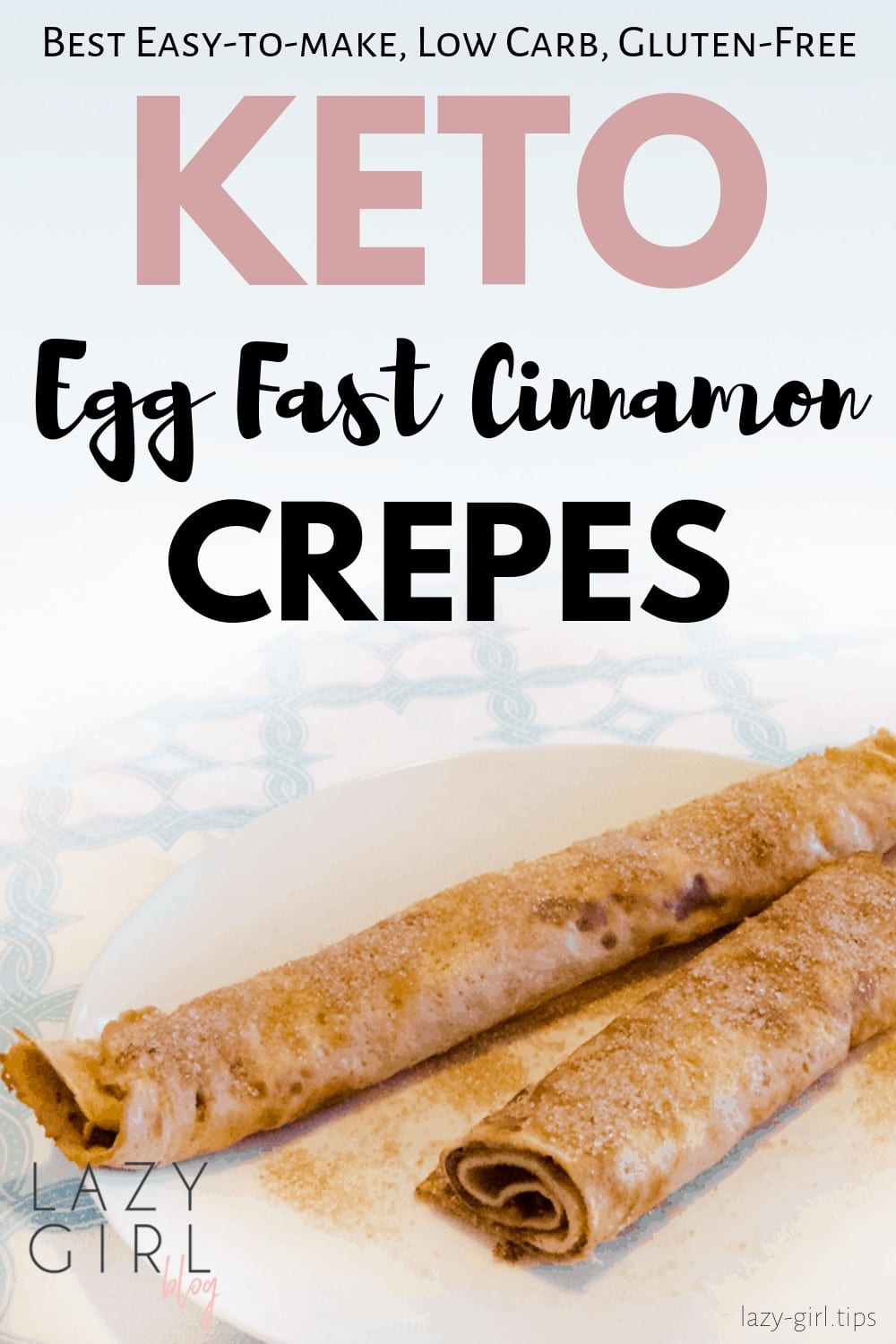 If you are on a low-carb keto diet or doing an Egg Fast to lose weight, you are going to love this recipe because it's so easy to put together. You simply blend the ingredients up in a blender to make the batter.
This is a low-carb, keto, lchf, egg fast, and Atkins diet-friendly crepes recipe. I got 8 crepes from this recipe.
These Egg Fast crepes are a nice change from all the eggy meals you eat on an egg fast. It's also a recipe you can enjoy while on a regular low-carb high-fat diet.
---
This post may contain affiliate links. As an Amazon Associate, I earn from qualifying purchases for my referral at no extra cost to you! See Disclosure
---
Ingredients For Low Carb Keto Egg Fast Cinnamon Crepes:
---
Here are some of the ingredients and items that will be helpful in making this low-carb cinnamon crepes recipe.
You'll need a heavy omelet pan so that it heats evenly without sticking or scorching the crepes in random spots.
I like erythritol for these because it has big crystals and I like the texture and look of it sprinkled over the top of the crepes.
Here's the low-carb keto egg fast cinnamon crepes recipe.
Did you make these
Keto Egg Fast Cinnamon Crepes
? Tag me on Instagram so I can see!
@lazy_girl_tips
Leave a comment, rate it, pin it, share it, and don't forget to tag a photo #lazy_girl_tips on Instagram. I'd love to see what you come up with. Cheers, friends!