Looking for guilt-free, easy to make, and absolutely delicious low-carb treats?! Look no further!
Keto Peanut Butter Cookies is low carb, sugar-free, 3 ingredients cookies and they are super easy to make but combined with chocolate they are simply irresistible.
These keto chocolate-dipped cookies are flourless too – so they are also gluten-free!
You can even make them with different nut butter to your liking.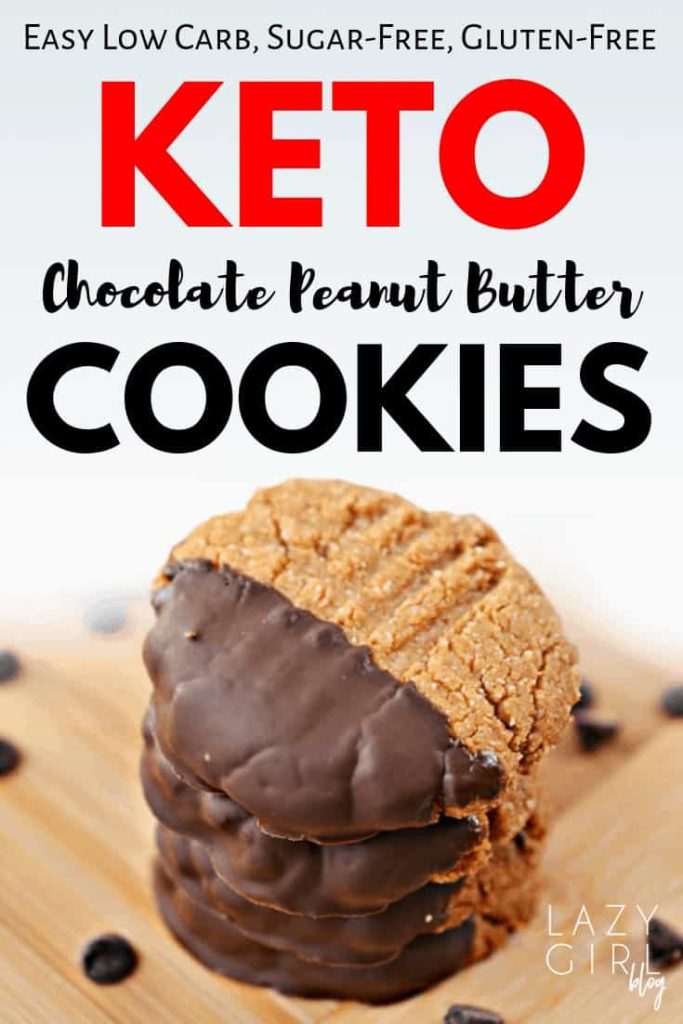 ---
This post may contain affiliate links. As an Amazon Associate, I earn from qualifying purchases for my referral at no extra cost to you! See Disclosure
---
Keto Chocolate Dipped Peanut Butter Cookies Recipe:
[bs_icon name="glyphicon glyphicon-time"] Prep Time: 10 minutes
[bs_icon name="glyphicon glyphicon-time"] Cook Time: 15 minutes
[bs_icon name="glyphicon glyphicon-cutlery"] Serves: 15 cookies
---
Ingredients
For Cookies:
---
For chocolate dip:
---
Instructions
Preheat your oven to 350°F and gather your ingredients! Place half a cup of granular erythritol into a Nutribullet and blend for a few seconds. You should end up with a fine, powdered sweetener!
Combine the peanut butter, powdered erythritol, and the egg and mix very well.
Roll the cookie dough into 1-inch balls and place it on a parchment paper-lined baking sheet. Press down with a fork twice to create the iconic peanut butter cookie pattern.
Bake in the oven for about 10-15 minutes or until you see the cookie edges turn a darker brown.
Let them cool on a wire rack and enjoy them with a yummy glass of nut milk!
When the cookies are cool, place Lily's dark chocolate baking chips into a microwave-safe bowl with 1 teaspoon of coconut oil. Heat for 30 seconds. Stir, and then heat for an additional 30 seconds until completely melted and smooth.
Dip the bottom part of each cookie into the melted chocolate, and place it on a parchment-lined baking sheet to dry. You can place the cookies in the fridge to speed up the chocolate drying process.
Serve immediately, or store in an airtight container in the fridge.
---
[bs_icon name="glyphicon glyphicon-list-alt"]

Nutrition
Per cookie: Calories 105; Net Carbs 2g; Fat 9g; Protein 4g;
If you like this recipe share it with your friends and (..of course..) pin it for later. 🙂