The Keto Almond Cake recipe is a low-carb version of the Swedish Ikea Almondy cake (Mandeltårta) that you can get in their store. This is an incredibly delicious healthy almond cake that is low in carbs, gluten-free, and keto-friendly.
If you're craving a light, delicious, and easy-to-make cake, give the Keto Almond Cake Recipe a try. This ultimate Keto Almond Cake is a delicious cake recipe for those on a keto diet. It's one of the best-tasting cakes I've made since starting the keto diet.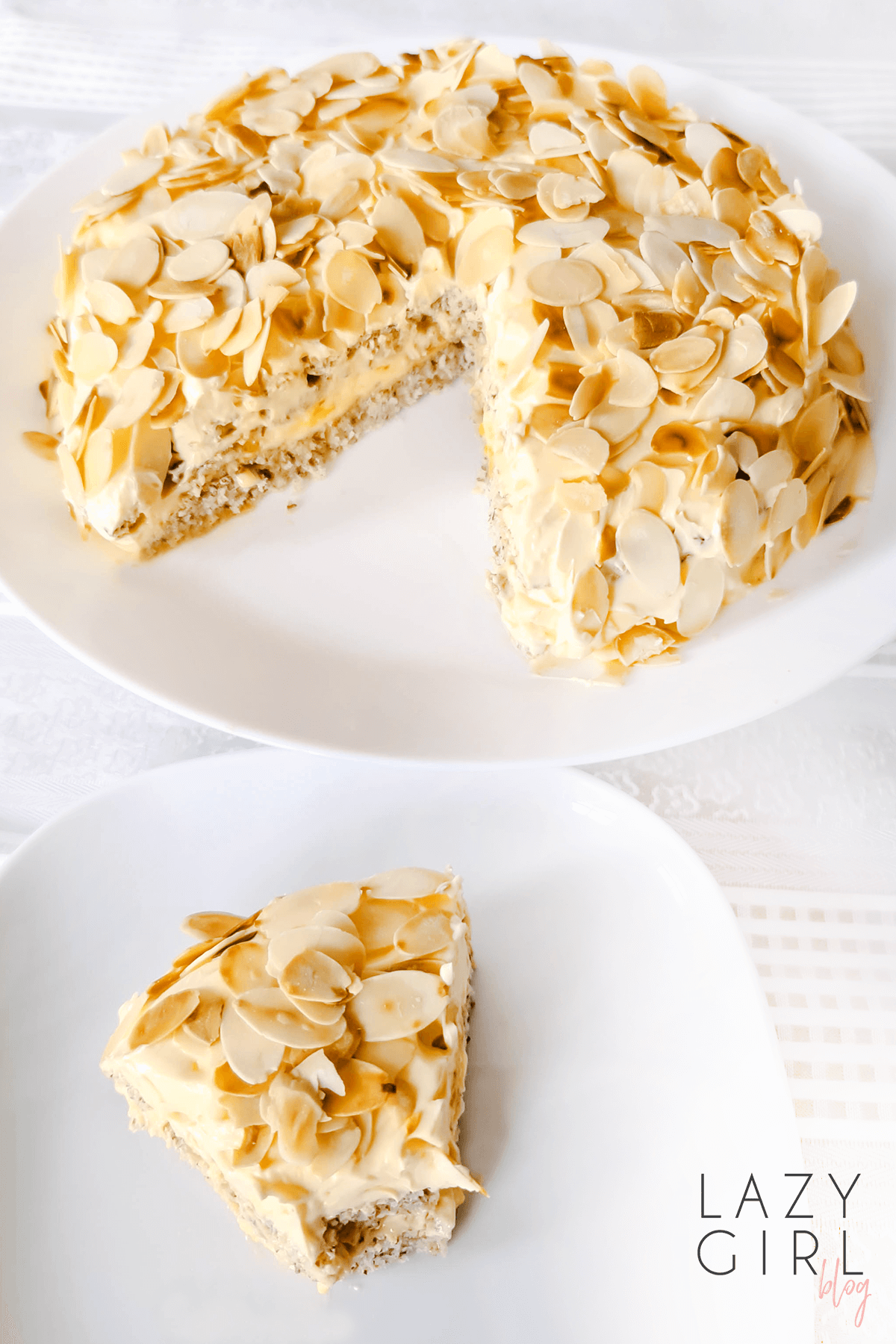 Its layers of almond cake are topped with rich sweet cream and toasted sliced almonds, giving the cake its beautiful look. The perfect keto dessert recipe and it's a cake you'd really want to sink your teeth into…!
There is no need for you to go all the way to the store or order it through a delivery when we've got this amazing recipe that you can make right in your own kitchen. From this Keto Almond Cake recipe, you'll taste the almond goodness in each and every bite.
Crunchy Almond Cake is the perfect treat to satisfy your sweet tooth. This gluten-free recipe is light, not too sweet, easy to make, and perfect for your ketogenic diet. It's easy to make and is perfect with a cup of tea or coffee on your ketogenic diet.
Best of all, this cake uses only 5 ingredients and it's quite easy to put together.
Such a simple-looking cake, but oh so tasty!! It's full of almond goodness. This Almond Cake Recipe will Satisfy even the sweetest Sweet tooth. It will change your life!
This cake tastes as good as the one you'd get at IKEA. Make it one or two days in advance before serving, and you'll love it!
---
This post may contain affiliate links. As an Amazon Associate, I earn from qualifying purchases for my referral at no extra cost to you! See Disclosure
---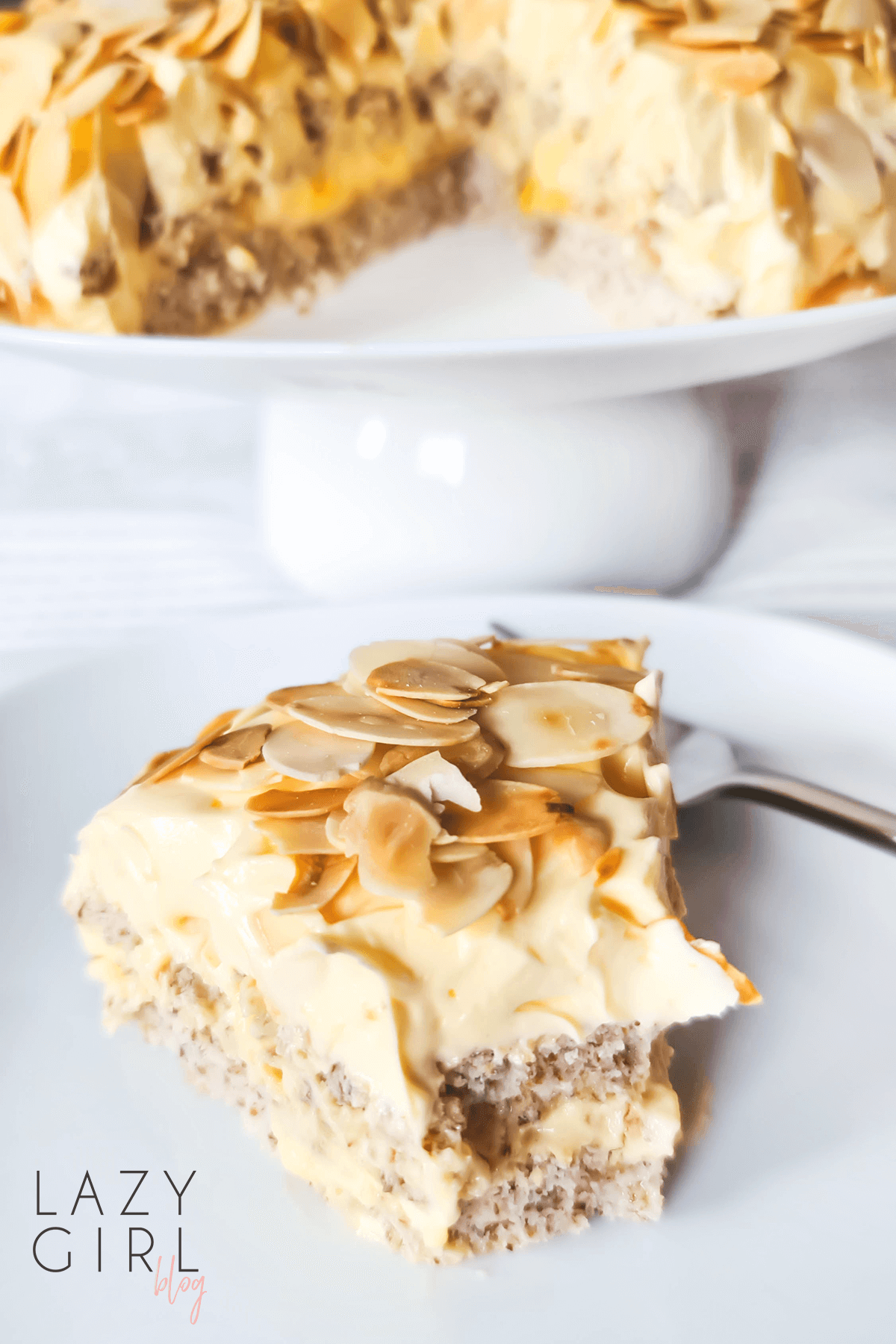 The full recipe and instructions are on the recipe card at the end. Read through this post first, though! There are tips that will help you make this cake with success.
Frequently asked questions
What flour is the lowest in carbs?
Almond flour has only 6 grams of carbs in 1/4 cup serving and that makes it the flour that is lowest in carbs. There are two types of almond flour: almond meal and almond flour. Almond meal is made from almonds that have skins, so it has a grainy texture. Almond flour, made from finely ground-blanched almonds, has a delicate flavor that doesn't taste like nuts. Its texture is smooth and fine, making it an excellent choice for gluten-free baking.
Does almond flour affect ketosis?
No, it will help you to stay on ketosis. Almond flour is great for baking, especially if you're looking for a low-carb alternative to all-purpose flour. Almond flour is an excellent and most widely used keto alternative to traditional flour. Because it's low-carb, high in fat, moderate in protein, and has great flavor, almond flour is the top choice for keto baking.
Is almond meal OK on keto?
Almond meal and flour are similar but not identical. Both work great for gluten-free, paleo, low carb, and keto recipes. The benefit of using almond meal over almond flour is that you get the extra nutrients and fiber that are in the skin, as well as protein and healthy fat. Almond meal is a great flour substitute for low-carb, keto, and gluten-free recipes such as cookies, muffins, and cakes. When you bake with almond meal, the baked goods will have a lovely wholesome brown speckle through them.
Ingredients of Keto Almond Cake – Swedish Ikea Cake
---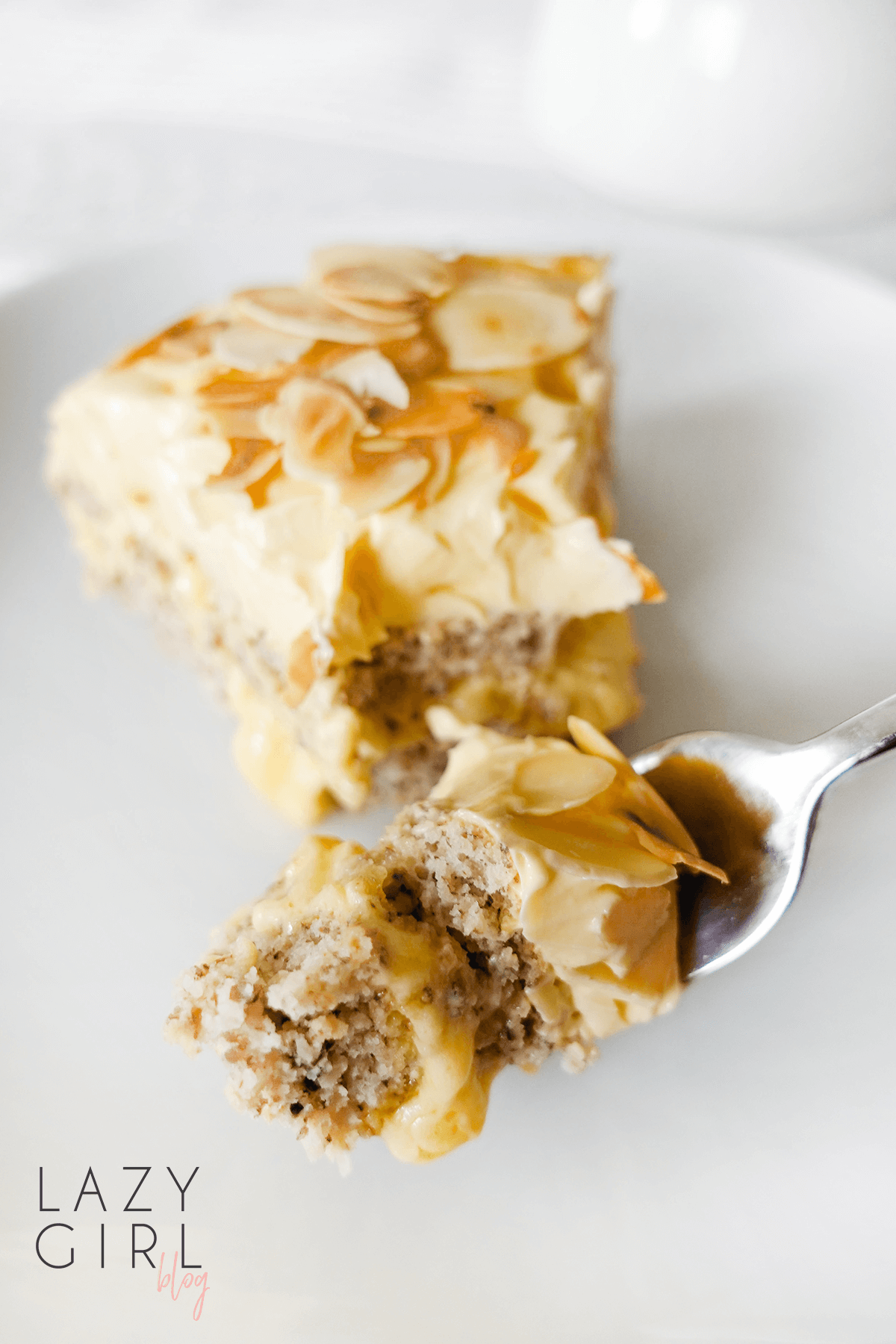 How to make this tasty low in carbs Keto Almond Cake recipe
• Toast the almonds on a pan – toasting almonds is easy – watch them closely and stir often. They go from golden to burnt in just a minute or two.
• Separate the egg whites from the yolks.
• Beat the egg whites adding just a pinch of salt. Add the sugar gradually and use room-temperature eggs so they'll whip up with more volume. Gradually fold ground almonds. If you don't have ground almonds, grind whole almonds in a food processor and then measure out the amount you need. (Make sure not to over-process the almonds or you'll end up with almond butter instead). Divide the batter equally between two 7″ round pans lined with parchment paper. Bake until golden. Let it cool.
• To make the egg yolks cream, use a small saucepan over medium heat. Let it cool before using.
• Cream the butter. When beating butter, you want it to turn light and fluffy, but not melt.
• Mix the egg yolks cream with the butter adding a dash of vanilla extract (if desired). Add a good quality vanilla extract to the cream for extra flavor.
• Finish cake with almonds. Sprinkle the toasted almonds over the cake. Keep the cake in the fridge for at least 4 hours before serving.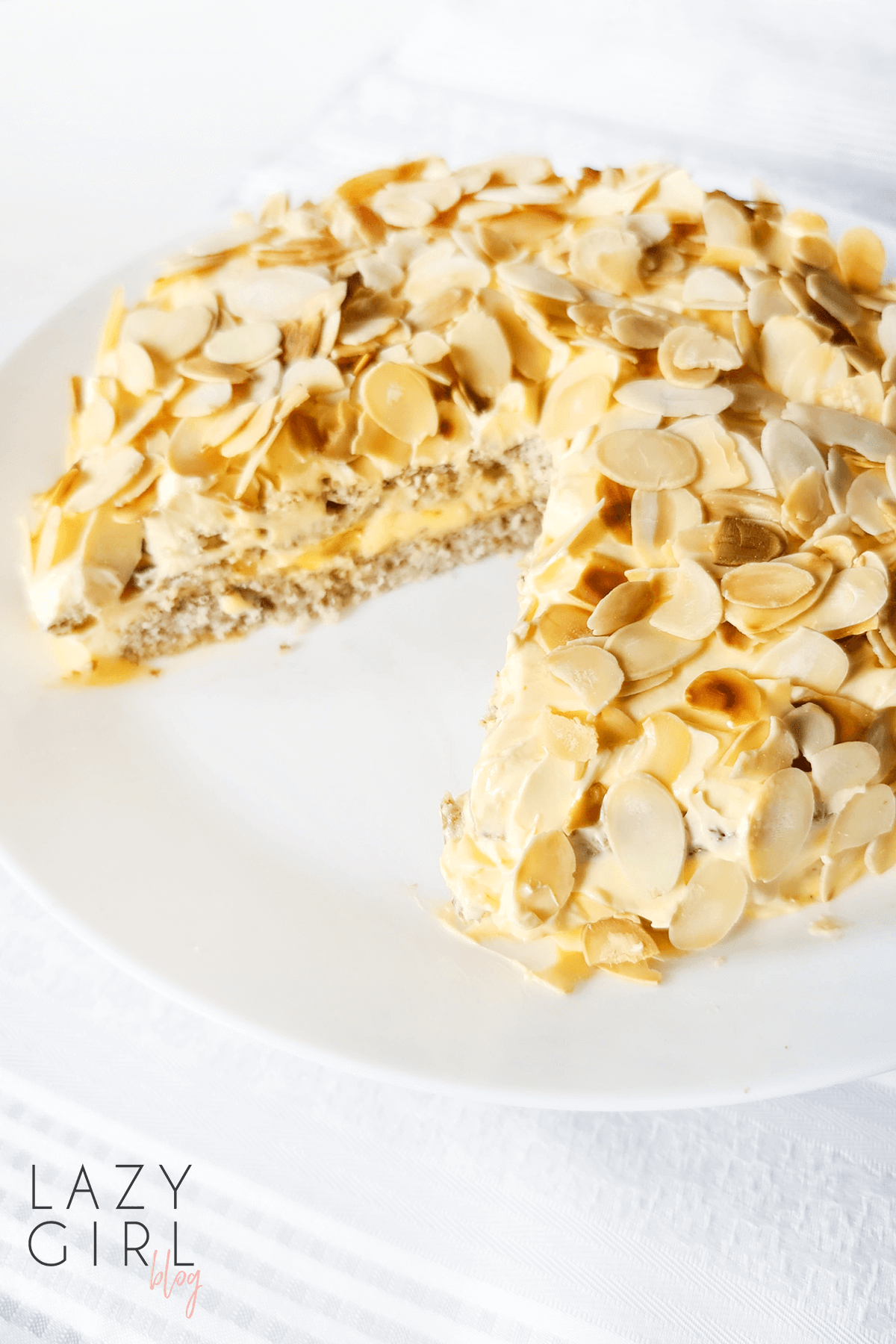 Did you try this Keto Almond Cake recipe? Tag me on Instagram so I can see! @lazy_girl_tips
Leave a comment, rate it, pin it, share it, and don't forget to tag a photo #lazy_girl_tips on Instagram. I'd love to see what you come up with.