Low-Carb Keto Lasagna is delicious, low-carb, wheat-free, and gluten-free and it's SOOO good you won't miss the pasta!
It is perfect to add to your low-carb recipe meals. It is easy to make and tastes just like the real thing. In fact,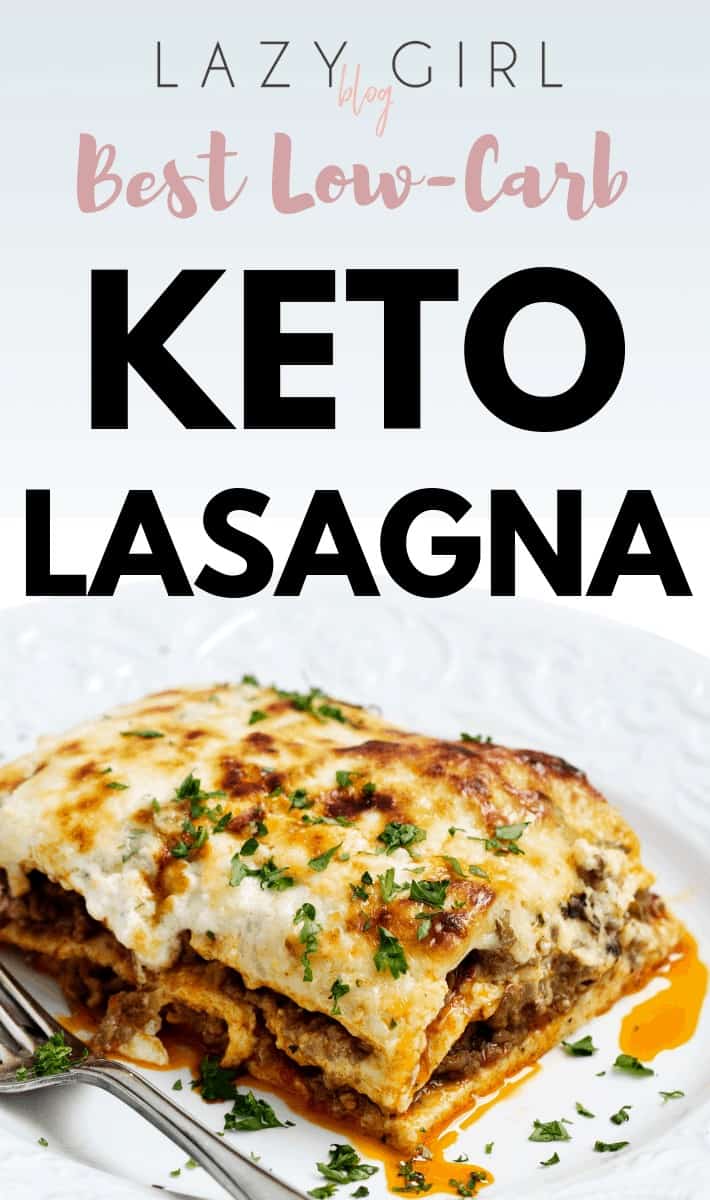 I have been told many times that it should be called "Better Than the Real Thing" lasagna.
This Keto Lasagna is so simple and you'll wonder why you didn't try it sooner. Sometimes simple is best, and that's exactly what this recipe is!
Everything about this dish was on point: the taste, the texture, the smell.
I LOVE THIS DISH! Even though the main ingredients are swapped with healthy alternatives, it didn't taste like "diet" food or feel restrictive.
This keto version of Lasagna is the ultimate comfort food.
---
This post may contain affiliate links. As an Amazon Associate, I earn from qualifying purchases for my referral at no extra cost to you! See Disclosure
---
Low-Carb Keto Lasagna Recipe:
Ingredients
2 tbsp olive oil
1 yellow onion
1 garlic clove
20 oz. ground beef
3 tbsp tomato paste
½ tbsp dried basil
1 tsp salt
¼ tsp ground black pepper
½ cup of water
Keto pasta
Cheese topping
---
Instructions
Start with the ground beef mixture, perhaps even the day before, for a more flavorful result.
Peel and finely chop onion and garlic and fry in olive oil until soft. Add the ground beef and fry until golden. Add tomato paste and spices.
Stir thoroughly and add water. Bring to a boil, lower the heat, and let simmer for at least 15 minutes or until most of the water has evaporated. Since the lasagna sheets used here don't soak up as much liquid as regular ones, the mixture should be quite dry.
Meanwhile, make the lasagna sheets according to the instructions below.
Preheat the oven to 400°F (200°C). Mix shredded cheese with sour cream and most of the Parmesan cheese. Reserve one or two tablespoons for topping. Add salt and pepper and stir in the parsley.
Place lasagna sheets and pasta sauce in layers in a greased 9″ x 13″ baking dish.
Spread the crème fraîche mixture and the remaining Parmesan cheese on top.
Bake in the oven for about 30 minutes or until the lasagna has a nicely browned surface. Serve with a green salad and your favorite dressing.
---
Lasagna sheets
Preheat the oven to 300°F (150°C). Add eggs, cream cheese, and salt to a medium-sized bowl and mix into a smooth batter. Continue to whisk while adding in the ground psyllium husk powder, a little at a time. Let's sit for a few minutes.
Spread the batter on a baking sheet lined with parchment paper using a spatula. Place another parchment paper on top and flatten with a rolling pin until the batter is at least 13″ x 18″ (33 x 45 cm). You can also divide into two batches and use another baking sheet for an even thinner pasta.
Let both pieces of parchment paper remain in place. Bake for about 10-12 minutes. Let cool and remove the paper, slice into sheets that fit your baking dish.
[bs_icon name="glyphicon glyphicon-file"] Note: Want to change things up and make it a little easier? You can substitute thinly sliced zucchini for the low-carb lasagna sheets. If you don't want the crunchy texture you can place the slices on a baking sheet and sprinkle salt on them. This will draw liquid from the zucchini and make it softer.
Instead of ground beef, you can use ground pork or poultry. It gives the dish a different but equally great flavor.
This lasagna can be stored in the fridge for 3-4 days and in the freezer for up to 3 months.
[bs_icon name="glyphicon glyphicon-ok"] Nutrition: Net carbs: 4 % (9 g); Fiber: 7 g; Fat: 77 % (76 g); Protein: 19 % (42 g)
Recipe by: Anne Aobadia, Photo by: Emma Shevtzoff