Keto Strawberry Cheesecake is rich, creamy, and the perfect keto-friendly dessert for spring and summer. So quick and easy, it's the perfect low-carb treat!
Strawberry season has got to be one of the best things about spring and summer.
As much as my family enjoys eating strawberries by the handful, using them to make strawberry desserts are just as amazing especially if you have a gathering or party to attend.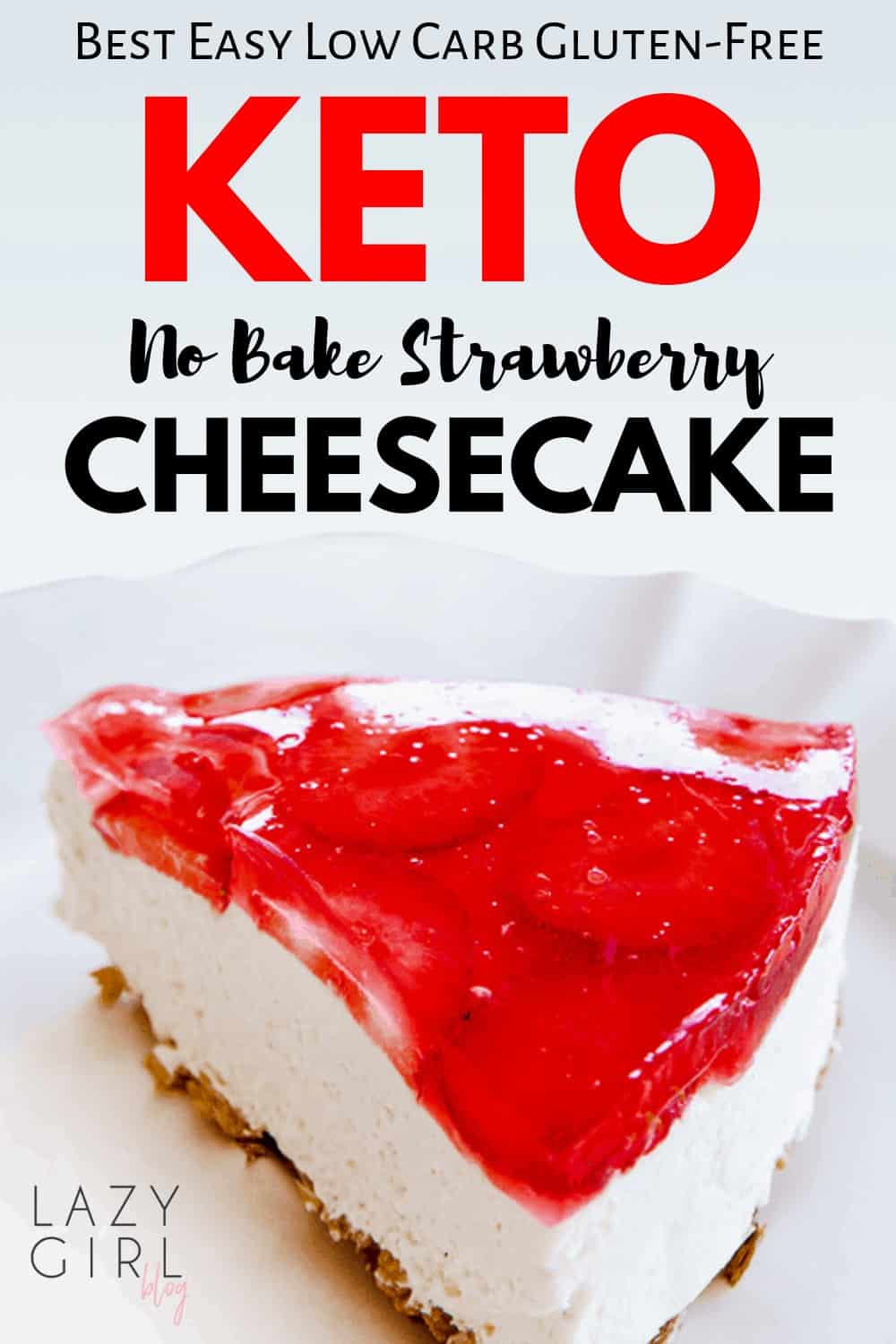 ---
This post may contain affiliate links. As an Amazon Associate, I earn from qualifying purchases for my referral at no extra cost to you! See Disclosure
---
Keto Strawberry Cheesecake Recipe:
[bs_icon name="glyphicon glyphicon-time"] Prep Time: 15 minutes
[bs_icon name="glyphicon glyphicon-time"] Chill Time: 5 hours
[bs_icon name="glyphicon glyphicon-cutlery"] Servings: 8 people
---
Ingredients
For Crust:
1/2 cup chopped walnuts, optional
---
For Cheesecake:
500ml double / heavy whipping cream
500g cream cheese
½ tsp lemon extract optional
3 (0.3 oz) boxes of Sugar-Free Raspberry Jello
8-10 fresh strawberries, optional
---
Instructions
For Crust:
Prepare a 9-inch pie pan or springform pan
In a medium-size bowl mix together almond flour (or groundnuts), sweetener, butter, and chopped walnuts using a hand mixer. Fully combine all of these ingredients, the mixture will still be crumbly, but that's ok.
Stir in the mixture in the pan and press the crust evenly.
Refrigerate for at least one hour before filling.
---
For Cheesecake:
In a large mixing bowl, beat together the cream cheese, double/heavy whipping cream, powdered sweetener, and vanilla extract until well combined and creamy.
Dissolve the strawberry Jello in 2 cups of boiling water. Set aside on the countertop to cool.
Pour the cream cheese mixture over the cooled crust and smooth it out, making sure to make a solid layer so the Jello won't leak through.
Dot the top of the cream cheese layer with the strawberries.
Carefully spoon the cooled raspberry Jello over the top.
Rest in the refrigerator for at least 4 hours (preferably overnight) and serve chilled.
---
[bs_icon name="glyphicon glyphicon-tag"] Note: One issue people sometimes have is sugar-free cheesecake cracking. Most often, this is caused by sudden temperature changes. Make sure the cheesecake cools on the counter before refrigerating. All of your ingredients should be at room temperature. Anything that is refrigerated should be left out for at least 2 hours.
---
[bs_icon name="glyphicon glyphicon-tasks"]

Nutrition

Per Serving (1 slice): Total Fat 42g; Sodium 286mg; Potassium 78mg; Total Carbs 7g; Dietary Fiber 2g; Protein 9g

If you like this recipe share it with your friends and (..of course..) pin it for later. 🙂