This is the BEST Chocolate Cream Cheese Frosting!
This delicious, sugar-free Low Carb Keto Chocolate Cream Cheese Frosting is silky, smooth, and creamy, yet thick and sturdy enough for piping on cupcakes and is perfect to top any cake that needs a creamy chocolate icing or filling.
It's super easy to make and not too sweet.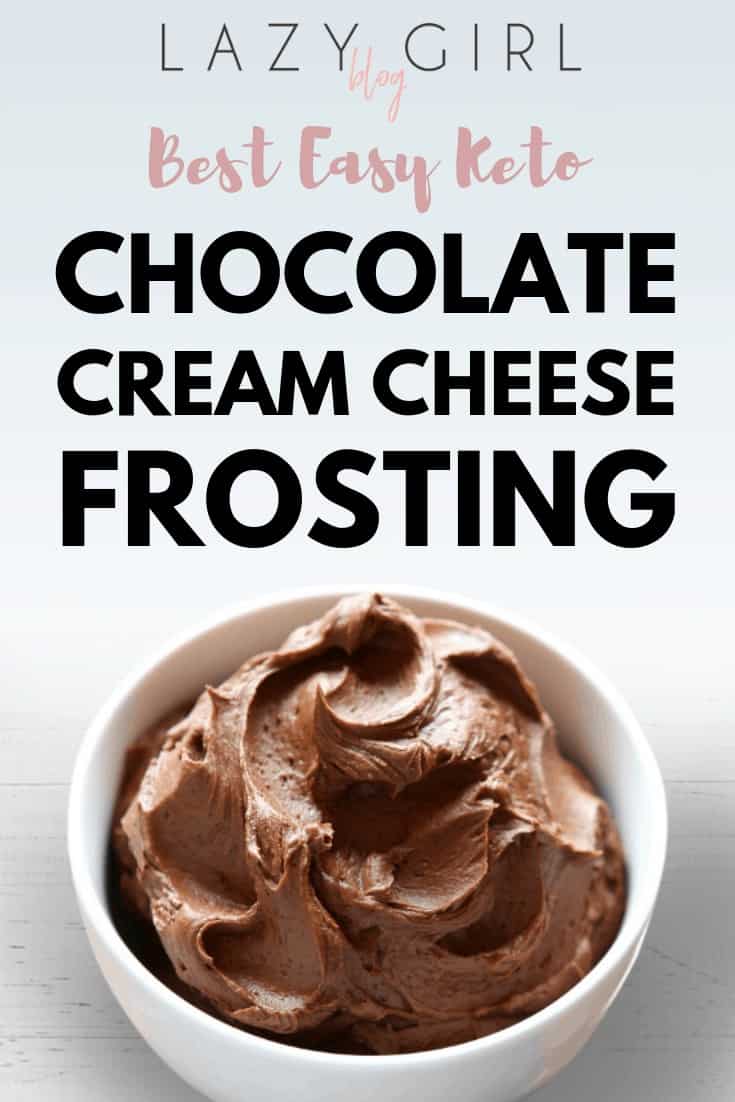 This smooth, creamy chocolate cream cheese frosting is the perfect finishing touch for any vanilla, peanut butter, or chocolate cake. It's wonderful on cupcakes as well.
Spread it on a layer cake or pipe it onto cupcakes or individual cake squares for a designer look. However, you can pair it with what works best for you.
---
This post may contain affiliate links. As an Amazon Associate, I earn from qualifying purchases for my referral at no extra cost to you! See Disclosure
---
Keto Chocolate Cream Cheese Frosting Recipe:
[bs_icon name="glyphicon glyphicon-time"] Prep Time: 10 minutes
[bs_icon name="glyphicon glyphicon-time"] Total Time: 10 minutes
---
Ingredients
---
Instructions
Beat room temperature cream cheese and butter until well combined and creamy.
Add chocolate powder. Using your mixer or blender cream together evenly.
Add the Swerve confectioners and mix until smooth.
Add in coconut or almond milk and mix well.
Add in the vanilla and melted chocolate (this is optional).
Mix until the appearance becomes fluffy, this should take around 3 minutes
Use a frosting kit to swirl in a decorative manner in a pattern of your choosing.
[bs_icon name="glyphicon glyphicon-heart"] Tip: You can add 1.5 teaspoons of Keto Instant coffee or Bulletproof Coffee for a coffee chocolate frosting.
---
[bs_icon name="glyphicon glyphicon-file"]

Notes

Suitable to frost a large single layer or double layer cake or a large batch of muffins or cupcakes.

You can freeze this frosting but for best results use it within 3 months.

Note that for best results ensure that your sweetener is in powder form otherwise it will be gritty.
[bs_icon name="glyphicon glyphicon-tasks"] Nutrition:
Serving: 1recipe | Calories: 147kcal | Carbohydrates: 9g | Protein: 26g | Fat: 148g
If you like this recipe share it with your friends and (..of course..) pin it for later. 🙂