This Keto Chocolate Cheesecake is every chocolate lover's dream cake: chocolate crust, smooth and creamy chocolate cheesecake filling, silky chocolate ganache topping, plus extra chocolate curls on top!
It reaches and decadent, triple chocolate treat that is sugar-free, low carb chocolate cheesecake mania.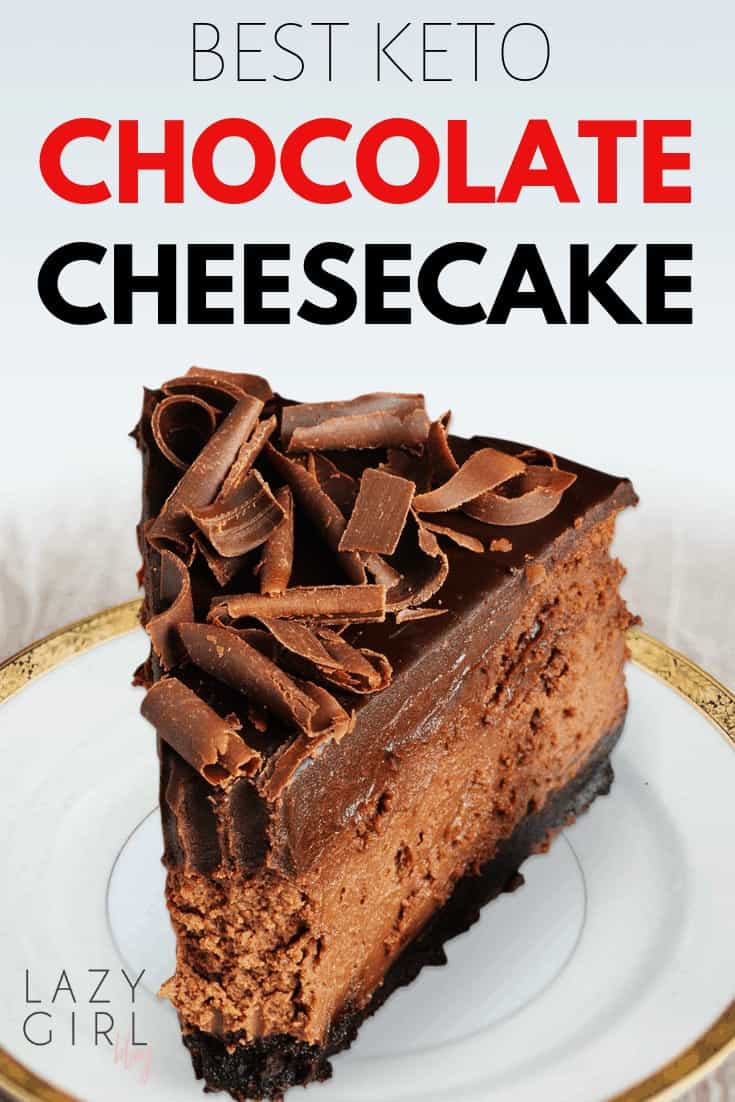 And when it comes to cheesecake, is there any better flavor than chocolate?
With a chocolate crust and some gooey chocolate ganache on top?
I dare you to dislike this dreamy chocolate cheesecake.
Since there's no such thing as too much chocolate, you can add one more layer of chocolate – chocolate curls on top for garnish.
Once you make this recipe, you'll never go back to any other recipes!
---
This post may contain affiliate links. As an Amazon Associate, I earn from qualifying purchases for my referral at no extra cost to you! See Disclosure
---
Keto Chocolate Cheesecake Recipe:
[bs_icon name="glyphicon glyphicon-time"] Prep time: 30 minutes
[bs_icon name="glyphicon glyphicon-time"] Cook time: 1 hour
[bs_icon name="glyphicon glyphicon-time"] Total time: 1 hour 30 minutes
[bs_icon name="glyphicon glyphicon-cutlery"] Servings: 12
---
Ingredients
Chocolate Crust:
---
Chocolate Cheesecake Filling:
---
Topping:
---
Instructions
Preheat the oven to 350F and get out a 7-inch springform pan. Place the bottom of a 7-inch springform pan on a piece of parchment and trace it. Cut out the circle so it fits the bottom of the pan. Assemble the springform pan and brush the bottom and sides with melted butter.
First, you should make a crust. Place almond flour, sweetener, cocoa powder, baking soda, and salt in a food processor or blender. Pulse to blend. Add the vanilla extract and butter and blend until the mixture comes together to form a dough.
Transfer the dough to the pan and press the dough evenly into the bottom and sides of the pan. Use a fork to add holes in the crust for the steam to escape.
Bake for 10-12 minutes. Allow cooling in the pan for 1 hour. The crust will firm up as it cools.
Then make your CHOCOLATE CHEESECAKE filling. Preheat the oven to 350 degrees and position the rack in the middle of the oven.
Finely chop the chocolate and add it to a metal or ceramic bowl placed over barely simmering water, to melt completely. Measure the Sukrin 1 (or Swerve) into a coffee grinder and powder.
Place the softened cream cheese in a medium bowl and mix at low-medium speed until creamy and free of lumps. Scrape down the bowl. Mix the powdered sweetener and cocoa powder together and add it to the cream cheese mixture, mixing on medium-low speed until fully incorporated. Scrape down the bowl. Add the eggs one at a time, mixing at low speed until completely incorporated, and scraping the bowl after each addition. Add the vanilla and stevia glycerite and begin adding the chocolate while mixing, until well blended.
Spoon the thick batter into the crust, pushing down with the spoon to make sure there are no air bubbles. Level the top.
Prepare a tall oven-proof tray and add 2-3 (1″) of water. Carefully place your aluminum-wrapped cheesecake into the water and place it into the oven.
Bake for 45 – 60 minutes or until the very center is just barely jiggly.
Remove and let cool 15 minutes, then run a sharp knife around the inside of the pan to loosen. Let cool completely. Once cool, remove sides, cover tightly in plastic wrap, and refrigerate for at least 3 hours.
For the topping: In a medium saucepan over medium heat, combine cream and sweetener. Bring to just a simmer, then remove from heat and add chopped chocolate and vanilla. Let sit for 5 minutes and then whisk until smooth.
Pour over the top of the chilled cheesecake, allowing some to drip down the sides. Chill until set.
If you want, you can decorate your chocolate cheesecake with some chocolate curls on top for garnish.
Enjoy!
---
[bs_icon name="glyphicon glyphicon-tasks"] Nutrition
Per serving: Calories: 315kcal | Net Carbs: 5g | Protein: 9g | Fat: 30g | Fiber: 4g
If you like this recipe share it with your friends and (..of course..) pin it for later. 🙂