Going keto is easy. Staying keto? Not so much. Eating out doesn't mean you have to break your ketogenic diet.
Here are the 8 Most Popular Keto Friendly Fast Food Restaurants and What to Order to stay on your keto diet.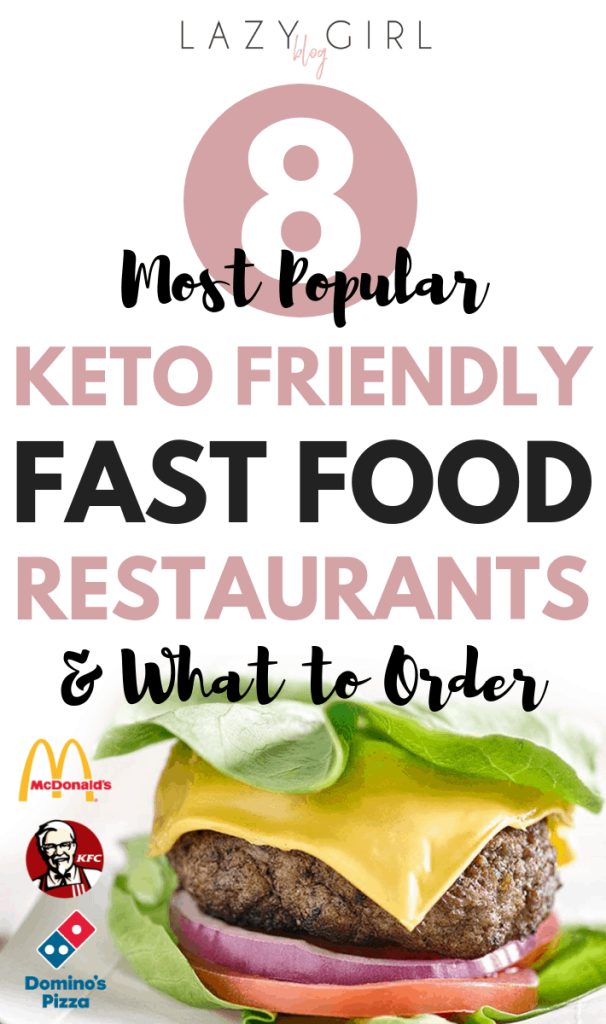 Many people love to eat out. It means they don't have to dirty up their kitchen, clean up afterward, or take the time to prepare a meal after a long day.
It also means that you get to catch up with friends and family, or even enjoy a date night.
And to make it even easier for you, we've suggested what you can order at various restaurants (including fast-food restaurants like McDonald's and Domino`s).
This article covers some of the most popular restaurants in the United States and how to order a low-carb meal there so you won't be kicked out of ketosis.
Before you decide to eat out, you should at least know what to eat on a keto diet.
---
EAT BEFORE YOU LEAVE
You definitely don't want to arrive at the restaurant starving hungry. It's a sure-fire way to decrease the chance you'll stick to your diet.
You can also pack some snacks to take with you just in case. So you don't feel worried about being hungry at the end of your meal.
DON'T BE AFRAID TO ASK QUESTIONS
You're the one who'll be eating the food you order and paying for it.
So don't be afraid to ask questions!
Here are a few questions to ask just to be on the safe side:
If you're ordering seafood, fish, or meats, ask whether it's breaded.
Ask if your dish comes with sauce or toppings as they're often not mentioned on the menu. Most sauces aren't very Keto as they'll contain added sugar, cornstarch, or wheat flour.
Ask to see if you can switch starchy side dishes to a side salad or steamed vegetables.
For salads, ask for olive oil and red wine vinegar dressing.
And if you have a food intolerance, let the restaurant know. Not all restaurants can accommodate these changes, but you can ask to check and then decide if you want to go elsewhere.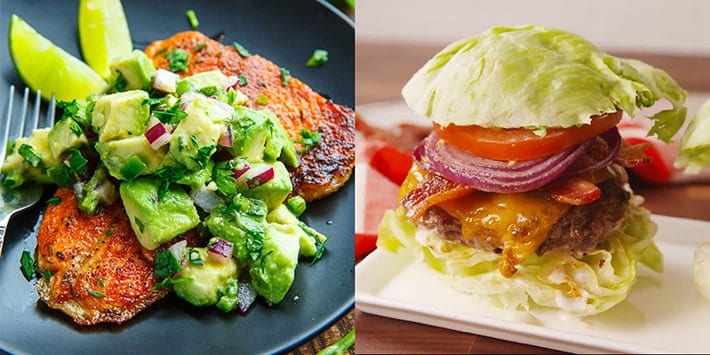 Eating Keto At Restaurants And What To Order
1. Eating Keto at Wendy's
Wendy's bunless burgers are our number one fast-food keto meal. It's appetizing and filling, and you can feel good about the ingredients.
Keto Options at Wendy's
Dave's Single – no bun
Dave's Double – no bun
Dave's Triple – no bun
Baconator – no bun
Son of Baconator – no bun
Bacon Deluxe 1/4 lb single – no bun
Bacon Deluxe 1/2 lb double – no bun
Bacon Deluxe 3/4 lb triple – no bun
Cheeseburger Deluxe – no ketchup, no bun
Jr. Hamburger Deluxe – no ketchup
Jr. Bacon Cheeseburger – no bun
Cheesy Cheddar Burger – no bun
Grilled Chicken Sandwich – no Honey Mustard
Grilled Asiago Ranch Chicken Club Sandwich – no bun
Berry Burst Chicken Salad – substitute Raspberry Vinaigrette with Ranch or Caesar
Southwest Avocado Chicken Salad
Side Caesar Salad – no croutons
---
2. Eating Keto at McDonald's
What to order: a breakfast sandwich, chicken breast, or burger without the bun.
Avoid these foods: chicken nuggets, as they're covered in breadcrumbs.
You can use the nutrition calculator on their website to figure out your macros. Just remember to account for the extra carbs in condiments like ketchup.
---
3. Eating Keto at Taco Bell
What to order: choose one of their meat tacos and simply toss the taco shell before eating. And make sure to add guacamole to your meal.
Their power menu bowl is another great choice as you can customize it to fit what you enjoy.
Avoid these foods: quesadillas and burritos as they have very little protein and are high in carbs like wheat flour, beans, and rice.
---
4. Eating Keto at KFC
There are some great keto-friendly options on the menu at KFC:
What to order: grilled chicken, which has only 0 or 1g carbs per serving. And if you want a side dish, one serving of green beans has 2g of carbs.
There are good salad options too – just ask for no croutons and order the House Salad (2g carbs) or the Caesar Salad (1g carbs).
Best to omit the dressing, but if you can't eat a salad with dressing, then the Heinz Buttermilk Ranch Dressing has 1 g carbs and the Marzetti Light Italian Dressing has 2g carbs.
Avoid these foods: all breaded chicken and sandwiches.
The grilled chicken at KFC is delicious. Even though the Grilled Chicken from KFC is a good option, it's pretty low in fat, so we recommend adding in some fat like avocado, butter, or olive oil to make it more filling.
Plus, the "butter" at KFC is actually margarine, so don't be fooled by the label.
---
4. Eating Keto at Jimmy John's Gourmet Sandwiches
If you're unfamiliar with Jimmy John's Unwich, it's a lettuce wrap instead of bread and they do a really good job of it. It's not just a couple of leaves of lettuce barely holding together the sandwich fillings like you might find at McDonald's when you ask for a lettuce-wrapped sandwich.
Jimmy John's is a favorite among the keto community and we totally understand why. The ingredients are simple and fresh!
What to order: Jumbo Kosher Dill Pickle, Any sandwich made as an Unwich (no bun)
---
5. Eating Keto at Applebee's
With more than 1,700 Applebee locations across the United States so far, it's safe to say that most Americans like to eat well in the neighborhood.
Although you'll want to stay away from the pasta dishes that they just added to their menu, Applebee's has a lot of steak and sandwich options that are perfectly acceptable on a low-carb diet if you know how to order them.
We recommend getting the eight-ounce top sirloin steak for 280 calories. It comes with your choice of two sides, so you'll want to go with a side of steamed broccoli and a plain side salad with olive oil and vinegar dressing to keep it low-carb.
You can also try their bacon cheddar grilled chicken sandwich and have them hold the bun and BBQ ranch sauce.
Instead of French fries, get a side of steamed broccoli or a side salad with oil and vinegar dressing.
You can also keep it simple by getting a grilled chicken salad. It comes with cheddar cheese and a hard-boiled egg. If you want to make it extra tasty, then ask for some bacon to go with it.
As always, be sure you stick with olive oil and vinegar or lemon as your dressing.
---
6. Eating Keto at The Cheesecake Factory
Surprisingly, the Cheesecake Factory has one of the most extensive menus around, which makes it a great place to eat no matter what diet you follow.
For low-carb eaters, we recommend getting the grilled pork chop with a side house salad in place of the applesauce, mashed potatoes, and green beans.
You can also get fresh grilled salmon or pick from one of six different steak options and get it with a side salad in place of all the starchy extras.
If chicken is your go-to dish, then try a grilled chicken and avocado club sandwich and ask for a side of bacon and a green salad in place of the French fries. You'll also want to hold the bun and herb mayonnaise.
---
7. Eating Keto at Domino`s
It's a lot harder to eat low-carb at a pizza place than it is at other restaurants. But because there are so many pizza places like Domino's in the US, it's a good idea to know how to eat at one if you're ever in a pinch.
In addition to pizza, Domino's also offers salads and sandwiches. The kicker is that they are often premade, so you won't be able to customize them much.
But at least you can pick off what you don't need. You can take a look at Domino's sandwich collection here.
We recommend getting the Philly cheesesteak and eating the insides of the sandwich. It comes with steak, American and provolone cheeses, onions, green peppers, and mushrooms.
If you order online, they have an option to get additional cheese and meat to help keep you full.
What to order: chicken wings are a keto-friendly food option at Dominos. Most of the wings are gluten-free and low in carbs (0g carbs in 2 wings).
Watch out for the sauces though as they do contain sugar.
Avoid these foods: pizza.
---
8. Eating Keto at Subway
Make your favorite sub sandwich into a Chopped Salad, and top it with shredded cheese and a low-carb dressing. Be careful with some meats like Sweet Onion Chicken being covered in sugar.
Keep it simple and don't be afraid to look up the nutrition info online beforehand.
You might be surprised to hear that sub shops like Subway can be a good place to get a keto-friendly meal!
What to order: chicken salad or ask for an entire sub to be put into a salad instead of a sandwich. Include ingredients like boiled eggs, grilled chicken, bacon, spinach, and olive oil. Check their nutrition calculator for more macros info.
Avoid these foods: the bread on their sandwiches.