Cherries and chocolate are one of my all-time favorite marriages of flavor, especially if the cherries are perfectly in season, sweet and sun-ripened, and the chocolate is dark and bittersweet.
This soft and squidgy American classic cake/cookie is made even more delicious by the addition of juicy cherries.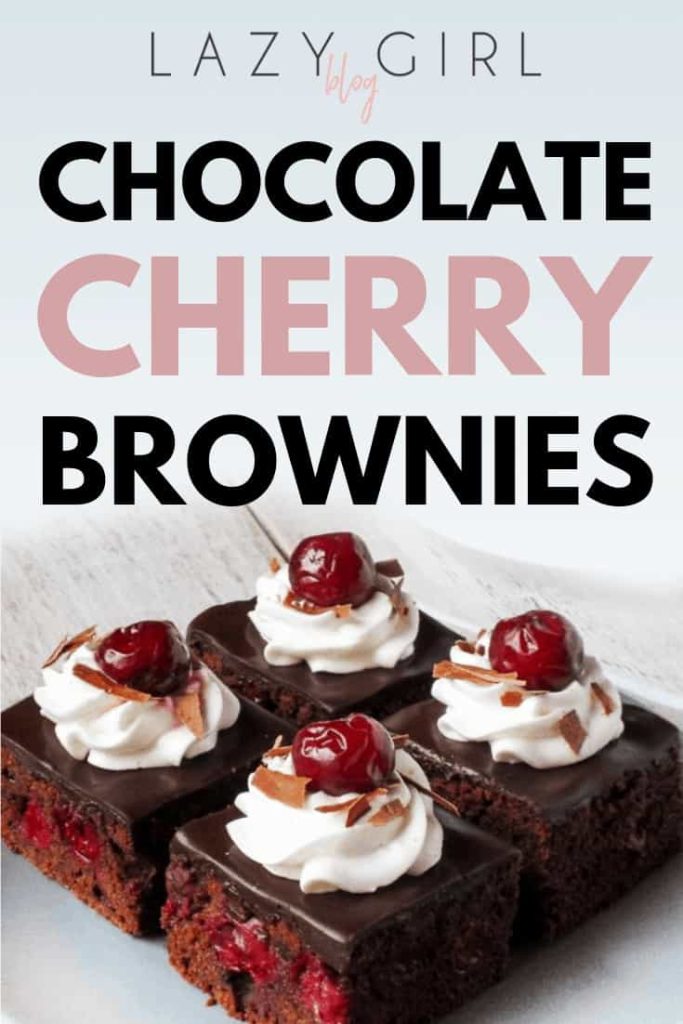 These homemade Chocolate Cherry Brownies are the perfect desserts and much better than packaged brownies but just as easy to make!
The slightly sweet, dense chocolate brownie is dotted with cherries for that classic chocolate-covered cherry flavor we all know and love.
---
This post may contain affiliate links. As an Amazon Associate, I earn from qualifying purchases for my referral at no extra cost to you! See Disclosure
---
Chocolate Cherry Brownies Recipe:
Ingredients
For brownie:
Chocolate glaze:
---
Instructions
Preheat the oven to 180ºC, gas mark 4, and line a 20cm square baking tin with baking parchment.
Gently melt the butter, dark chocolate, and sugar together in a saucepan, stirring until well mixed, then remove from the heat.
Add the cocoa powder, flour, baking powder, and coffee granules to the mixture, and combine. Then gradually beat in the eggs.
Add the cherries and chopped milk chocolate, and stir in.
Pour the mixture into the prepared tin, and bake for 20–25 minutes until set but still with a bit of giving in the center. Remove from the oven and leave to cool in the tin for 5 minutes, then turn onto a wire rack to cool completely. Cut into 16 squares to serve.
To make chocolate glaze add all ingredients to your microwave-safe bowl and microwave on medium for 30 seconds. Stir the ingredients and repeat. Continue doing this until you reach your desired consistency- usually 1 1/2- 2 minutes total.
You can decorate with whipping cream and cherries.
Enjoy!
---
Leave a comment, rate it, pin it, share it, and don't forget to tag a photo #lazy_girl_tips on Instagram. I'd love to see what you come up with. Cheers, friends!