With this list of 50 healthy, delicious, and low-calorie weight loss meals, you have no excuse not to eat something delicious and healthy!
All of these recipes will help you stick to your healthy eating goals, combining delicious meals that aren't loaded with calories.
Here are 50 healthy dinner recipes- some single-serving meals, others you can make ahead and eat for a few days.
Try out your favorite and let us know what you think!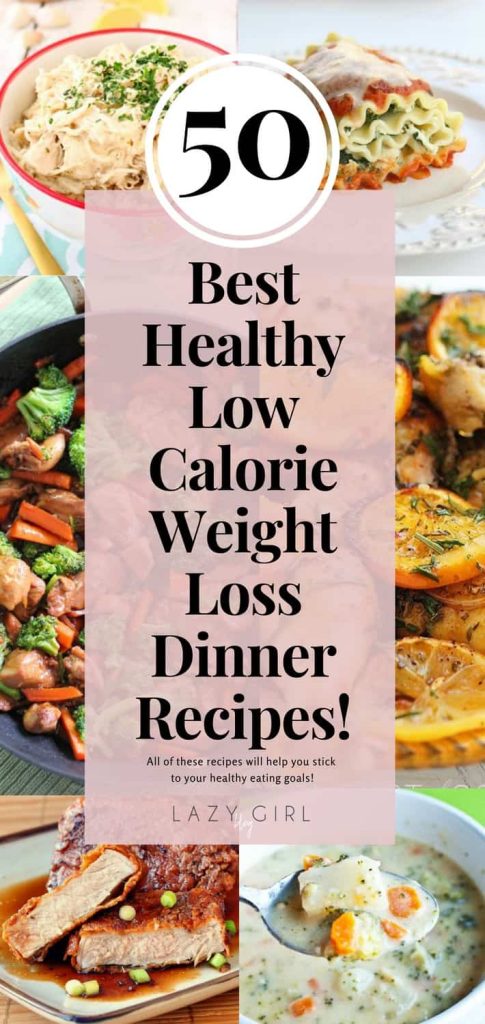 ---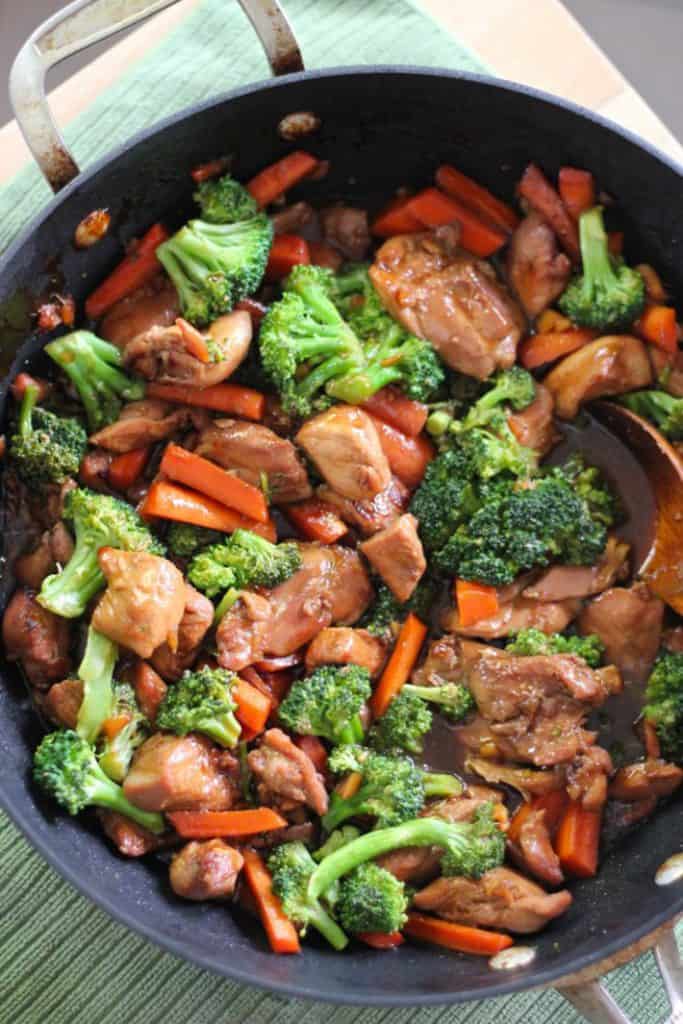 If you haven't made your own Teriyaki sauce just yet I urge you to do it. It is super easy, much better for you and the taste is superb. It is easy and super tasty. Making your own teriyaki sauce is also easy.
Teriyaki Chicken With Vegetables From EatGood4Life
---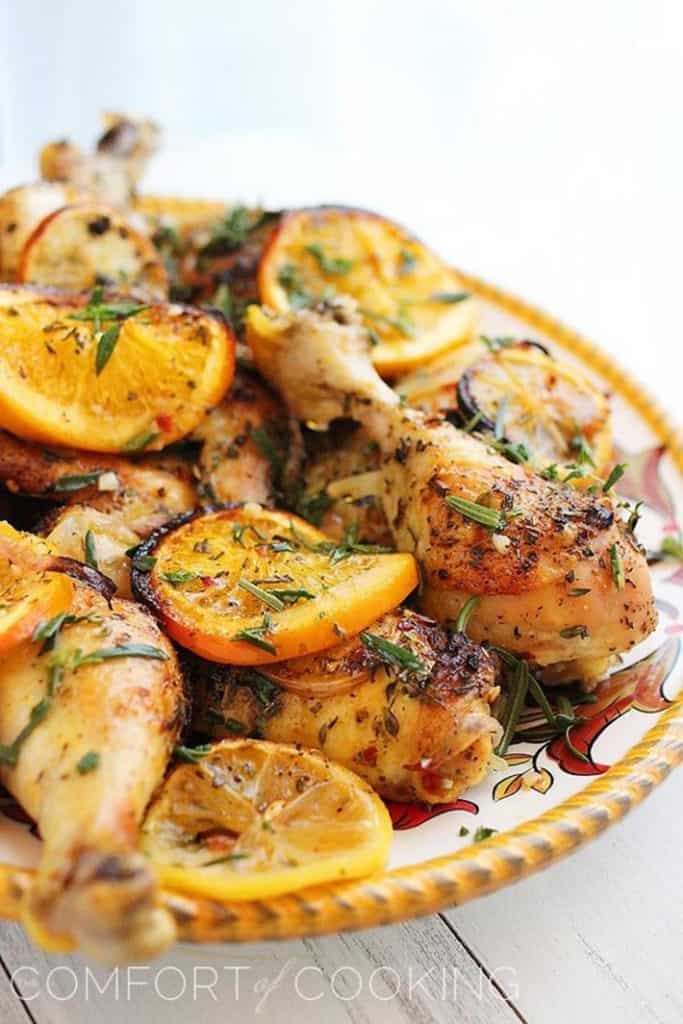 Try this easy, elegant roasted chicken with fresh lemons, oranges, and herbs. It's perfect for weeknight meals or special occasions!
Herb And Citrus Oven Roasted Chicken From TheComfortOfCooking

---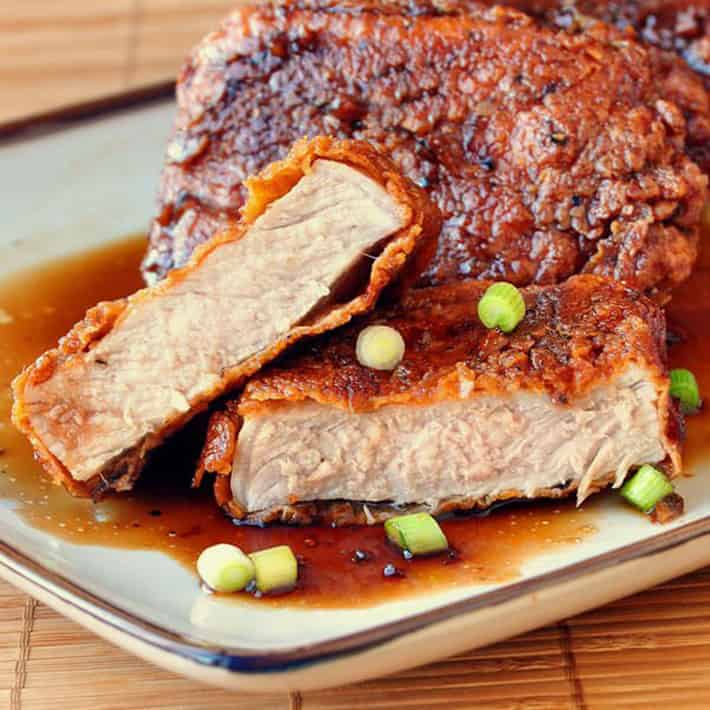 Double Crunch Honey Garlic Pork Chops. Juicy on the inside but super crunchy on the outside, these double-dipped pork chops get dipped in an easy, flavourful Honey Garlic Sauce.
Double Crunch Honey Garlic Pork Chops From RockRecipes

---

Zucchini noodles with chicken, cilantro, and lime are delicious 20 minutes, healthy and gluten-free dinner ideas. True light and quick summer dinner which is perfect for the days when it's too hot to cook. With leftovers for tomorrow, if serving only 2 of you.
Zucchini noodles were quite crisp and not soggy the next day as well. You can use any protein you wish – shrimp, black beans or tofu would go nicely as well.
Zucchini Noodles With Cilantro Lime Chicken From MouthWateringFoods
---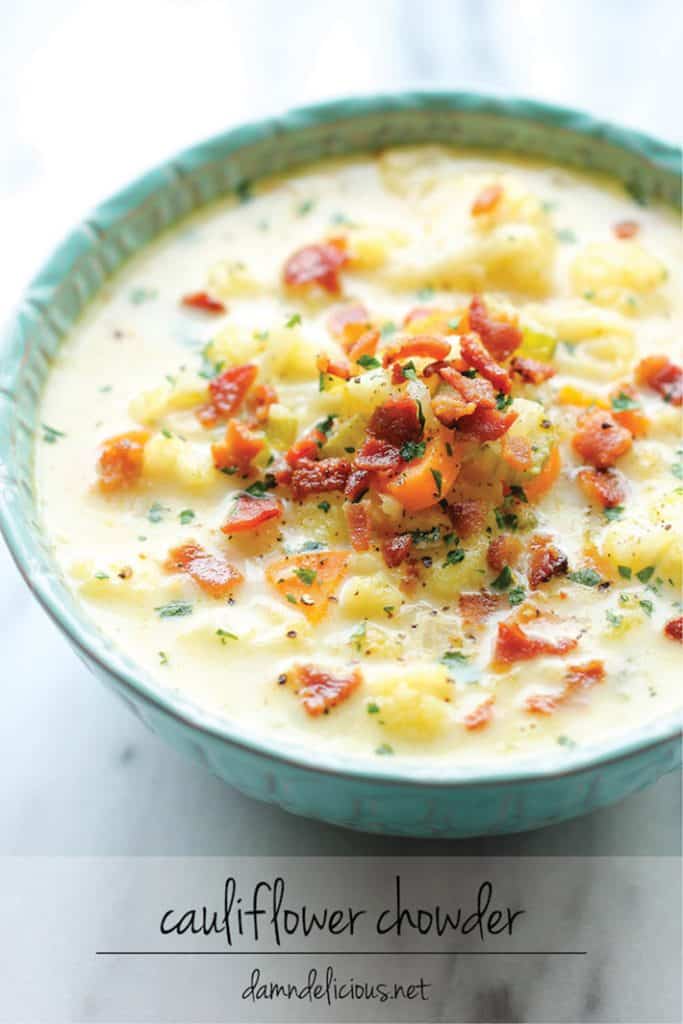 A creamy, low carb, hearty, and wonderfully cozy soup for those chilly nights!
Cauliflower Chowder From DamnDelicious
---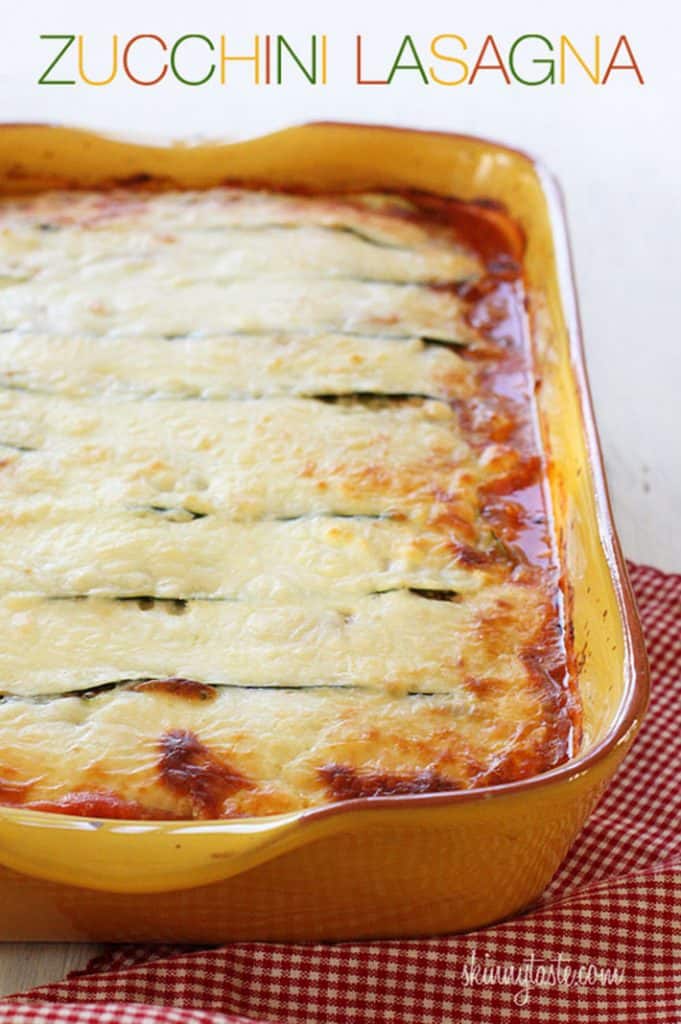 Zucchini Lasagna is a delicious, low-carb, wheat-free, and gluten-free lasagna that's loaded with vegetables, it's SOOO good you won't miss the pasta!
Zucchini Lasagna From SkinnyTaste
---

Garlic Parmesan Salmon Foil Pack. Very simple and healthy dinner with only 420 Calories and 5 Carbs.
Garlic Parmesan Salmon Foil Pack From CampingLivez
---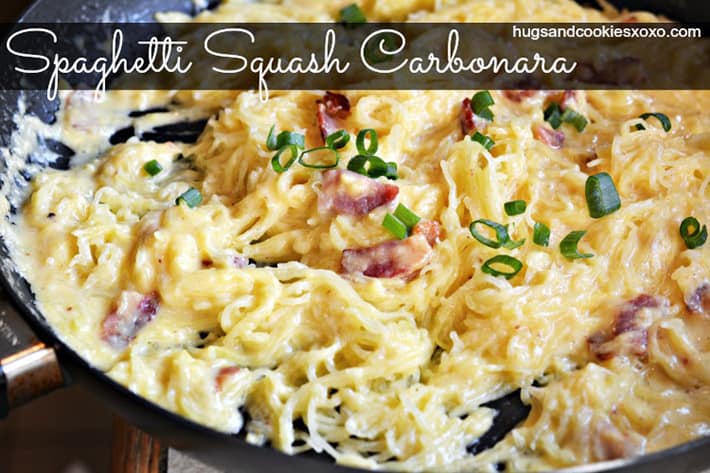 Everyone tells you it turns out like spaghetti but I figured sure, sure, sure it does. I mean, how close can squash be to spaghetti? Well, hold everything!!! This thing really DID resemble spaghetti. Totally shocking. Add some carbonara sauce with bacon and hellllloooo happiness! This was a fabulous dish!!!
Spaghetti Squash Carbonara From HugsAndCookies
---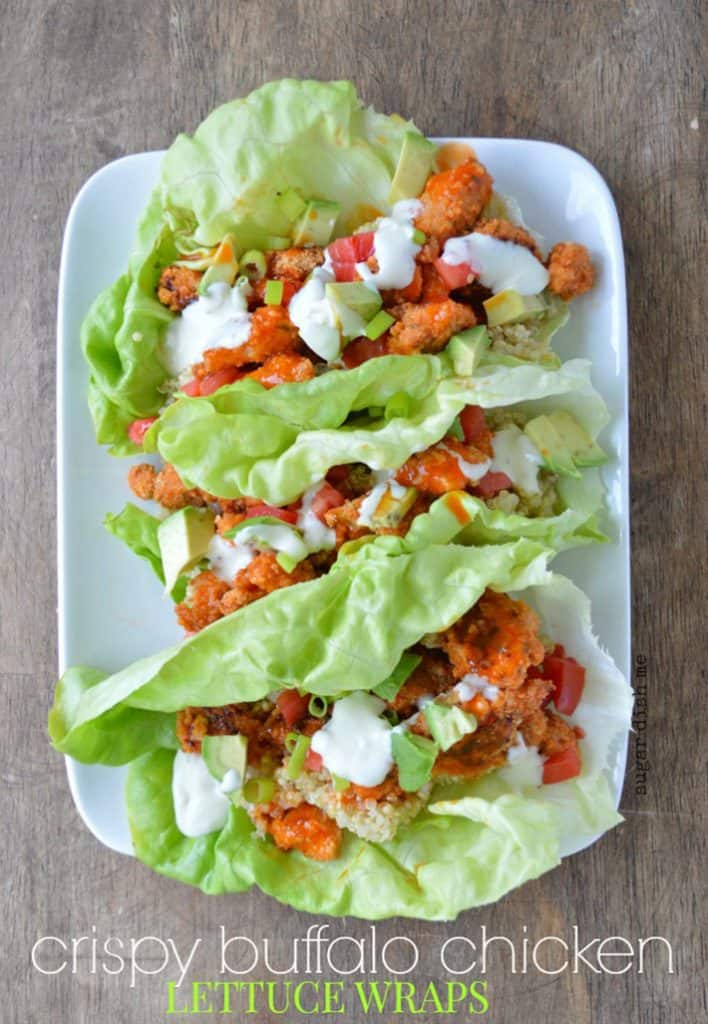 Lightened-up breaded baked little chicken bites tossed in delicious buffalo wing sauce, wrapped with quinoa and fresh veggies in a leaf of butter lettuce. Buffalo Chicken Lettuce Wraps make a delicious light lunch or dinner – like a salad you can eat with your hands!
Buffalo Chicken Lettuce Wraps From SugarDish
---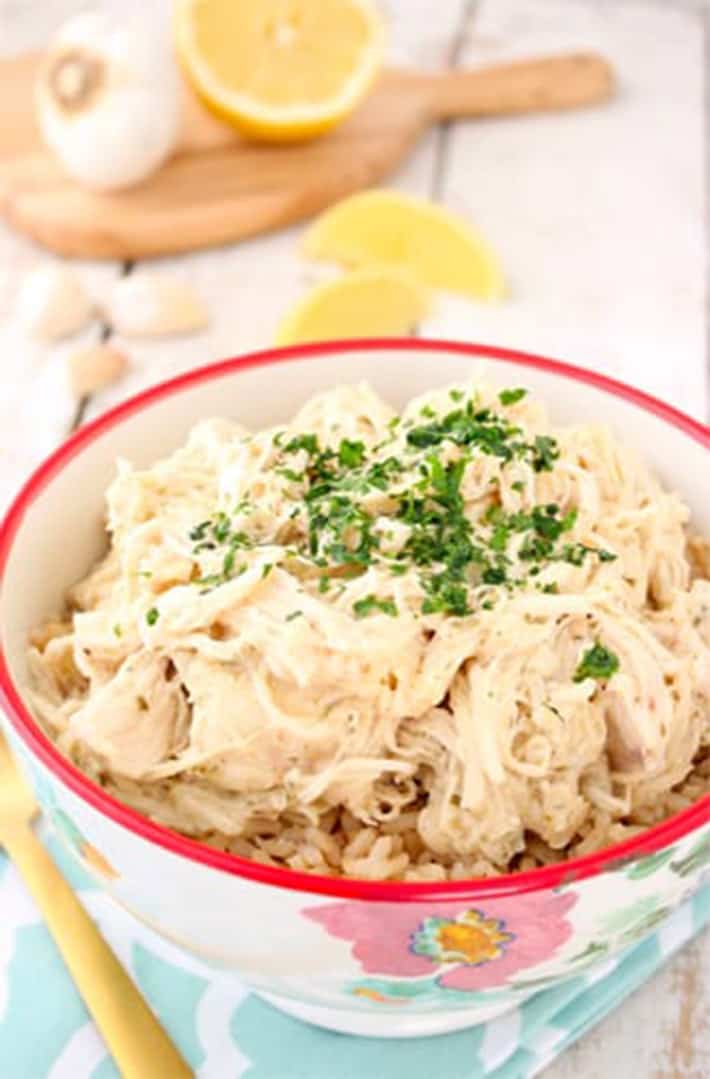 "Dump Chicken" is not only delicious it's deliciously EASY to make which makes it even more attractive for dinner!
Lemon Garlic Dump Chicken From OneGoodThingByJillee
---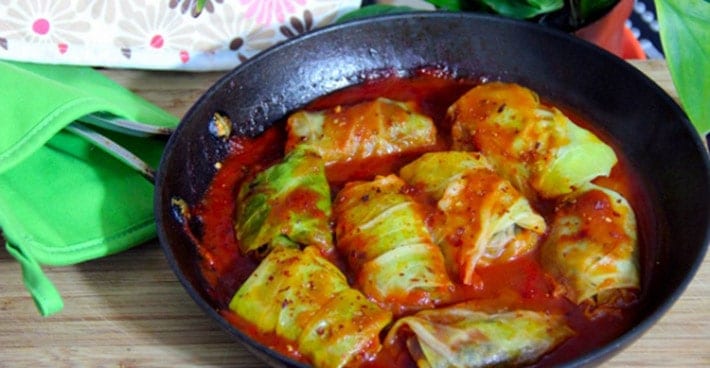 Instead of using meat, rice, or other typical cabbage-roll fillings, these are stuffed with meaty mushrooms. Each aspect of this dish, from the filling to the sauce to the assembly, has been broken down to its simplest form and is as close to fool-proof as it can get.
Mushroom-Stuffed Cabbage Rolls From Greatist.com
---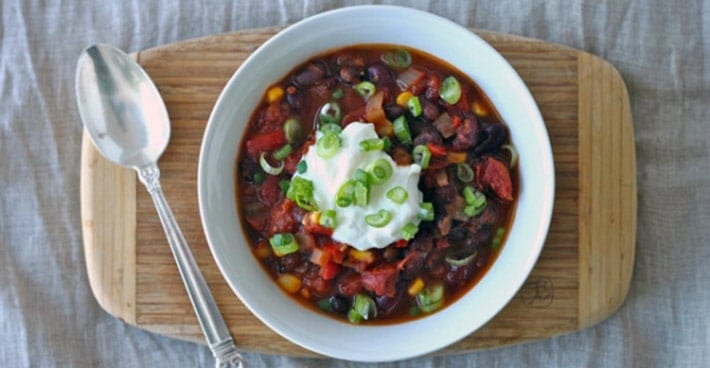 This recipe is healthy and hearty, and whether you're vegetarian, vegan, gluten-free, or a meat-lover, it's sure to win you over. The chili is loaded with beans and veggies, plus spices to heat things up. Feeling adventurous? You can up the amount of cayenne pepper or mix in some fresh diced jalapenos. Top your chili with any combination of sour cream, Greek yogurt, scallions, fresh cilantro, or shredded cheese. You can also bulk it up with some cooked quinoa or brown rice.
Quick And Easy Veggie Chili From Greatist.com
---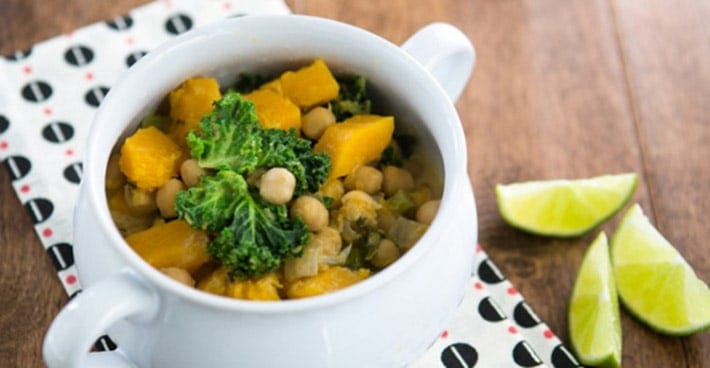 So long as you have a few pantry essentials—coconut milk, chicken stock, fish sauce, and curry paste—you're all set to make this unique dish. (Note: Fish sauce and curry paste can both be found in the ethnic aisle of your local grocery store.) The healthy combination you find here may not be found on the menu of your local Thai restaurant, but we guarantee it will inspire you to come up with your own tasty curry combinations.
Butternut Squash, Chickpea, And Kale Curry From Greatist.com
---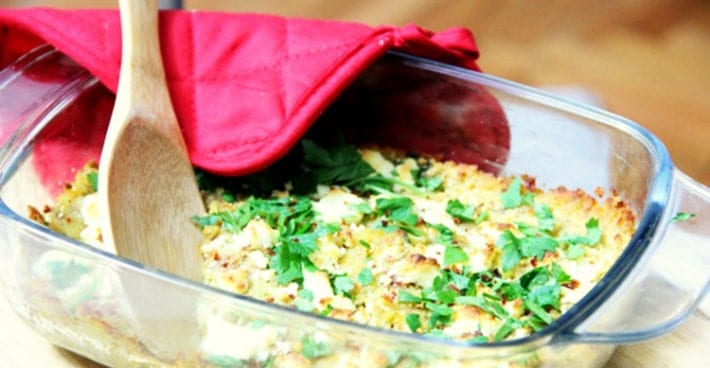 Lentils are perfect for those following a plant-based diet because they provide protein to keep your body satiated and strong. This casserole does just that, bringing some flavor and texture to otherwise simple, earthy lentils with veggies, garlic, and goat cheese.
Lentil And Goat Cheese Casserole From Greatist.com
---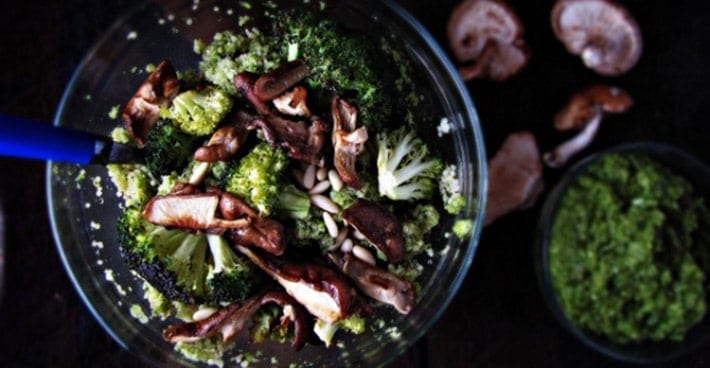 Not only green and satisfying, but this meal also takes minimal effort to prepare. It's full of healthy, clean ingredients like quinoa and avocado. Although it calls for mushrooms and pine nuts, you could add any additional veggies or nuts you like.
Quinoa With Broccoli-Avocado Pesto From Greatist.com
---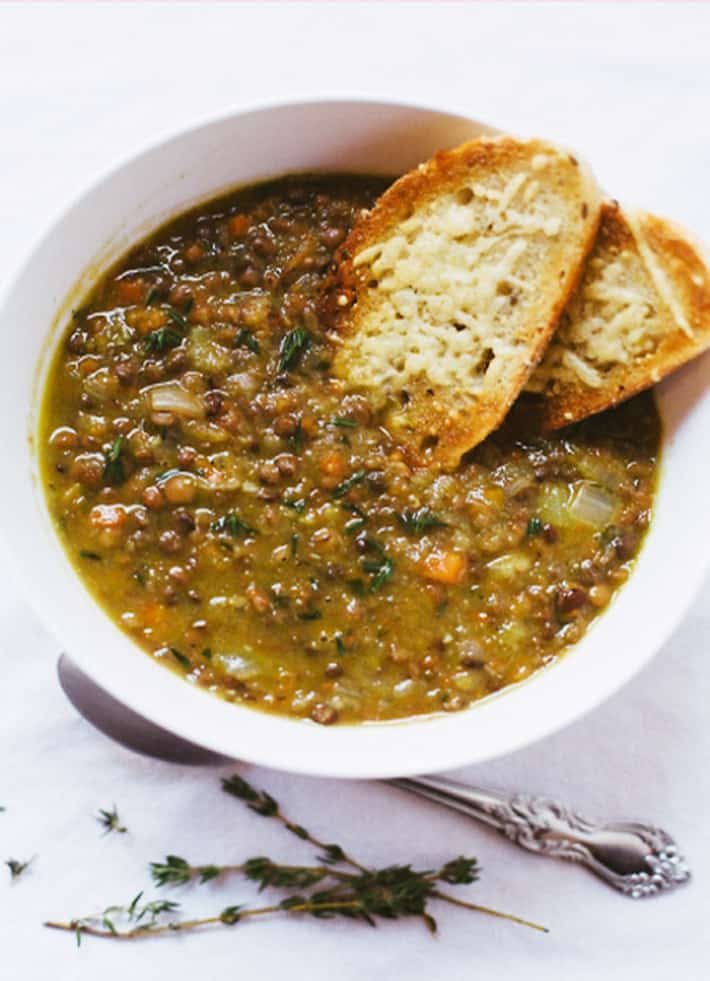 Lentil Soup From CompleteRecipes
---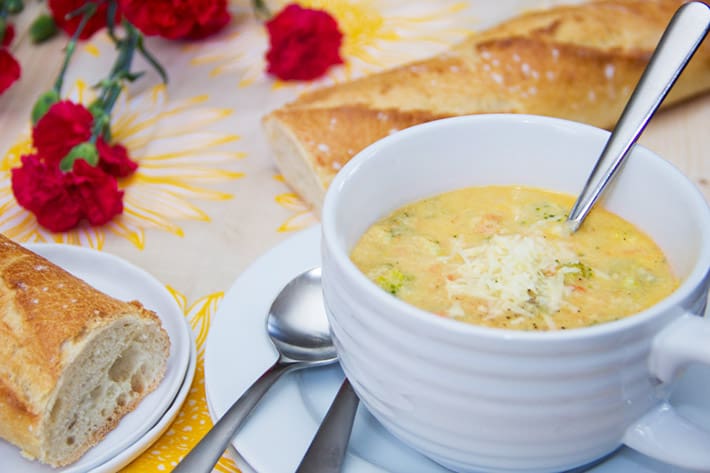 Healthy broccoli cheddar soup still tastes as rich and comforting as the classic version.
For this recipe, I took out all the flour, butter, and cream and thickened the soup with a cauliflower and onion purée.
I loved it (no surprise), but (to my amazement) it was also 100 percent family approved.
Skinny Broccoli Cheddar Soup From TheScrumptiousPumpkin
---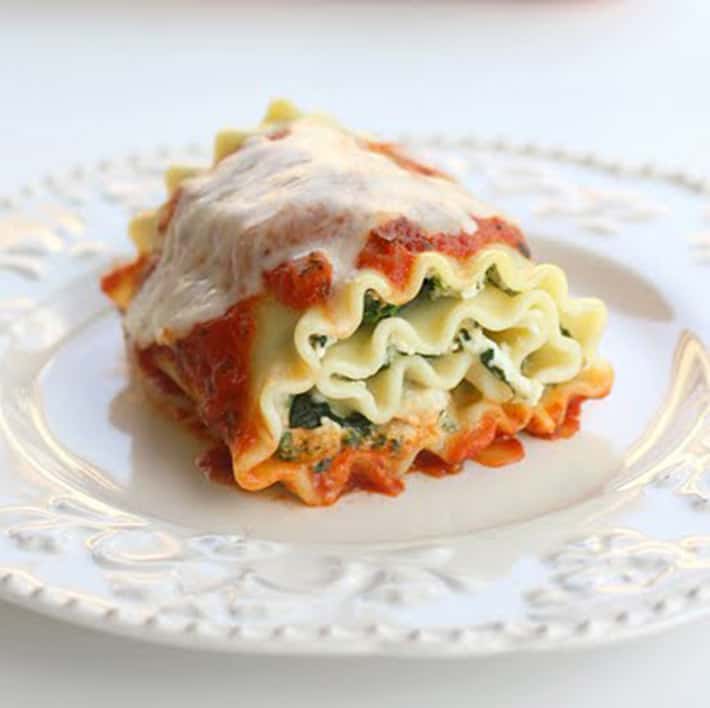 Healthy Spinach Lasagna Rolls – easy, healthy, and filling! Spinach and ricotta rolled up in cooked lasagna noodles. Only 224 calories per roll!
If you're looking for a healthy dinner recipe, these Healthy Spinach Lasagna Rolls are for you!
Healthy Spinach Lasagna Rolls From TheGirlWhoAteEverything
---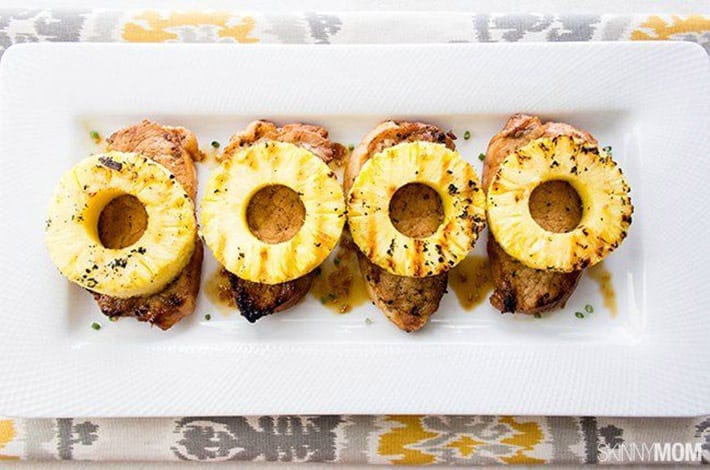 Add pineapple on top of a succulent pork chop to give it a tropical twist. Your family will love the bold and sweet flavors that transport your kitchen table to the islands!
Skinny Pineapple Teriyaki Pork Chops From SkinnyMom
---
20. Low-Carb Chicken Cordon Bleu Casserole

Low-Carb Chicken Cordon Bleu Casserole From KnowKitchen
---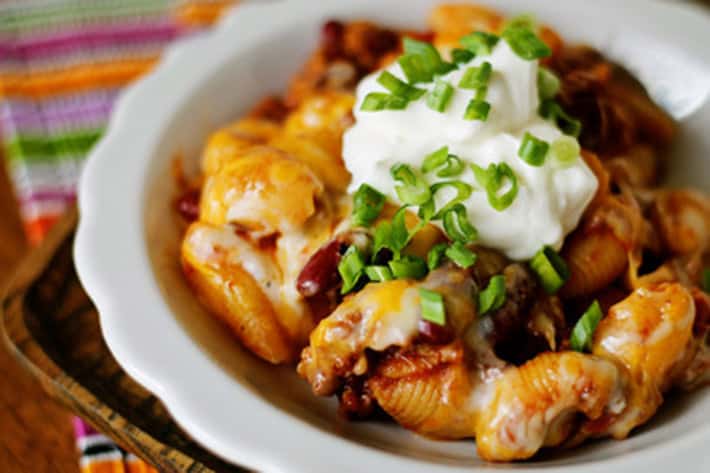 Two comfort food favorites—pasta and chili—come together in an epic bake.
Chili Pasta Bake From TastyKitchen
---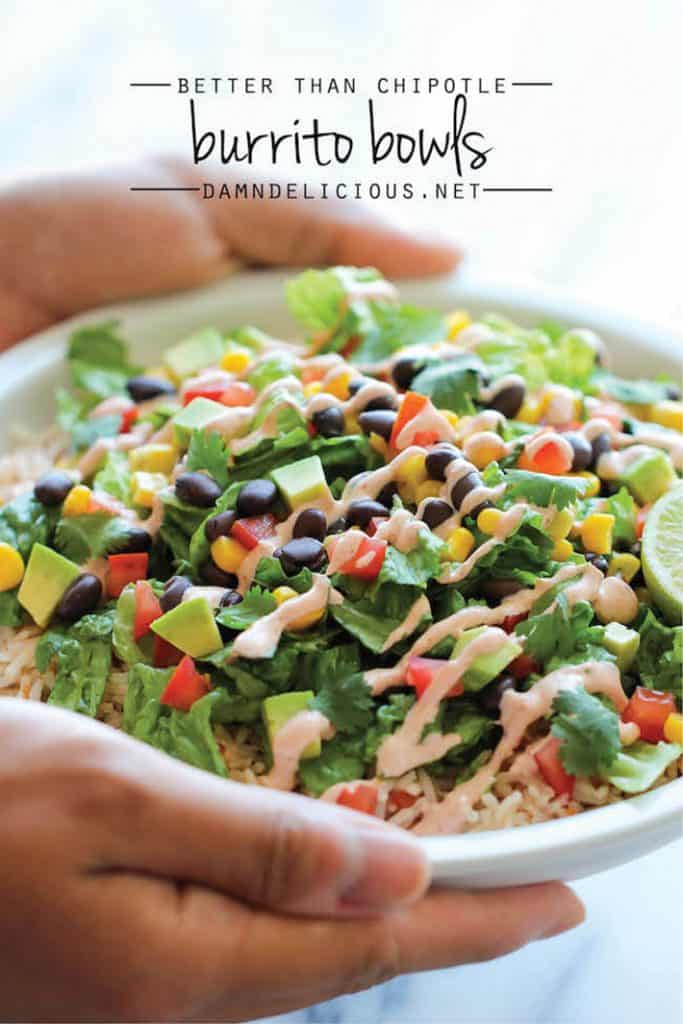 Skip Chipotle and try these burrito bowls right at home. It's easier, healthier, and 10000x tastier! With fresh veggies and just 10 min prep with a creamy chipotle drizzle, what's not to love?

Easy Burrito Bowls From DamnDelicious
---

I found it pretty easy to prepare, even more considering how beautiful it is. I photographed the preparation, step by step so that you can prepare it too.
It is not only beautiful but very tasty too. It can be prepared in advance and will be a success among your family and friends.
Beautiful And Sunny Spinach Pie
---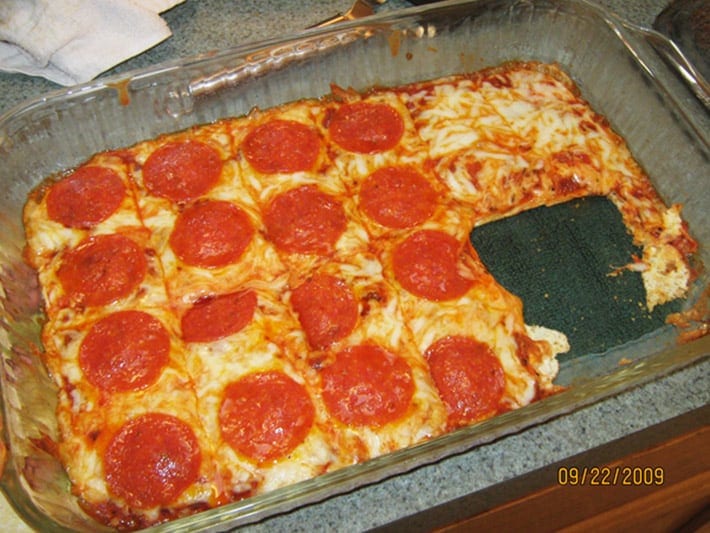 his almost no carb pizza recipe is perfect for low-carb or ketogenic diets. And you won't even miss the traditional crust. It's delicious!
No Carb Pizza From What'sThatSmell
---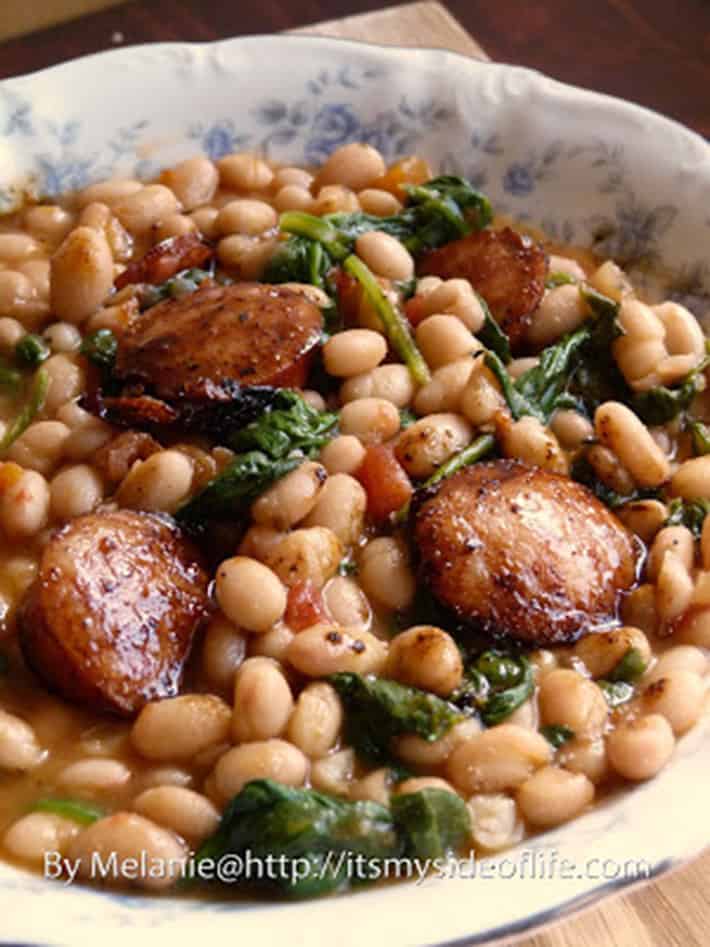 This is such an easy recipe to put together. This recipe is so versatile, honestly, it becomes whatever is on hand most times. Instead of Spinach if I have mustard greens, kale, or even collards (leftovers or baby collards).
White Beans With Spinach & Sausage From It'sMySideOfLife
---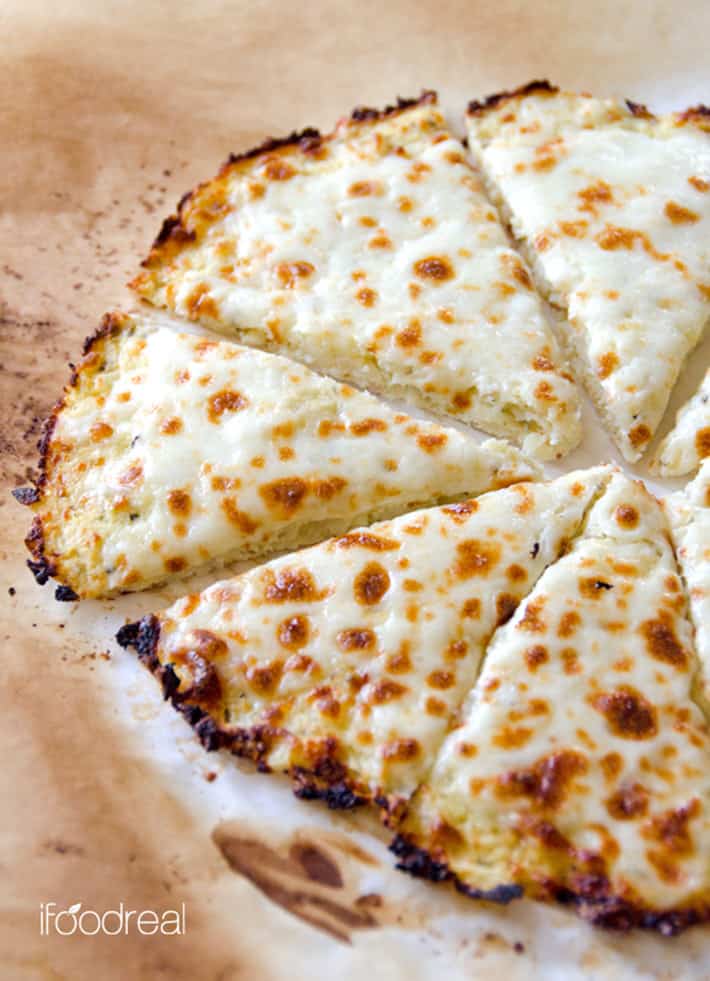 How to make THE BEST crispy and tasty low carb Cauliflower Pizza Crust with a foolproof step-by-step video recipe. Only 56 calories and 4 grams of carbs per slice.
Just read reviews for yourself! This cauliflower crust pizza comes out crispy, you can hold the slice and use frozen cauliflower or cauliflower rice to make it.
Cauliflower Pizza Crust From iFoodReal
---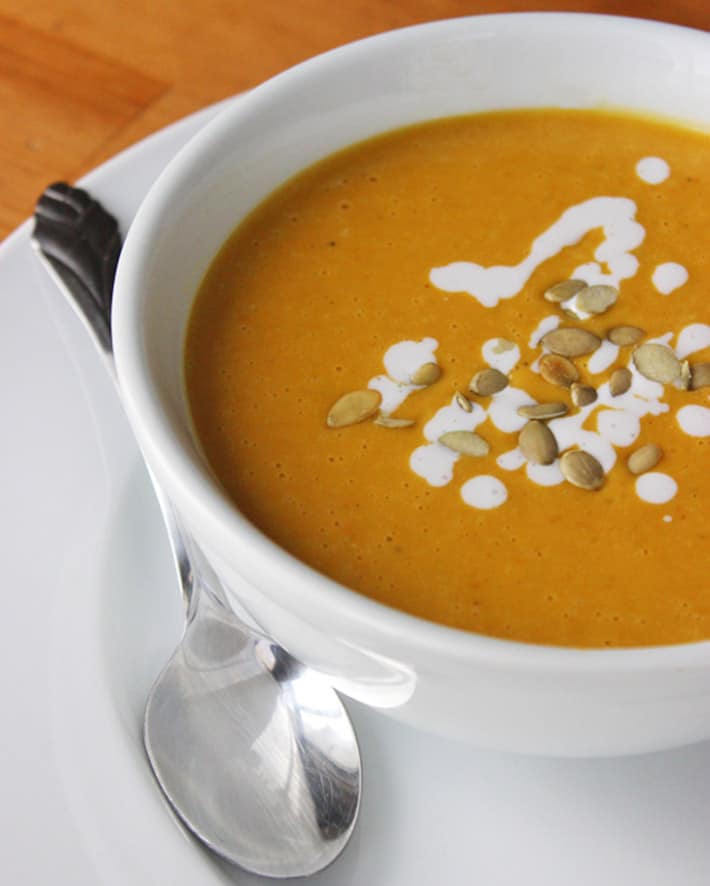 Even if you've decided to cut back on dairy, it's possible to warm up with a creamy bowl of hot soup that doesn't lay on the cream or calories too heavily. This light pumpkin-coconut bisque will curb your dairy cravings and keep you on track this Autumn.
The ingredient that really makes this subtle soup stand out is the unsweetened coconut milk. Both vegan- and Paleo-friendly, this ingredient thickens things up, leaving you with the perfect (seemingly rich) texture.
---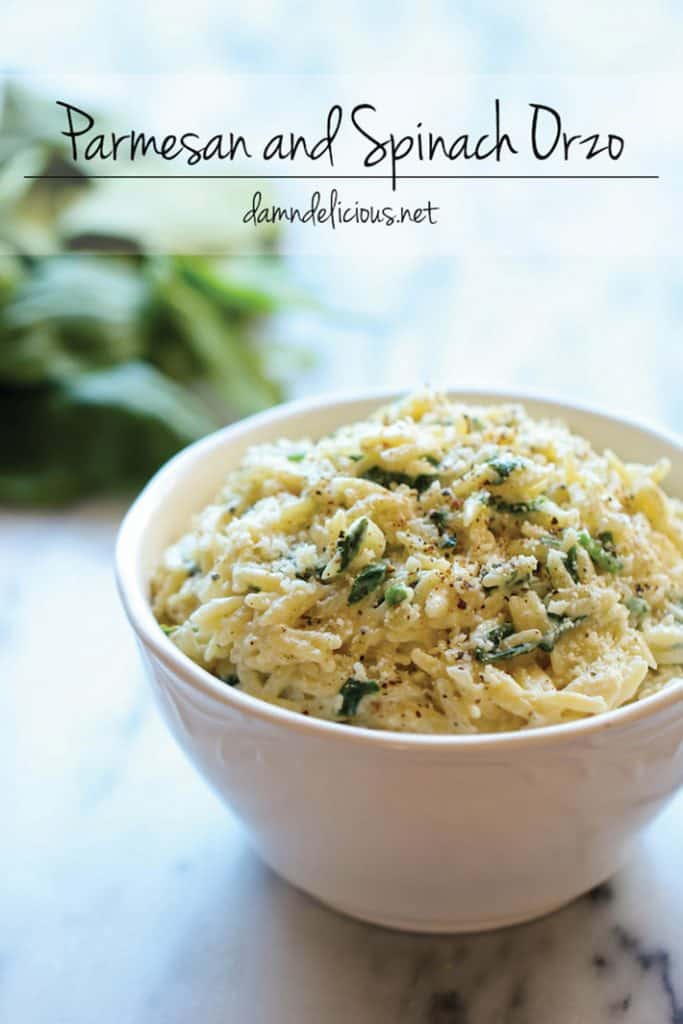 This creamy orzo dish is a wonderful side or light main dish, and it's sure to be a hit with the entire family!
Now the great thing about this dish is how versatile it is, serving it as either a light main dish or a side dish.
Parmesan And Spinach Orzo From DamnDelicious
---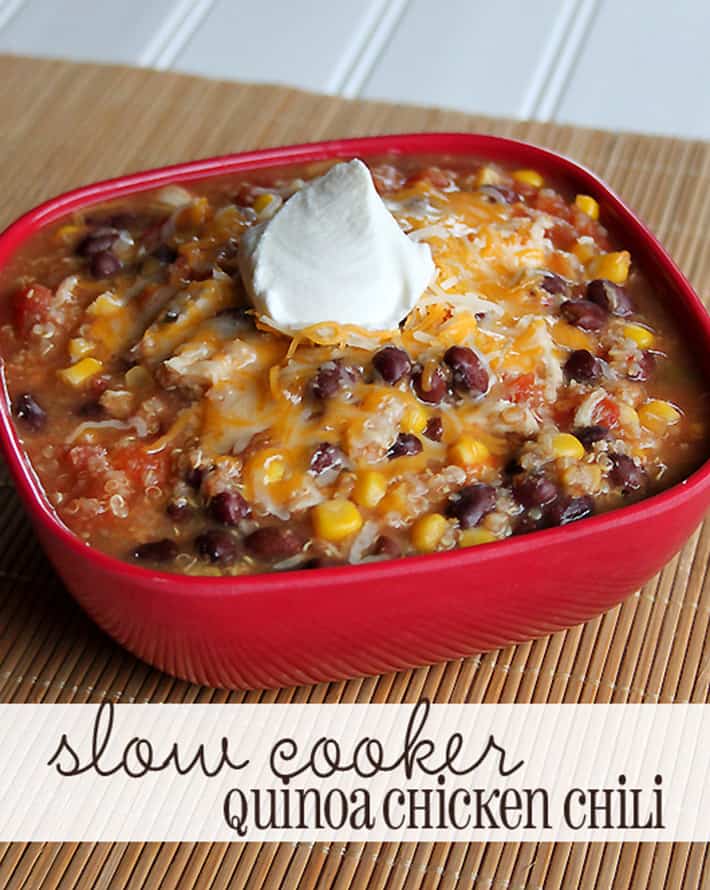 I'm not sure whether I'd call this Quinoa Chicken Chili or Quinoa Taco Soup – either way, I'd call it scrumptious. I've never made quinoa in a savory way – so I was excited to give it a try and it didn't disappoint. Quinoa is very high in protein, so it goes great in this chicken chili to help give it some heft and substance.
I love that it was cooked in the Crock-Pot – which means it only took me about 15 minutes to toss together this morning and the slow cooker did all the work.
Slow Cooker Quinoa Chicken Chili From QueenBeeCoupons
---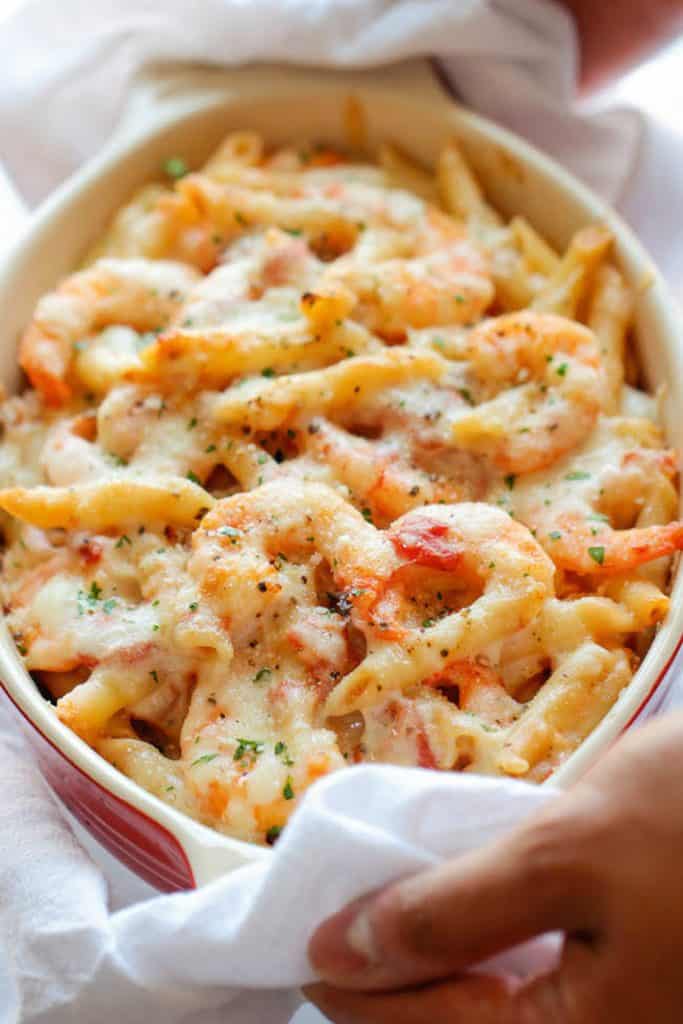 An unbelievably cheesy, creamy lightened-up pasta bake that you can easily make ahead of time. Just pop it right in the oven before serving!
It's just as creamy and cheesy as the original, and you can even make it ahead of time. All you have to do is pop it right in the oven and dinner will be on the table in just 15 minutes. Boom.
Skinny Shrimp Alfredo Pasta Bake From DamnDelicious
---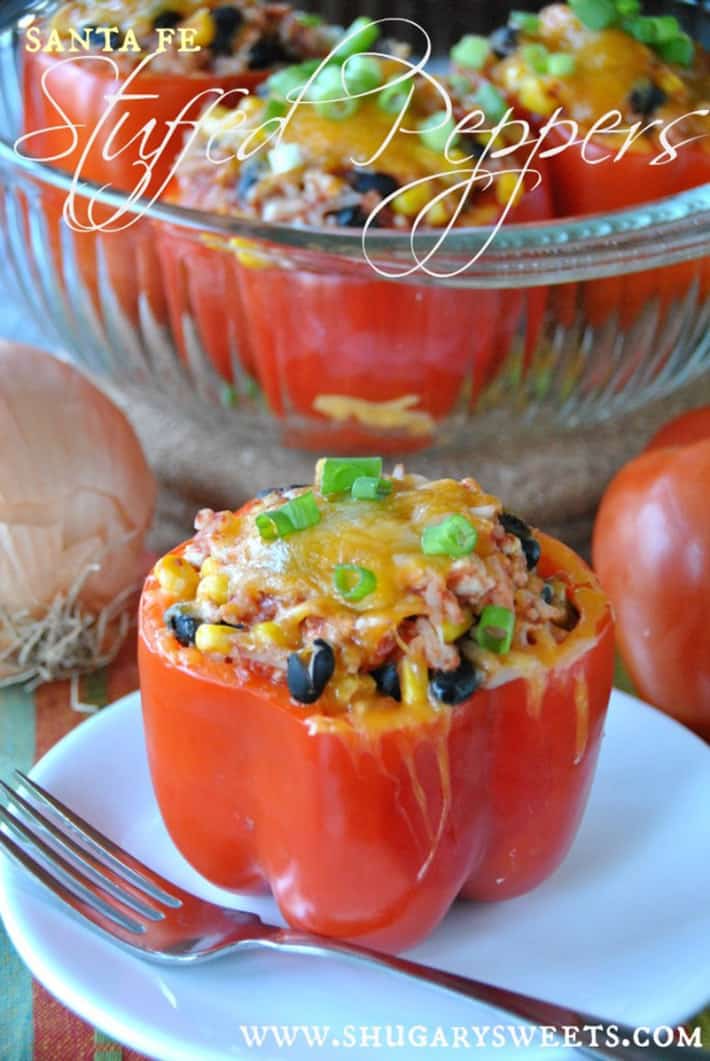 Santa Fe Stuffed Peppers: a healthy dinner made with ground turkey, corn, beans, and tomatoes! You'll love this twist on a classic meal.
Santa Fe Stuffed Pepper From ShugarySweets
---
Great success! This zucchini tomato casserole literally took me 5 minutes of chopping.
Garlic Parmesan Zucchini And Tomato Bake From iFoodReal
---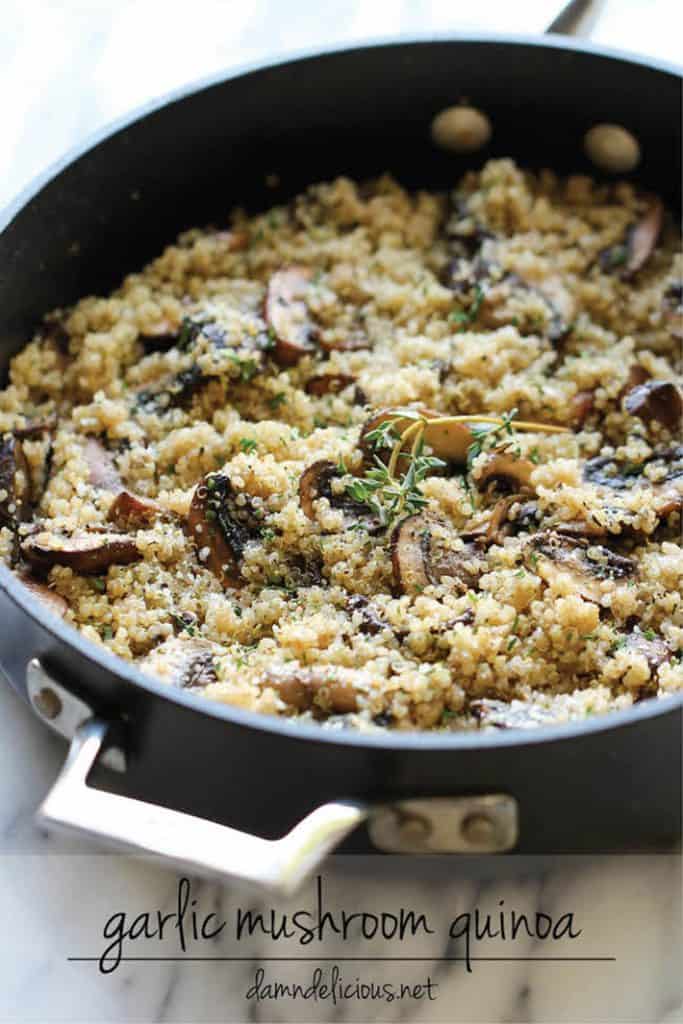 An easy, healthy side dish that you'll want to make with every single meal!
Garlic Mushroom Quinoa From DamnDelicious
---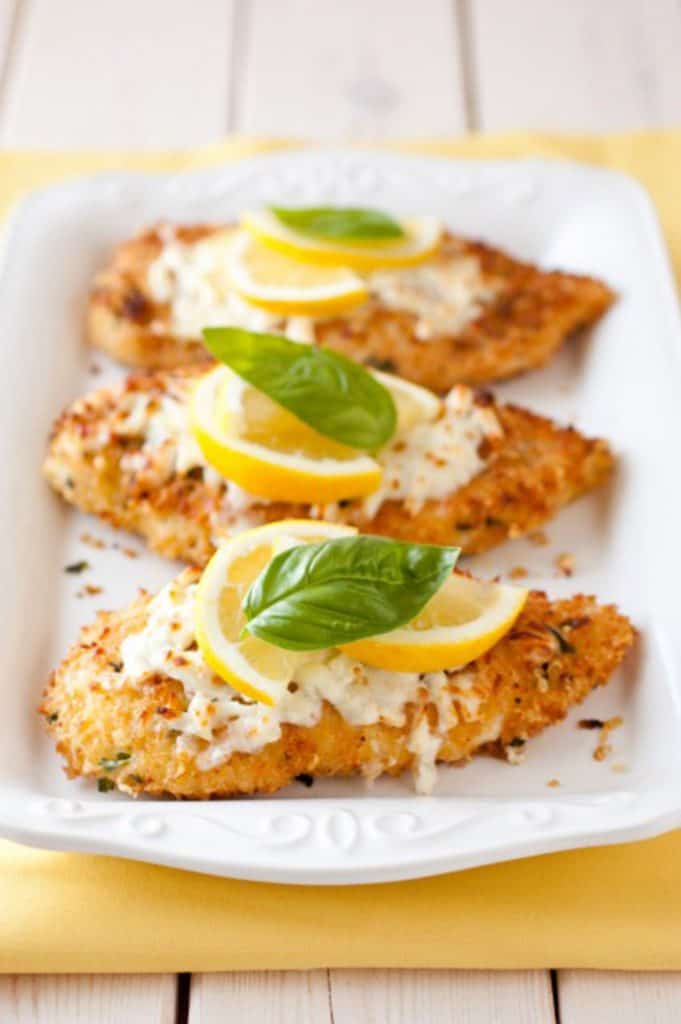 his cheesy Lemon Chicken Romano is comfort food at its best! You get these thin chicken cutlets that are coated with romano cheese, extra crispy panko bread crumbs, fresh oregano, and lemon zest then they are pan-fried in olive oil to a perfect golden brown color.
And then they're finished off in the oven with mozzarella and provolone cheese melted on top. Talk about the abundance of deliciousness!
Lemon Chicken Romano From CookingClassy
---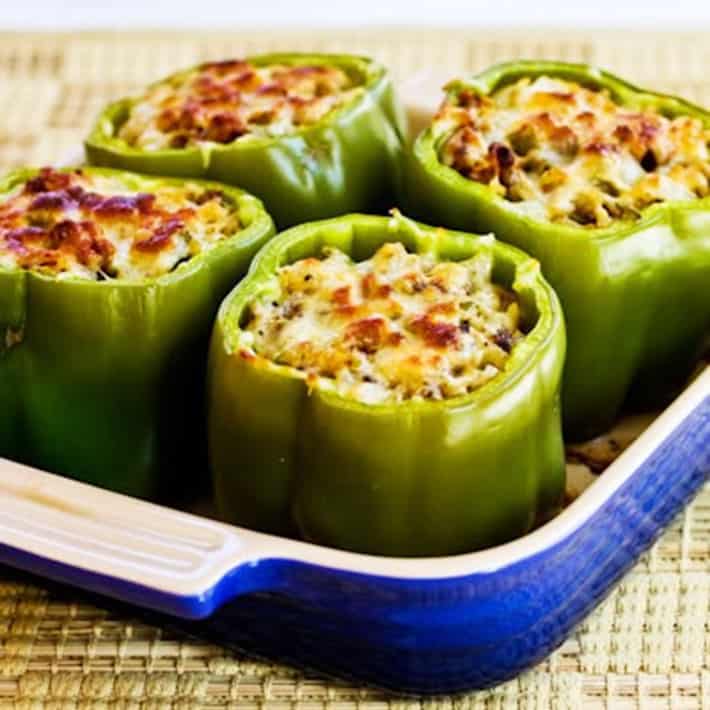 Stuffed Green Peppers with Brown Rice, Italian Sausage, and Parmesan are some of my earliest and most popular recipes for stuffed peppers, and they freeze well too!
Stuffed Green Peppers With Brown Rice, Italian Sausage, And Parmesan From Kalyn'sKitchen
---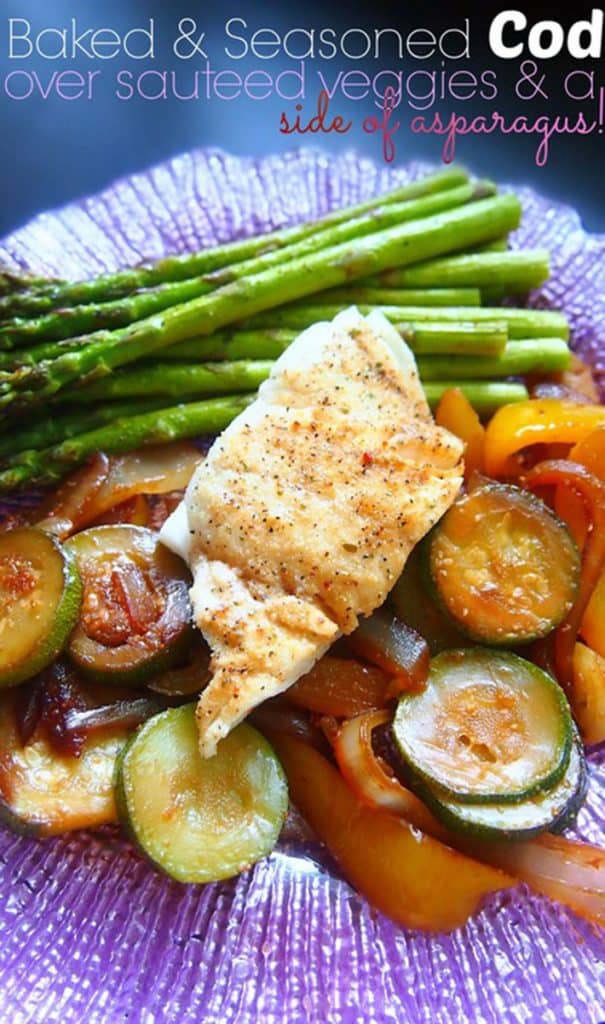 All you need is zucchini, asparagus, large onion, vegetable seasoning (which can be found in whole foods) Wild Alaskan Cod Fillets, Bell Pepper, & Low Sodium Soy Sauce. If you're gluten-free, make sure to get a gluten-free sauce.
Baked & Seasoned Cod Over Sauteed Veggies & A Side Of Asparagus! From SimplyTaralynn
---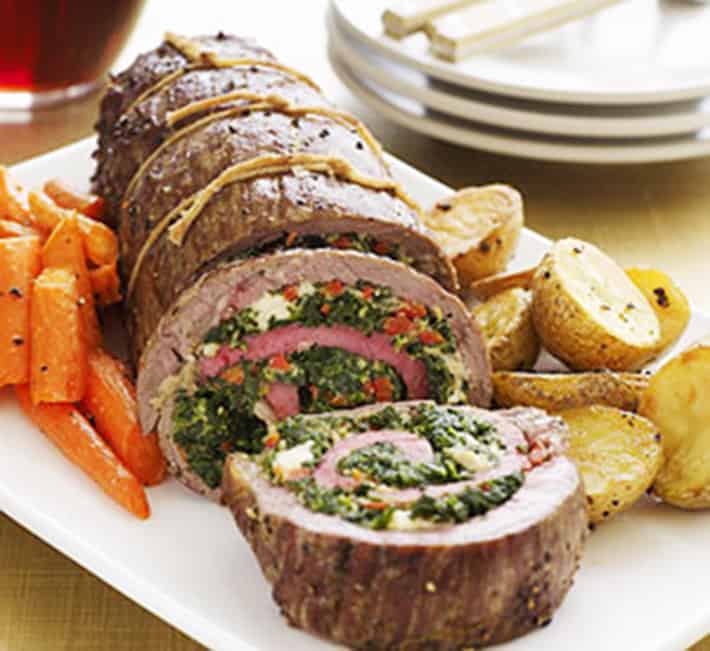 This easy roasted flank steak stuffed with delicious spinach, blue cheese, and roasted red pepper filling makes an impressive main-dish recipe for your next dinner party or get-together.
---
38. Hawaiian Meatballs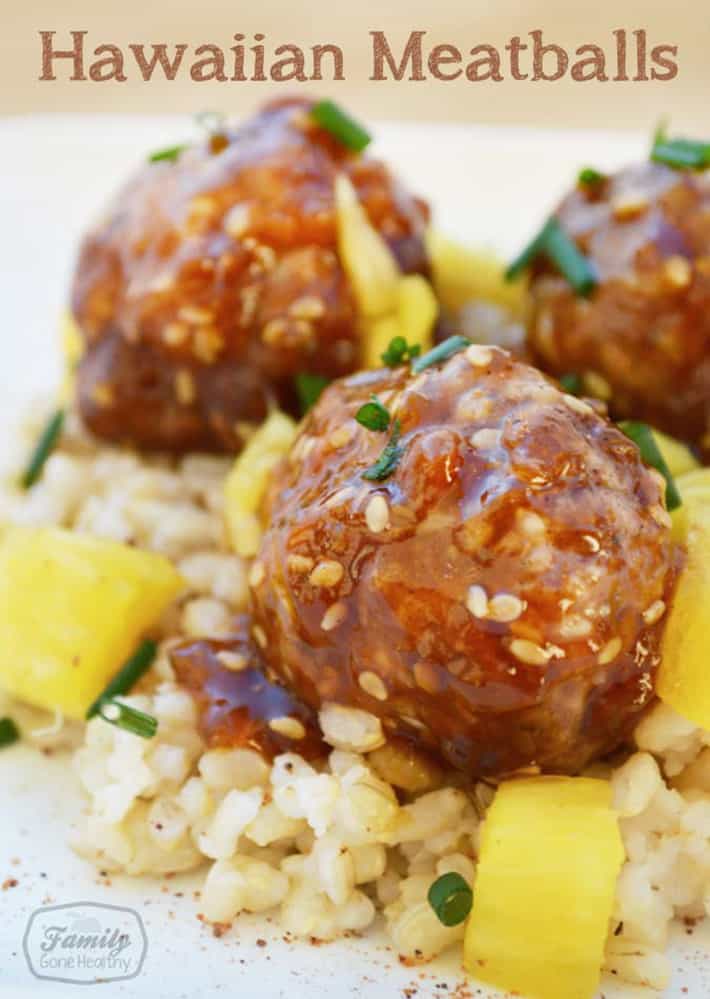 Hawaiian Meatballs From FamilyGoneHealthy
---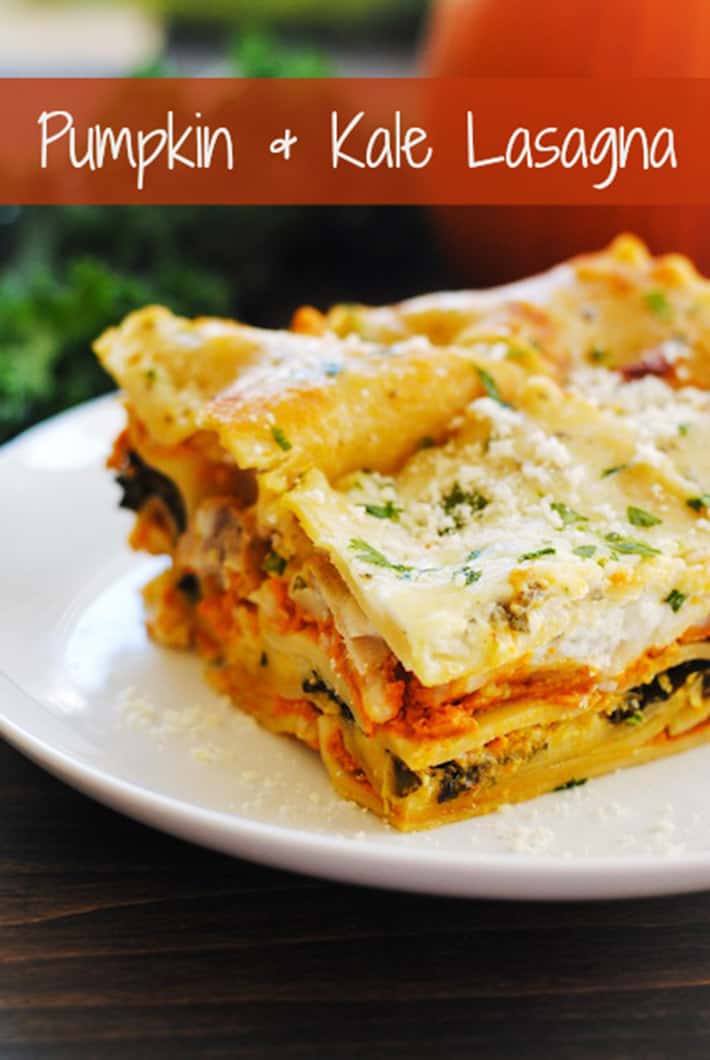 Pumpkin & Kale Lasagna From FoxesLoveLemons
---
40. Broccoli Cheese & Potato Soup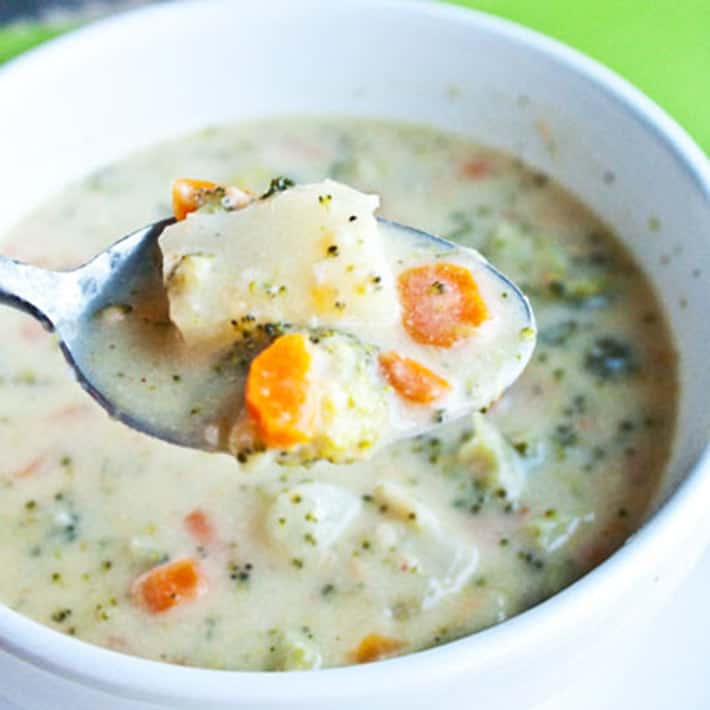 This lightened-up version of Broccoli Cheese and Potato Soup was just what I was looking for.
It is still thick and creamy and full of cheesy flavor, but without all the calories that a typical bowl of it would have. The recipe uses very little butter, very little flour, skim milk, and not a ton of cheese.
Serving with a dollop of sour cream is a must! I like to put it in the bottom of the bowl before pouring the soup in. Makes it even creamier.
---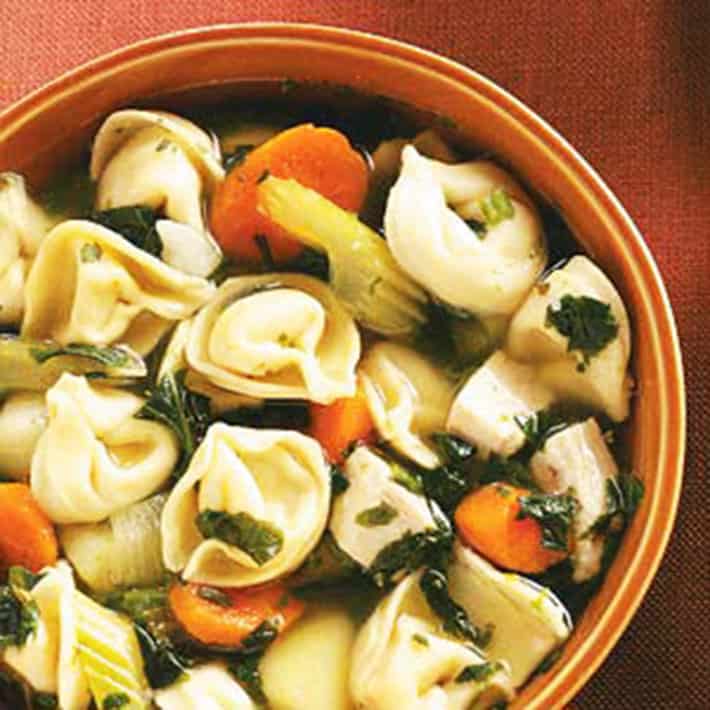 I'm always looking for easy recipes I can prepare on busy days. This is wonderful for that. Try it with fresh, crusty bread.
Spinach Tortellini Soup From TasteOfHome
---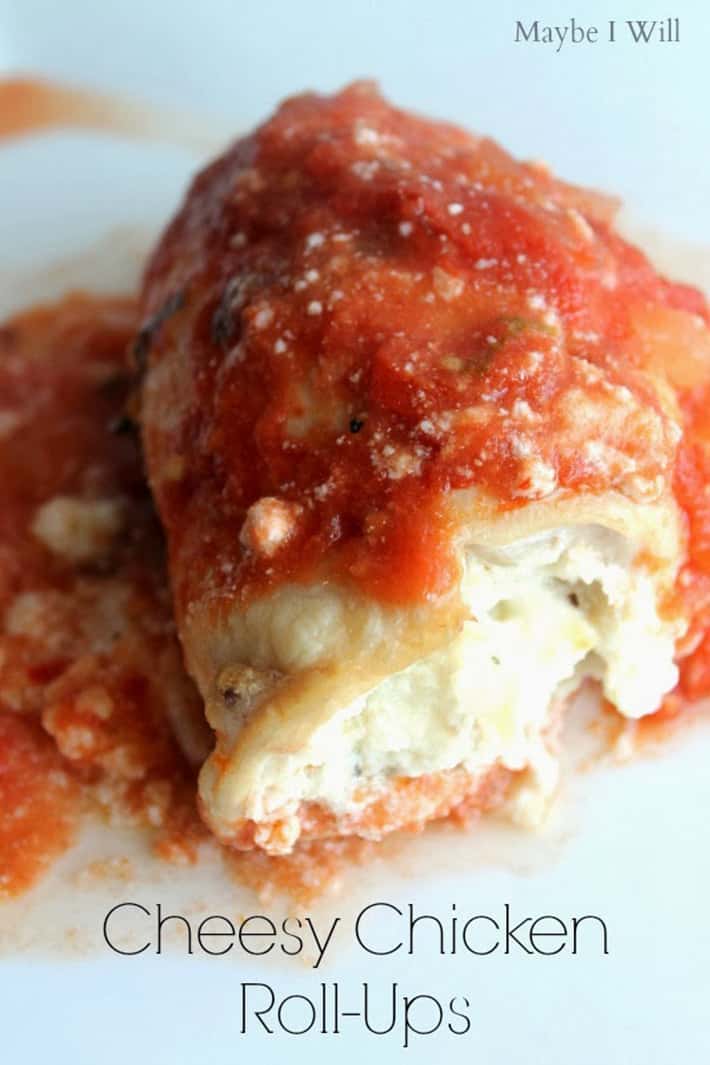 Cheesy Baked Chicken Roll-Ups – A super simple and easy dinner to get on the table in a hurry with only 5 ingredients it is sure to be a family favorite!
Cheesy Chicken Roll-Ups From MaybeIWill
---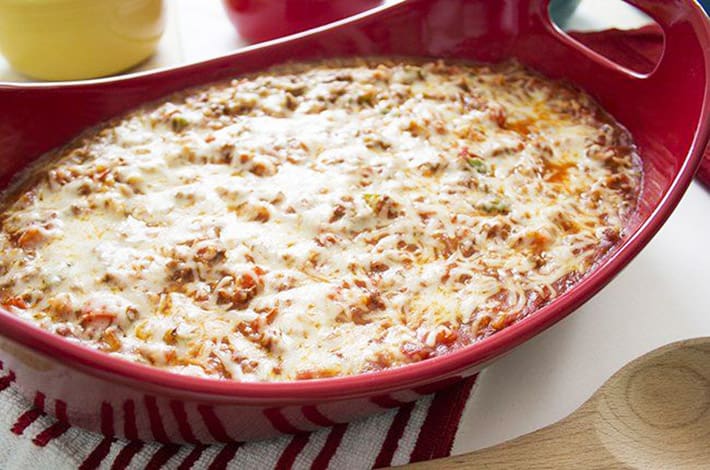 A "stuffed" casserole doesn't exactly sound healthy, but you're about to be pleasantly surprised! Made with lean ground beef and nutrient-rich ingredients, this dinner does a great job of satisfying hunger without packing on a ton of calories.
Stuffed Pepper Casserole From SkinnyMom
---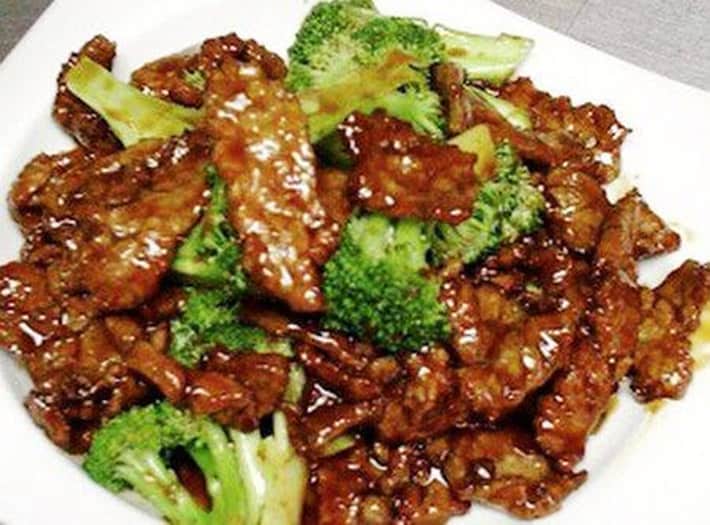 Crock Pot Beef And Broccoli From JustAPinch
---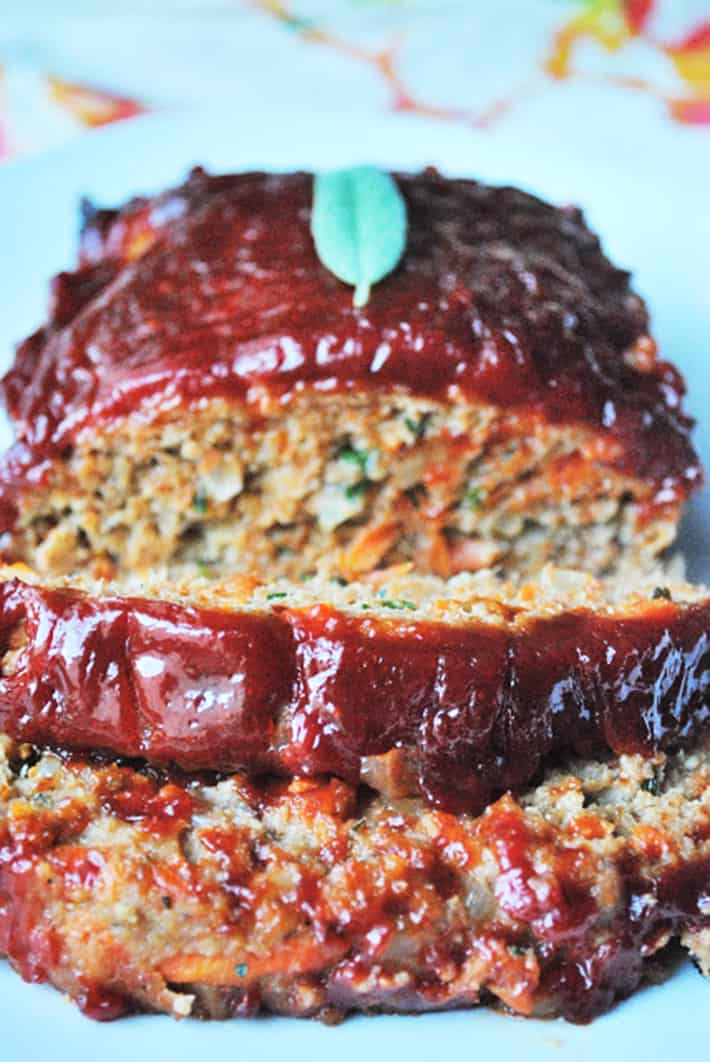 I never knew that I liked meatloaf until I tried this several years ago. I mean, really. Meatloaf? A loaf of meat? I understand it's an accurate description of the dish, but it certainly could use a better name.
But never mind that. The most important thing about this dish is that kids like it too. Mine ate all of our leftovers. And I don't share my leftovers, so that should tell you something.
It must be the sweet tomato sauce on top. I bet my kids would eat anything as long as it was topped with that sauce. I bet I would, too.
Turkey Meatloaf From TheKitchenMcCabe
---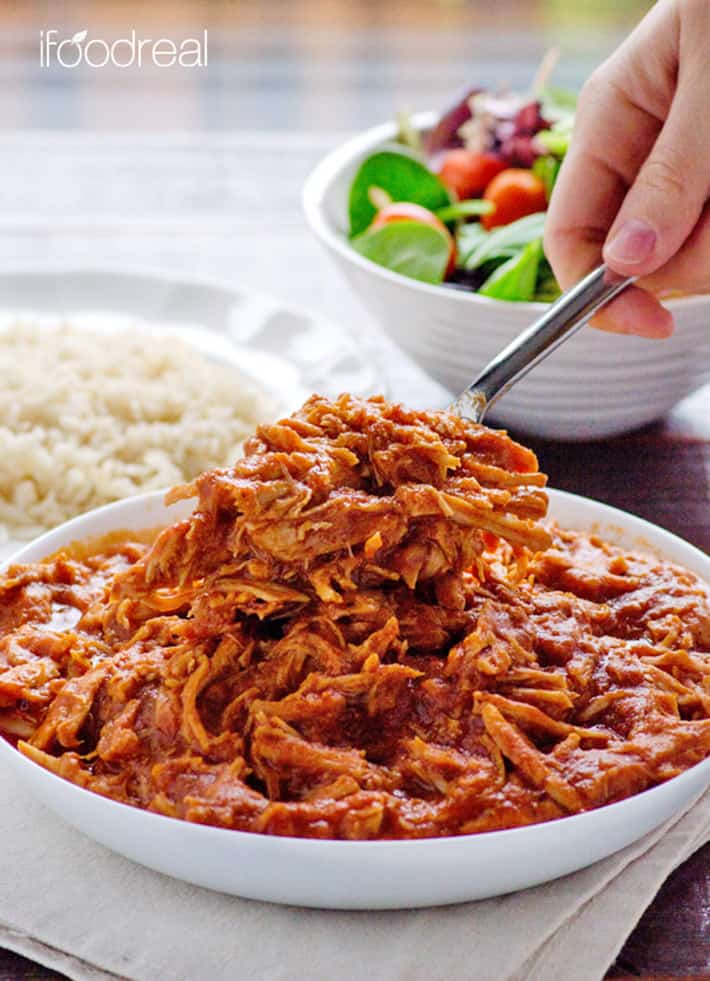 What if I told you that you can make healthy pulled pork, from scratch, with simple ingredients, in a slow cooker, while you do something else for whole 10 hours, and it's gonna be saucy, smoky, and delicious?!
Clean Crock Pot Pulled Pork From iFoodReal
---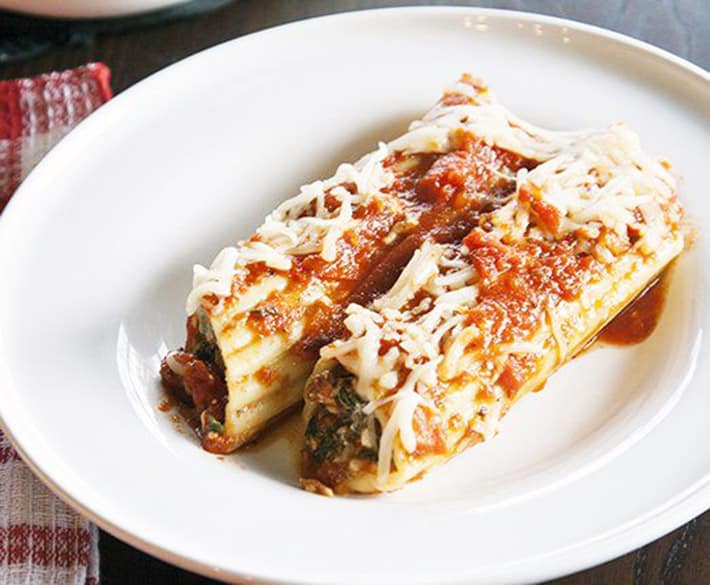 This is a fun way to feel like you're going out to a fancy Italian restaurant, but actually staying healthy at home. Pair it with a green salad and a thin slice of a whole-wheat baguette to get the full "restaurant" experience.
Dim the lights and light a few candles for that authentic romantic glow and you'll be good to go! If the kids are at Grandma's for the night, who knows where this skinny meal will take you?
Skinny Manicotti From SkinnyMom
---
48. Sweet Potato Crusted Spinach Quiche

Sweet Potato Crusted Spinach Quiche From FourteenForty
---
49. Honey & Lime Shrimp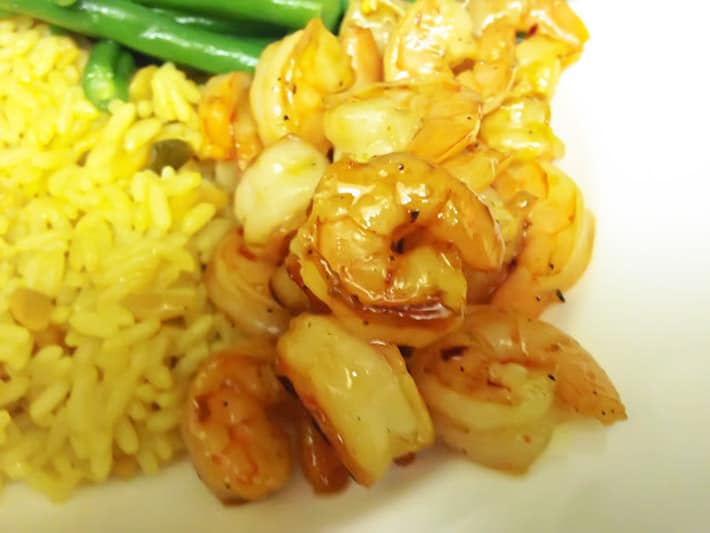 Honey & Lime Shrimp From AstangeLife
---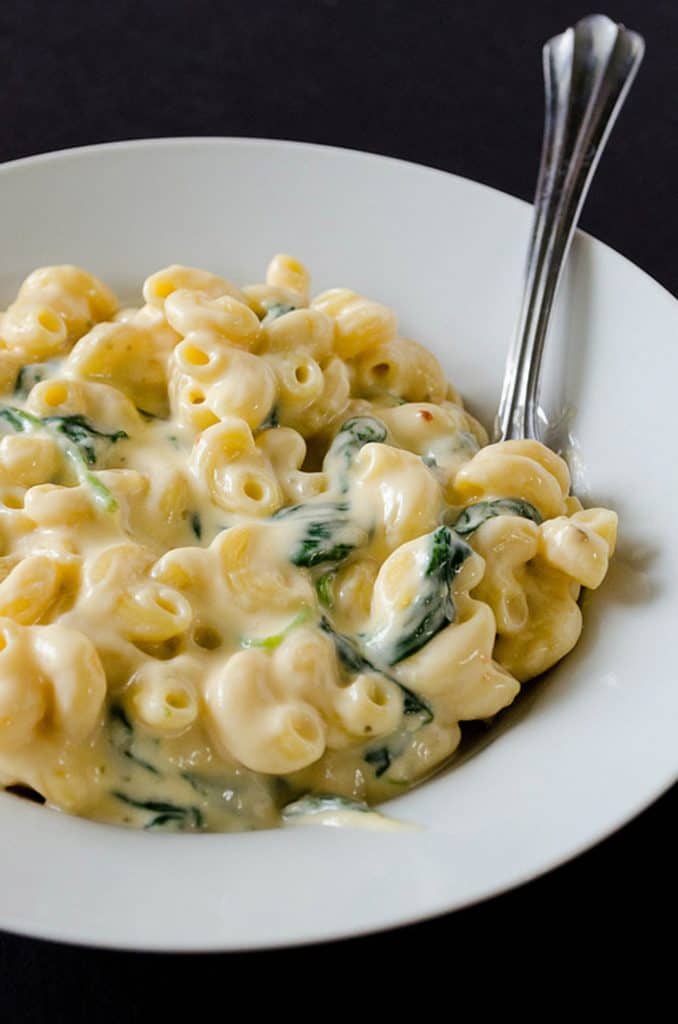 This mac & cheese has become the most popular recipe here on Cooking Ala Mel, with good reason! This is one dish that we make over and over again for how delicious it is, how quick it is, and how it's a bit better for you while still maintaining it's comfort food status!