This 2 Minute Keto Breakfast – Omelet In A Mug is a perfect way to start a new day.
If you are a beginner to the ketogenic diet, you need to try this simple recipe for breakfast, which can be prepared quickly and easily.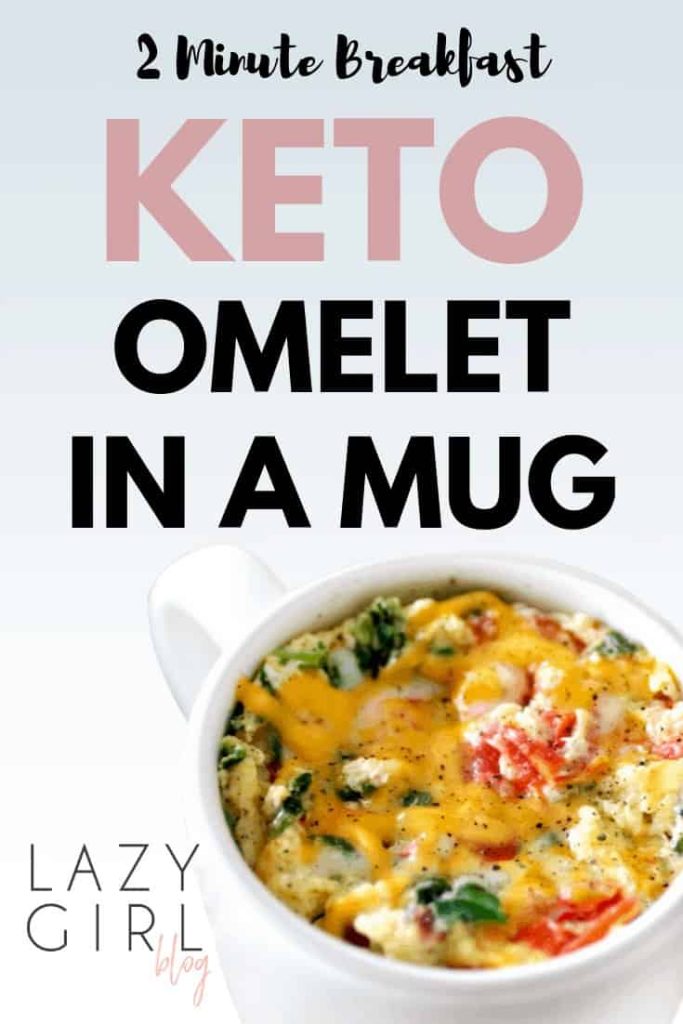 Perfect for mothers trying to lose the baby weight.
Great ketogenic ideas for beginners with the keto diet.
If you are looking for a quick and easy protein-packed breakfast that is ready in minutes, this omelet in a mug is for you!
---
This post may contain affiliate links. As an Amazon Associate, I earn from qualifying purchases for my referral at no extra cost to you! See Disclosure
---
2 Minute Omelet In A Mug Recipe:
---
Ingredients
1 large egg (or 2 additional egg whites)
2 large egg whites (or 1 additional whole egg)
2 tbs Unsweetened almond milk
Pinch Salt & Pepper (to taste)
2 tbs Roma tomato, diced (or salsa)
2 tbs 2 % Cheddar cheese, shredded (or cheese of choice)
Optional mix-ins:
2 tbs Lean turkey or ham, cubed [1]
1 piece of Center-cut bacon, cooked and crumbled
2 tbs red bell pepper, diced
5 Spinach leaves, chopped
2 tsp Chives, chopped
2 tsp Vegetable of choice
---
Instructions:
Spray a microwave-safe mug with cooking spray. Beat together eggs, milk, seasoning, tomatoes, and cheese in the mug.
Microwave, uncovered, on high for 1 minute. Remove mug and stir. Cook for an additional 1 minute, or until eggs are completely set! Remove from microwave and top with a sprinkle of additional cheese if desired. Let's sit for a few minutes before enjoying it, or take it with you on the go!
[bs_icon name="glyphicon glyphicon-thumbs-up"] Tip: You can easily make this omelet fit your needs! You can leave the meat for a vegetarian version, or leave out the cheese for a dairy-free version.
Recipe by: Dashing Dish