Easter is quickly approaching and our kids are getting really excited about decorating Easter eggs.
It's one of my favorite traditions to do with them every year and I think I'm just as excited as they are.
Minion Easter Eggs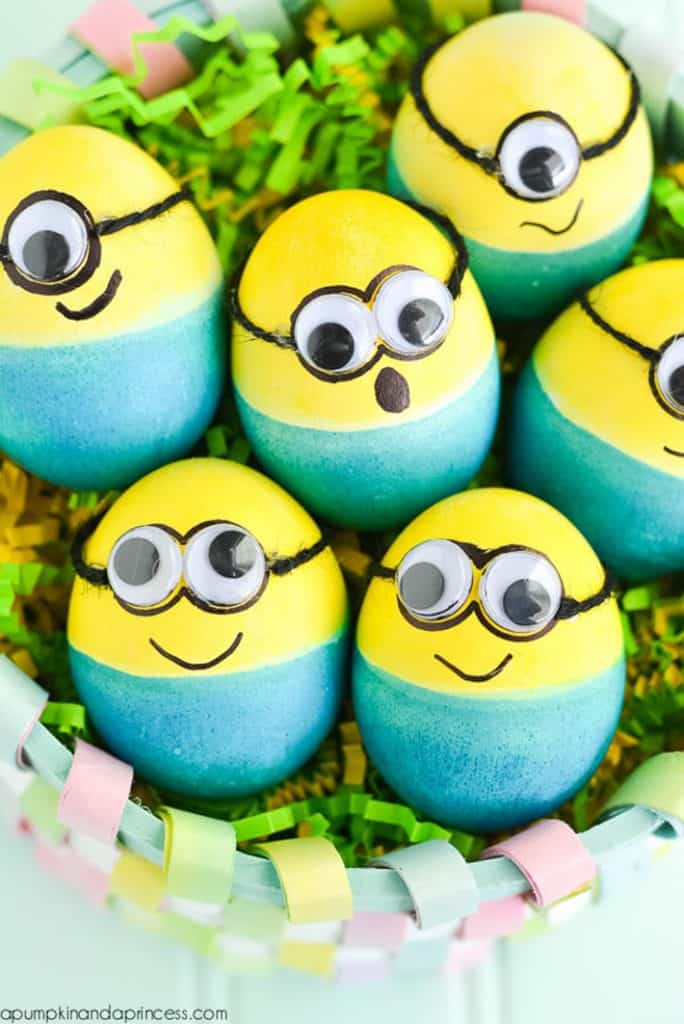 ---
Who doesn't like Minions? Those little and funny mini-monsters grab everyone's hearts! Use black string, attach eyes and make final touches.
What you need:
Supplies/ingredients:
PAAS Deluxe Kit/Color Cups
Vinegar
Moveable eyes
Black String (we used black jute)
Glue
Sharpie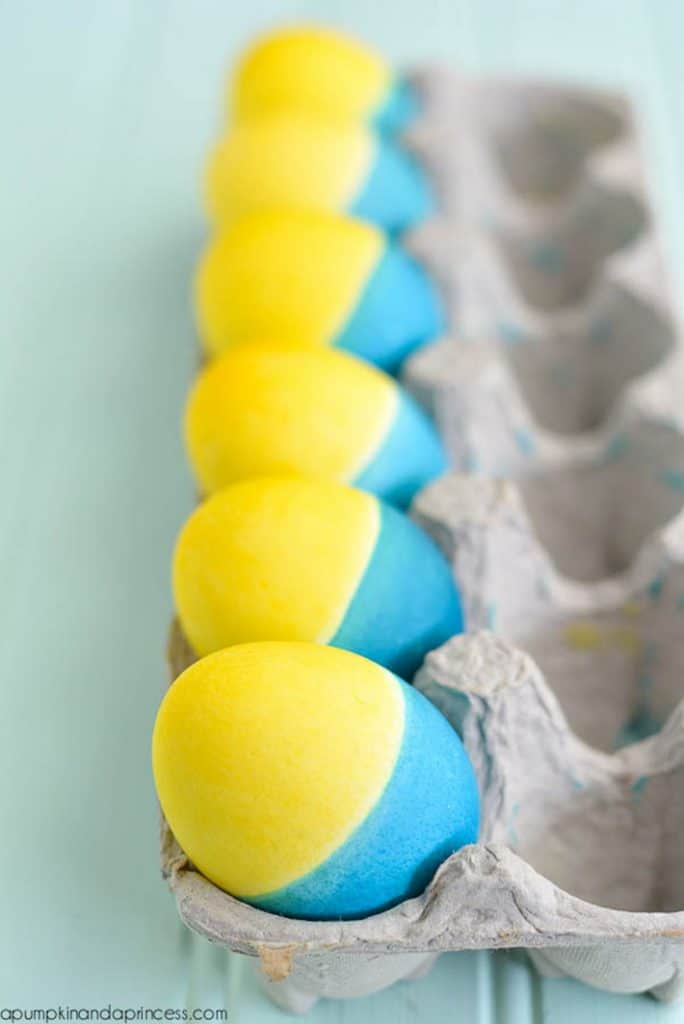 Step one: prepare dye in individual cups. Pour 2-3 tablespoons of vinegar into a cup and drop dye tablet; allow a tablet to dissolve. Pour ¼ cup water of room temperature water into a dye.
(Note: I slightly adjusted the instructions from the kit).
Step two: Dip half of the egg into the yellow dye. You can see in the picture that I only filled the dye cup enough to cover half of the egg.
The longer the egg sits in the dye the brighter the color will be. Allow the dye to dry and dip the other half in the blue dye.
Step three: Use glue to attach eyes and black string for the goggles. Draw mouth with a Sharpie pen.
---
Teenage Mutant Ninja Turtles Easter eggs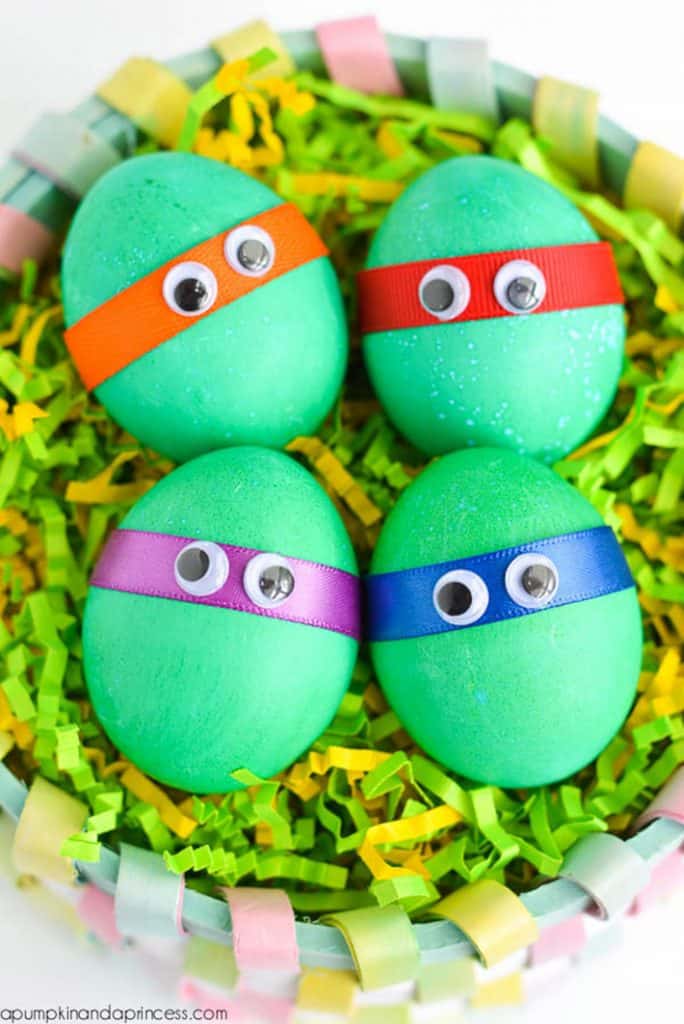 These Teenage Mutant Ninja Turtles Easter eggs are perfect for kids of all ages and only require a handful of supplies. In case you haven't noticed, we're pretty excited about Easter. We've dyed, painted, and decorated a couple of dozen eggs already and we're nowhere near done. This year I really wanted to focus on making eggs decorated like the kid's favorite characters.
What you need:
Supplies/ingredients:
Green egg dye or food coloring
1 tablespoon vinegar + 1/2 cup room temperature water
Ribbon
Eyes
Glue
---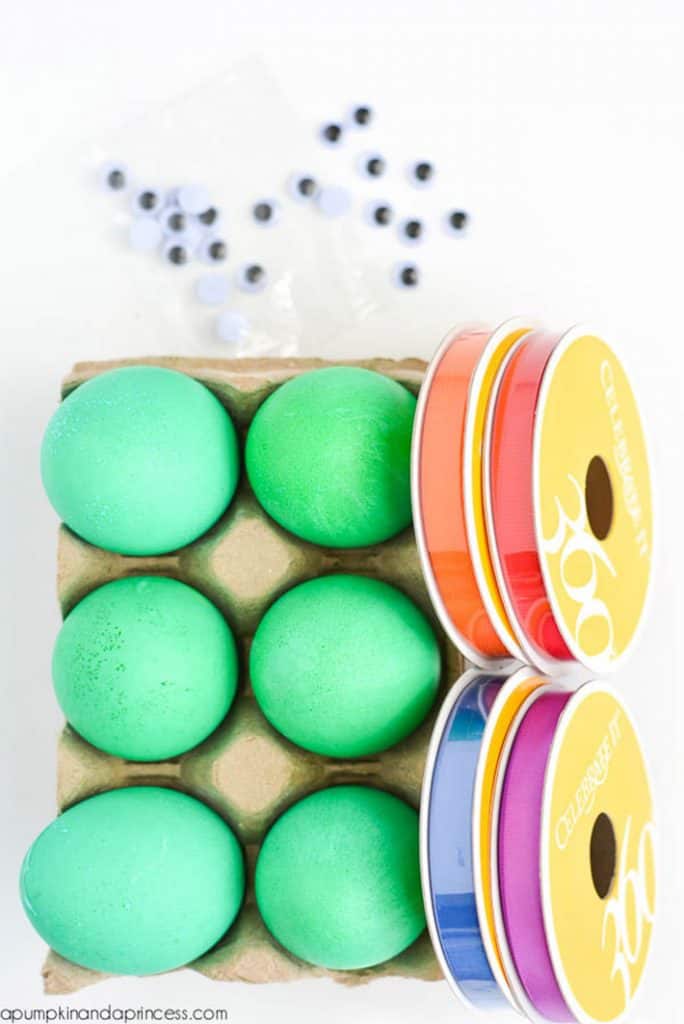 Step one: Dye eggs in room temperature water. The longer the eggs are dyed the darker the color will be. We kept ours in for about 10 minutes. Set to dry.
Step two: Glue ribbon to the back of the eggs and add eyes to the ribbon. That's it! You could get a little more creative and add a mouth with a sharpie or paint pen, but since my preschooler helped make these we decided to keep them simple.
Tip: hallow out eggs instead of boiling to make these last longer.
Aren't they adorable? This would be a great idea for hollowed-out eggs so they last a long time.
---
Source: apumpkinandaprincess.com