These are the 5 best DIY outdoor furniture projects that will help you to transform your garden easy way and give it a "new life".
Creating the garden that's right for you takes less time than you might think.
You can easily transform your garden into a happy place that you and your family will enjoy on sunny days.
With summer on the way, we've pulled out some of the best garden ideas, so if you're looking for some garden inspiration – you've come to the right place.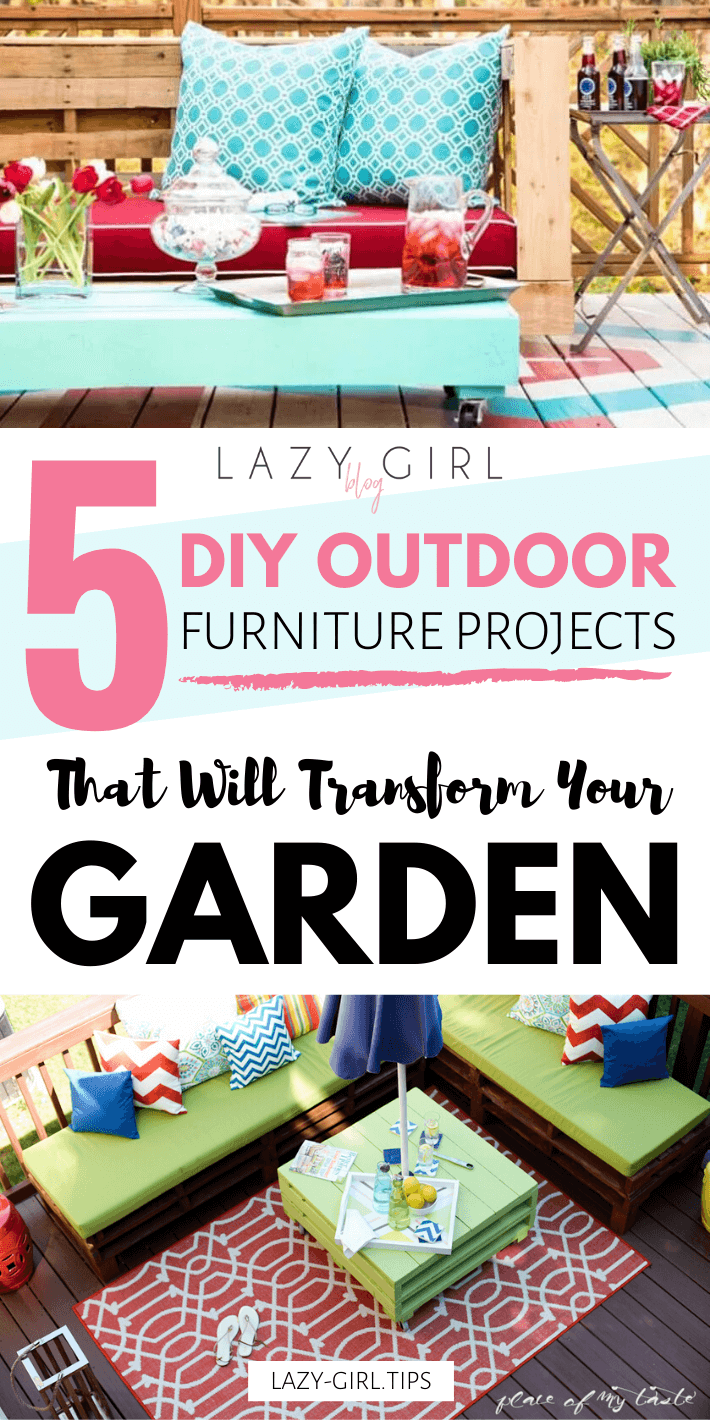 It's easier than you think to give your garden a cheap, budget-friendly makeover.
These easy outdoor furniture project ideas will have things looking better in no time.
So, are you ready to give your garden a new lease of life? Try these easy ideas…
Decorating and furnishing your patio is not an easy task – but then again, it has to be done!
The patio is certainly one of the most important rooms in your house, as you can easily turn it into your little piece of Heaven, your "safe spot" where you can retreat whenever you want to escape the world and just spend some time all by yourself.
1. DIY Pallet Furniture Makeover!
---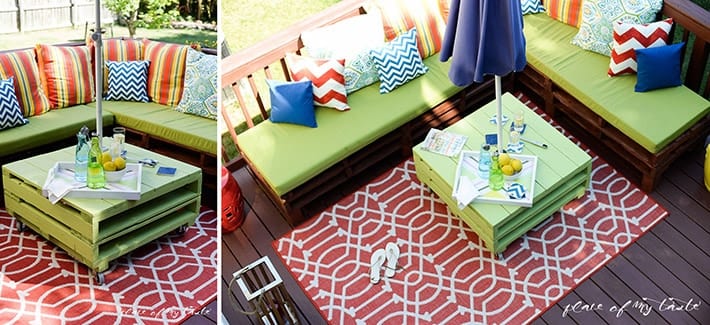 Pallet furniture for your deck, porch, or patio! So fun!
What makes this entire furniture set so special is the fact that it is decorated with all these bright pieces that will make your patio stand out.
Even if the pallet furniture is not freshly painted, the colorful pillows, blankets, and carpets will still make it look like high-end designer furniture – nobody has to know your little secret!
Check out this tutorial if you want to draw some inspiration, and feel free to tweak and adjust these ideas any way you want, if you wish to add a personal touch to the project!
Source and DIY tutorial – placeofmytaste
2. Wooden Shipping Crate Table
---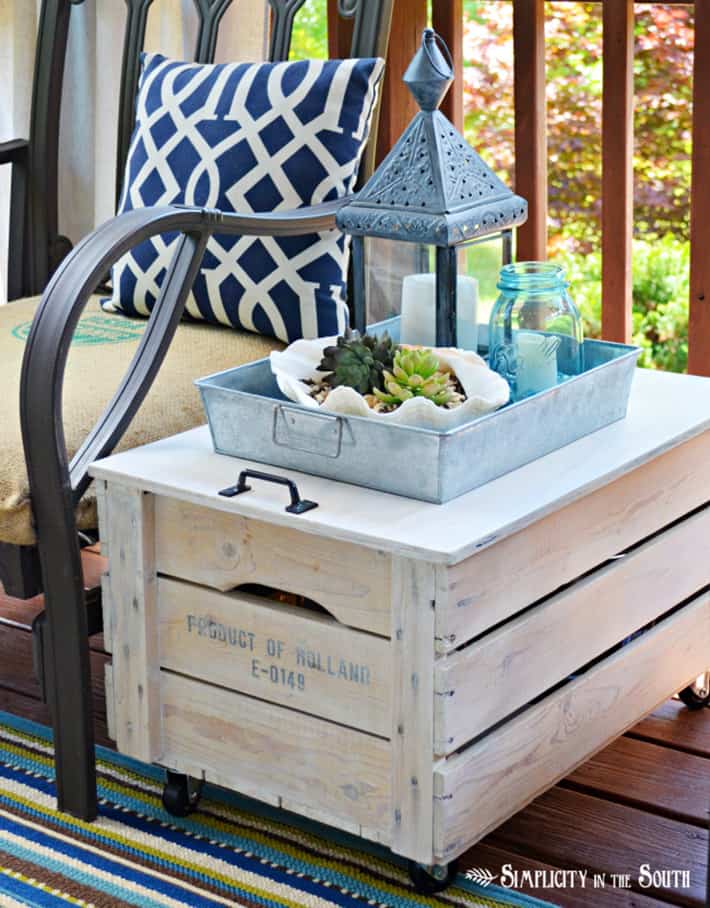 There are many things you can do with an empty discarded wooden crate. This is a breath-taking shipping crate table that somehow resembles one of those old pirate treasure chests, and its seemingly unfinished look only makes it even more elegant and luxurious.
If you have several pallets to spare, then you should definitely take this repurposed crate table tutorial into account – you can easily add it to your patio, for a vintage or retro effect.
Source and DIY tutorial – infarrantlycreative
3. Make A Chandelier Planter
---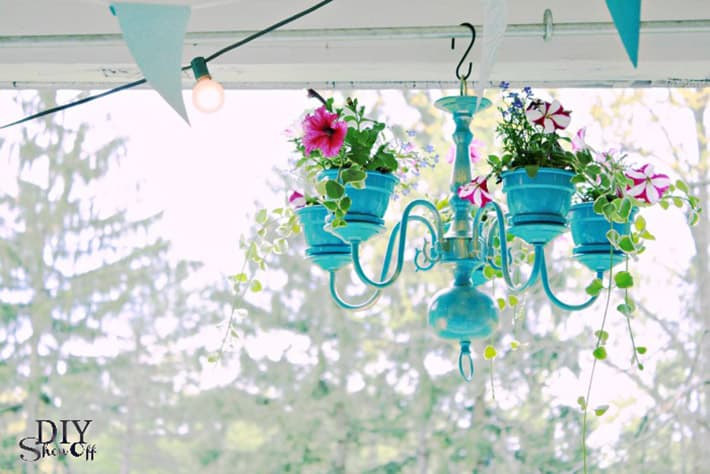 Allow your foliage to take center stage with this artistic idea. Using a salvaged chandelier you can replace the traditional hanging baskets and display your plants in an interesting and unique way!
Source and DIY tutorial – diyshowoff
4. Make Stylish Outdoor Pallet Seating
---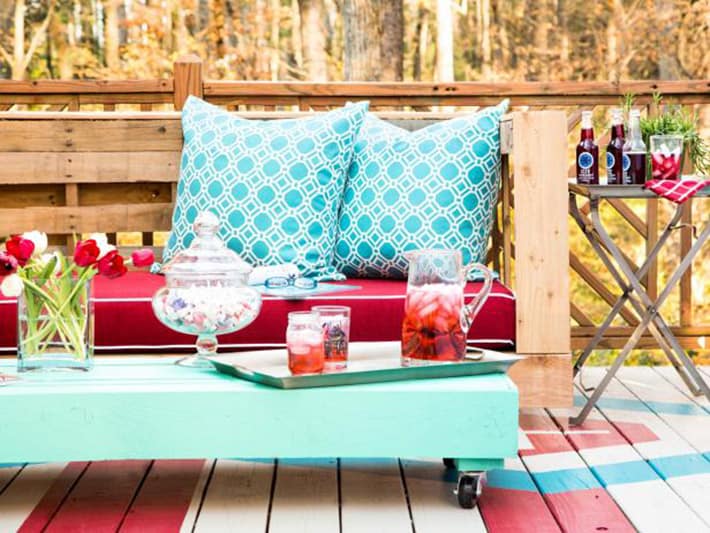 Bring rustic, repurposed charm to your deck or porch with shipping pallets and cushions.
This tutorial will show you how to do that, and it will teach you how to combine different colors and textures like a true interior designer, for the best results.
For instance, red goes perfectly with blue, as this color association will make the entire piece look more luxurious and extravagant, at first sight.
For more details, feel free to check the tutorial – the possibilities are endless when it comes to choosing the color!
Source and DIY tutorial – hgtv
5. Make A Cobble Stone Path
---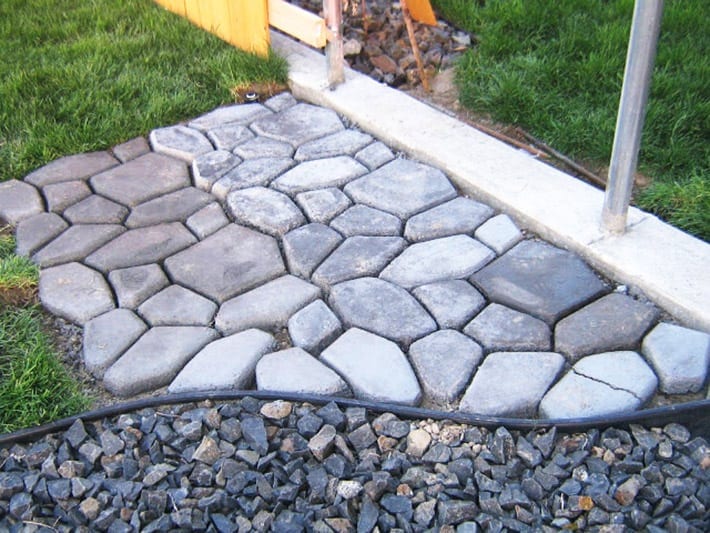 This cobblestone project uses a handy template in order to help you mimic the look of natural stone and create an impressive path.
All you have to do is pour the concrete into it, level it, remove and reuse…it couldn't be easier!
Source and DIY tutorial – homemadehomeideas