Marriage isn't just an art, it's also a science. Happy couples follow these eight secrets which improve their relationship satisfaction and increase their chances of long-term success.
---
This post may contain affiliate links. As an Amazon Associate, I earn from qualifying purchases for my referral at no extra cost to you! See Disclosure
---
You want to be with the love of your life forever, and he with you, so always make your marriage a top priority (as in every day!).
Here are some easy and fun ways to keep improving an already awesome partnership.
Even if you're not married yet, you can start practicing these tips to enjoy your relationship even more throughout the wedding-planning process.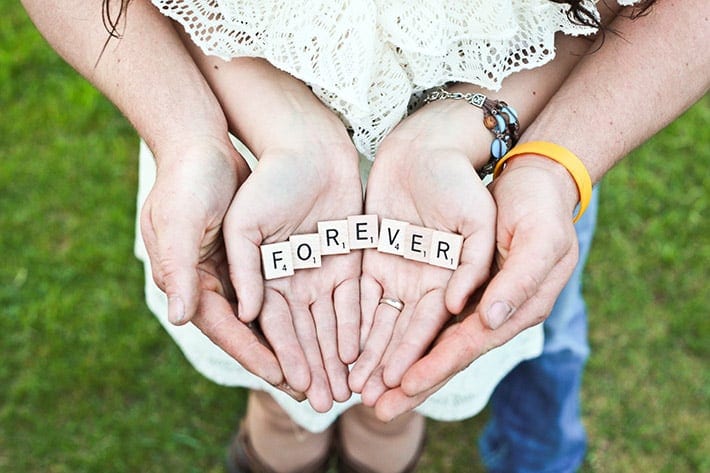 ---
Grooms and husbands, hold onto this list as well — these rules apply to you, too!
So beloved bride – whether you're newly married or not so much – here is a gift for you. Nothing grand or fancy. Just a few small things that can make a great big difference in your marriage….
1. Greet him warmly. When he comes home. When he enters the room. When he's nearby.
2. Offer a kind word. He will always be grateful for a kind wife. (Prov. 31:26)
3. Give thanks. For him and for the life you get to share together.
4. Speak the truth. In love. Always. (Eph. 4:15)
5. Look at the bright side. Focus on all that is good and right. (Phil. 4:8)
6. Shrug off small annoyances. Let those irritating habits bounce off of you.
7. Snuggle together. Whenever you get the chance. Mostly because it's rather fun.
8. Serve cheerfully. It's Biblical, even if it's fallen out of fashion. (Mark 10:45)
9. Pray for each other. It really does make a difference.
10. Listen carefully. About his day, his worries, and his dreams. (Jas. 1:19)
11. Apologize humbly. Be quick to say you're sorry and ask forgiveness.
12. Kiss on the lips. And then linger. Like you mean it.
13. Laugh at each other's jokes. Even if you've heard them before.
14. Give a soft answer. Which turns away wrath. (Prov. 15:1)
15. Step away together. Far from the world and its pressures. Occasionally. Just the two of you.
16. Smile at him. With all your heart. Light up whenever you see his handsome face.
17. Forgive fully. Put it completely behind you, never to be brought up again. (Eph. 4:32)
18. Spend time together. Every chance you get.
19. Build up. Rather than tear it down. You'll never be sorry for that.
20. Decide you're going to love each other. For the rest of your lives. (Mark 10:9)
---
So blessings on you, my dear. I pray that the Lord fills your marriage with a strong sense of His presence, purpose, and joy. That your love for each other will be deep and abiding.
Together you will be a bright light to a dark world that so desperately looks for that kind of true love.
Something special and something lasting.
P.S. This list is also available as a free printable: 20 Small Things to Make a Big Difference in Your Marriage.
*Check out Matthew and Lisa Jacobson's new books: 100 Ways to Love Your Husband and 100 Ways to Love Your Wife